Other Links
Editorial Board
UK

Editor

s

- Roger Jones and John Quinn

Editors for The Americas - Bruce Hodges and Jonathan Spencer Jones

European Editors - Bettina Mara and Jens F Laurson

Consulting Editor - Bill Kenny

Assistant Webmaster -Stan Metzger

Founder - Len Mullenger
Google Site Search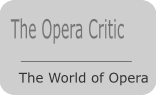 SEEN AND HEARD INTERNATIONAL CONCERT REVIEW


Mozart and Shostakovich: Mitsuko Uchida (piano), Leonard Slatkin (conductor), Chicago Symphony Orchestra, Symphony Center, Chicago 5.2.2011 (JLZ).

Wolfgang Amadeus Mozart: Divertimento in B-flat Major, K. 137
Wolfgang Amadeus Mozart: Piano Concerto No. 11, K. 413
Dmitri Shostakovich: Symphony no. 5 in D Minor, Op. 47

This weekend's concert was to include an overture by Cherubini, Robert Schumann's Concerto for Piano and Orchestra, and Shostakovich's Symphony no. 5, but that programming was contingent on the participation of the Chicago Symphony Orchestra's new conductor, Riccardo Muti. Unfortunately Muti became ill during a rehearsal and fell, and as the local press reported, required hospitalization and surgery. In lieu of the Cherubini and Schumann, the program reprised two pieces from last week's concerts, with conducting duties reassigned to Mitsuko Uchida and Leonard Slatkin. The result was a tribute to the professionalism of the orchestra, which delivered impressive results despite the altered plans.

In Mozart's Divertimento in B-flat Major, K. 137, the cohesiveness of the strings again demonstrated concertmaster Robert Chen's leadership. The Andante displayed intensity closer to the gravity that is found in some of Mozart's symphonic movements. The same precision that was evident last week was audible here—both technically and stylistically—with uniform phrasing and dynamics in all three movements. If there was a difference, it was in the final allegro assai, which sounded more overtly like a ländler.
Likewise, Uchida's approach to Mozart's Piano Concerto No. 11 was consistent with the previous performance. Her playing rendered a seamless line, uniting with the orchestra instead of competing with it. Uchida not only conducted stylishly, but supported it with deft playing. More than that, her cadenzas for the first and second movements offered further insights into the piece itself, while demonstrating her technical ability. The second movement cadenza was nicely extended, as she explored harmonic and motivic gestures, and in the final movement, she brought the piece to a satisfying close.

For Shostakovich's Symphony no. 5, veteran conductor Slatkin stepped in to deliver a powerful performance—from memory. Actively engaging all of the musicians, Slatkin's command was evident from the start, in a well-etched first movement, with clear phrasing, timbral vision, and a sense of drama, pacing and immediacy from the first note to the last. The balances were clear, and Slatkin allowed solo passages to emerge, while giving transitions a sense of urgency. Of particular note was the valiant reading of the horn-and-flute duet, with special thanks to veteran hornist Dale Clevenger. The trumpets, especially chair Chris Martin, brought a unified sound complemented by excellent low brass.

Similar comments could be made about the woodwinds in the second movement, a scherzo that bears the ironic tone Mahler offered in his examples. Slatkin brought out the nuances in the popular-sounding passages, and at the same time, the strings delivered the quiet moments with restraint and delicacy, reminiscent of their command in the composer's Eighth Symphony.

The sometimes amorphous-sounding slow movement had good definition in Slatkin's hands, with the strings rendering uniform motion and inflection. Here again, the sensitive playing coupled with Slatkin's leadership (and the acoustics of Symphony Center) created vivid colors. The conclusion led logically to the opening of the Finale, which had the breadth the score requires. Dissonances in the rondo episodes were sharp, in contrast to the eventual affirmation in the lieto fine conclusion in D. It was all set up masterfully, with a nod back to the first movement's intensity, and reflecting the supererogation of these musicians.

While much has been made of Muti's illnesses, Slatkin's involvement is further evidence of the strength of the ensemble and the talented conductors who can lead it. It is unfortunate that some in the local press failed to appreciate Slatkin's accomplishments and inferred that the applause was for Muti in absentia. After a spine-tingling reading of this score, Slatkin himself deserved the praise.

James L. Zychowicz