Other Links
Editorial Board
UK

Editor

s

- Roger Jones and John Quinn

Editors for The Americas - Bruce Hodges and Jonathan Spencer Jones

European Editors - Bettina Mara and Jens F Laurson

Consulting Editor - Bill Kenny

Assistant Webmaster -Stan Metzger

Founder - Len Mullenger
Google Site Search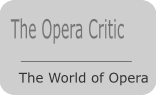 SEEN AND HEARD INTERNATIONAL OPERA SEASON PREVIEW


Teatro Colón, Buenos Aires: The 2011 opera season (JSJ)
With the labour problems unresolved, a budget yet to be approved, and a function to announce the 2011 season cancelled shortly after the invitations were distributed, the Teatro Colón has nevertheless gone ahead and released its 2011 programme. This at least allows subscription sales to open, although whether the season will open as planned is an open question...

The programmed season of opera is as follows:

Le Grand Macabre (Argentina premiere): Chris Merrit, Roderick Earle, Wilbur Pauley, Brian Asawa, Ning Liang, Gustavo De Gennaro, Javier Galan, Susanna Andersonn, Ilse Eerens/Cecilia Layseca, Frances Bourne, Valentina Carrasco (director, conception by La Fura dels Baus), Baldur Brönnimann (conductor). March 29, April 1, 3, 6, 8.
Magic Flute: Patrick Henckens/Darío Schmunck, Lyuba Petrova/Laura Belli, Markus Werba/Luciano Garay, Aline Kutan/Fabiola Masino, Reinhard Hagen/Lucas Debevec, Osvaldo Peroni/Gabriel Centeno, Sergio Renán (d), Frédéric Chaslin (c). May 10, 13, 15, 18, 20, 22.
Il Trittico: Il tabarro: Juan Pons/Luis Gaeta, Carl Tanner, Amarilli Nizza/Haydée Dabusti, Agnes Zwierko/Alicia Cecotti; Gianni Schicchi: Juan Pons/Luis Gaeta, Darío Schmunck, Beatriz Díaz/Eliana Bayón, Agnes Zwierko/Alicia Cecotti; Suor Angelica: Amarilli Nizza/Virginia Wagner, Agnes Zwierko/Alejandra Malvino, Lucila Ramos Mañé, María Luján Mirabelli, Eliana Bayón/Marina Silva, Stefano Poda (d), Richard Buckley (c). June 7, 10, 12, 15, 17, 19.

Simon Boccanegra: Roberto Frontali/Omar Carrión, Svetla Vassileva/Virginia Wagner, Konstantin Gorny/Ernesto Morillo, Andrew Richards, Fabián Veloz/Gustavo Feulién, José María Condemi (d), Stefano Ranzani/Carlos Vieu (c). July 19, 22, 24, 27, 29, 31.
Pelléas et Mélisande: Markus Werba, Anne Sophie Duprels, Marc Barrard, Kurt Rydl, Fabiola Masino, Vera Cirkovic, Olivia Fuchs (d), Emmanuell Villaume (c). August 9, 12, 14, 17, 19.
Lohengrin: Michael Hendrick, Ann Petersen, James Johnson, Janina Beachle, Roberto Oswald (d), Ira Levin (c). September 20, 23, 25, 28, 30.
Fedra (Mario Perusso, libretto by Marcelo Perusso, World premiere): Alejandra Malvino, Marcelo Puente, Leonardo Estévez, Haydée Dabusti, Daniela Tabernig, Marcelo Perusso (d), Mario Perusso (c). October 18, 21, 26, 30.
The Merry Widow: Solveig Kringelborn, Mathias Hausmann/Luciano Garay, Ditte Andersen/Laura Bel, Gregor Bühl (c). November 29, December 2, 4, 7, 10, 11.
Jonathan Spencer Jones