Other Links
Editorial Board
UK

Editor

s

- Roger Jones and John Quinn

Editors for The Americas - Bruce Hodges and Jonathan Spencer Jones

European Editors - Bettina Mara and Jens F Laurson

Consulting Editor - Bill Kenny

Assistant Webmaster -Stan Metzger

Founder - Len Mullenger
Google Site Search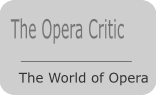 SEEN AND HEARD UK BALLET REVIEW


Prokofiev

's

Cinderella from Birmingham
Royal Ballet
:
D
ancers of the Birmingham Royal Ballet and Royal Ballet Sinfonia. Conductor: Koen Kessels. London Coliseum, London, 29.3.
20
11. (JPr)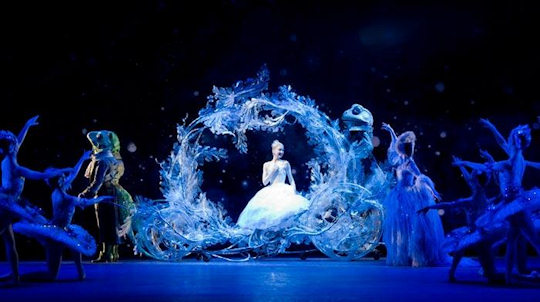 Act I


With this production of Cinderella Birmingham Royal Ballet is celebrating twenty years in their Midlands home, as well as, emphatically underlining its independence from the Royal Ballet that set them free first as the Sadler's Wells Theatre Ballet a long, long, time ago in 1947. Coincidentally it was for that company in 1948 that Frederick Ashton created his memorable Cinderella that this production inevitably must be compared with. Ashton's Cinderella returns to Covent Garden again and again and further performances begin a few days after this BRB's tenancy at the London Coliseum.

Ideally perhaps, it would have been better to review the Ashton version first - I first saw that in 1975 with Makarova - then come to David Bintley's pantomime-light revisioning of the familiar story. The major difference as I recall it is that Ashton's Cinderella longs to a ballerina and in what she suspects is a dream becomes one. Maybe Ashton takes his cue her from Prokofiev who wanted his Cinderella to be a 'real person'. It is only when the Prince appears in Act III and matches the ballet shoe he has with the one Cinders has in her apron that she realises that her dream was indeed true.

David Bintley returns to Charles Perrault's original 1697 fairytale for the traditional features of the ballet; the abused Cinderella, the cruel stepmother, vain stepsisters, rat coachman and glass slipper etc. etc. He adds to that a disturbing layer of child abuse but does not take any 'gritty realism' as far as the Grimm Brothers' did when the stepmother tells her daughters to mutilate their feet because the glass slipper does not fit! That would be a Cinderella to see but would not be suitable for BRB's target audience of pre-teens!

We know we are not in Ashton's Petipa-inspired world right from the start. In a brief prologue we see Cinderella at her mother's graveside and her father is latched onto and consoled by the woman who will become her stepmother. The stepsisters are mere ciphers here but are soon seen in all their vain-glory - not as Ashton's circus-clown uglies - but as one anorexically thin, 'Skinny', and one who stuffs her face at every opportunity, 'Dumpy'. Both treat Cinderella appallingly and make fun or her at every opportunity and, at least for now, every appearance of the sinister stepmother is accompanied by an appropriate frisson. Although Cinders treasures her mother's glitzy slippers she longs not so much to dance but to have her mother back to love her. We first see the fairy godmother as a beggar and very touching Cinderella gives her mother's shoes: they are precious to her but she gives them up because, though she has nothing herself, the woman she has met has even less.

Though Bintley and designer John Macfarlane reduce the stage area and hint at the grimness of Cinderella's below-stair existence it still is less claustrophobic than it should perhaps be on the Coliseum's vast stage. It is also mirth-free until the antics of Skinny and Dumpy being prepared for the Prince's ball by the dressmaker, wigmaker, hairdresser and dancing master. So far what we have had is in keeping with Prokofiev's often angular, sombre and foreboding score, albeit one that is sprinkled with own fair share of magic. From now on we are more in a traditional Cinderella world as though the need of the box office did not allow Bintley to develop his ideas exactly as he wanted to. We have the fairies of the four seasons and a display of silvery tutus much as usual, plus a humorous gaggle of lizard footmen, frog coachman and some mice to help with the transformation scene but the coach itself is a bit of a let-down. Significantly it is for the first time here we get some real ballet mime from the fairy godmother.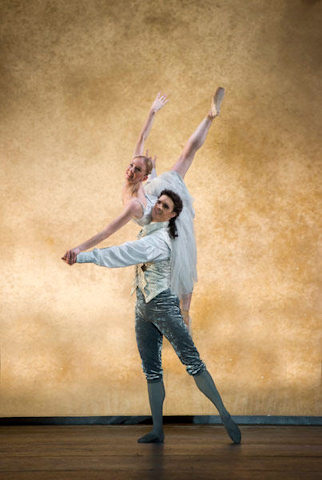 Act III


Act II is mostly a treat and while the choreography begins to repeat itself (there are arabesques aplenty and arms always seem to be in 5th) there is a great deal of comic detail, including a brief pole-dancing moment for Skinny (the one who can dance) and wonderful cake-crazed and orange-chasing moments for Dumpy (who definitely cannot dance): after their seriousness in Act I they are now more traditional buffoons. The pas de deux for Cinderella and her Prince is suitably romantic but easily forgotten and midnight approaches very eerily as a huge skeleton clock counts down the time.

At the opening of Act III the tone switches back briefly to the dark side as we see a pile of discarded shoes and a posse of women cross the stage desperate to try on the slipper, the traditional solitary remnant of the now disconsolate Prince's encounter with Cinderella. All's well that ends well … for the lovers at least: for me the ballet ended more with a whimper than a bang. The final duet for the two lovers is tender and joyful but, again, is never the grand summation it needs to be in a classical work like this. In her happiest moments Cinderella is often accompanied by a starscape (which we are now familiar with from Professor Brian Cox's recent TV's programmes that have been so full of physicsbabble): here with Cinderella and her Prince now united our eyes are distracted by a large moon that rises in the background. This reminded me so much of those classic moments in the last Agony & Ecstasy TV programme about English National Ballet when Wayne Eagling considered a balloon the defining moment of his Nutcracker!

The performances were uniformly splendid without any real spark of star-quality. Elisha Willis - who had the difficult task of dancing barefooted for large stretches of the evening - was a delicate flower, pale and willowy and played the suffering Cinderella better than the exalted one when she seemed to lacked the ability to display the inner radiance required. Both Ms Willis and her Prince, Iain Mackay, were wonderfully clean and articulate dancers. He did particularly well in what remains a very thankless role for a male dancer. Gaylene Cummerfield and Carol-Anne Millar (in a fat suit) were very good as Skinny and Dumpy. Momoko Hirata pleasingly caught the eye as Summer and always scene-stealing, due to her pervading air of cruelty, was Marion Tait as the stepmother. It seems often obligatory to ignore the orchestra and conductor in ballet reviews but I will not and for me Koen Kessels and the Royal Ballet Sinfonia gave as fine an account of the score as can be expected given the exigencies of a ballet performance.

I was a little disappointed with David Finn's lighting as often some dark, muted colours were often gloomily lit and dancers were occasionally unnecessarily in shadow. Mostly I would have just liked even more menace in the story-telling and bolder - more bravura - choreography for some of the bigger moments. This is minor quibbling however as there is so much to admire in this production and many a child - and inner-child - will (and did) enjoy it immensely.

Jim Pritchard

Pictures © Bill Cooper /Birmingham Royal Ballet