Other Links
Editorial Board
UK

Editor

s

- Roger Jones and John Quinn

Editors for The Americas - Bruce Hodges and Jonathan Spencer Jones

European Editors - Bettina Mara and Jens F Laurson

Consulting Editor - Bill Kenny

Assistant Webmaster -Stan Metzger

Founder - Len Mullenger
Google Site Search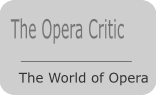 SEEN AND HEARD INTERNATIONAL CONCERT REVIEW
Vivier, Saariaho, Boulez, Messiaen, Daniel Strong Godfrey, Stravinsky, Adès: Gloria Cheng (piano), Calder Quartet, (Le) Poisson Rouge, New York City, 5.1.2011 (BH)

Vivier: Pianoforte (1975, New York premiere)
Saariaho: Ballade (2005)
Saariaho: Prelude (2007)
Boulez: Une page d'éphéméride (2005, New York premiere)
Messiaen: Selections from Huit Préludes (1929)
Daniel Strong Godfrey: Night Walk (2010, New York premiere)
Stravinsky: Three Pieces for String Quartet (1918)
Adès: Mazurkas, Op. 27 (2009)
Adès: Piano Quintet (2000)
Calder Quartet
Benjamin Jacobsen, violin
Andrew Bulbrook, violin
Jonathan Moerschel, viola
Eric Byers, cello
Whether speaking from notes jotted down on the back of Terry Riley's one-page score for In C, or demonstrating Kaija Saariaho's harmonics array on her iPhone, Gloria Cheng exudes a vivacious, "Here, let's sit down and chat" attitude that infused this concert with a friendly spirit beyond her considerable piano expertise. But the crowd packed into (Le) Poisson Rouge was already in her corner for this demanding, generous program.

Cheng began with Claude Vivier's Pianoforte, whose spectral elegance felt slightly on the cautious side, followed by two short pieces by Kaija Saariaho—Ballade and Prelude—that showed both her stormy and gentle sides. Then came a squib from Pierre Boulez, who wrote Une page d'éphéméride as part of a projected longer cycle, and Cheng had no trouble with its peppery difficulties. But one of the evening's highlights came before intermission, with four of Messiaen's Huit Préludes: the Debussy-like "La colombe," the glittering perpetual motion of "Les sons impalpable du rêve," the monolithic blocks of "Cloches d'angoisse et larmes d'adieu," and ending with the ecstatic "Un reflet dans le vent." Cheng's sensitive, yet sometimes alarmingly powerful playing made me wish she had done all eight.

After intermission came Night Walk, a recent work by Daniel Strong Godfrey, currently Composer-in-Residence at Syracuse University. Inspired by the Maine coastline, the piece has the pensive simplicity of a summer stroll accompanied by dark Atlantic waves, on an evening when perhaps the moon is not as visible as it might normally be.

As a sort of brief business card, Stravinsky's Three Pieces for String Quartet introduced the Calder Quartet. Written roughly seven years after Petrouchka, some of its motifs flicker here, appearing and vanishing, seemingly drawn from the same well (in a good sense). Perhaps the audience favorite was the third, marked "grave, espressivo," which showed the group's ability to create a wall of chalky haze, teeming with activity.

To end the evening, Cheng returned in Thomas Adès's Three Mazurkas, premiered by Emanuel Ax. These short works evoke Chopin's masterpieces while adroitly reminding us that Adès is a pianist of no small measure himself. But Cheng and the quartet perhaps saved the best for last, a virtuosic reading of Adès's Piano Quintet. Opening with a strangely affecting violin solo, the other instruments enter in a mélange of meters. Mysterious themes—sometimes brusque, sometimes glassy as Arvo Pärt—enter, get washed away by others, and then return. There are echoes of sonata form (complete with a formal repeat), in a sort of sly homage to the composer's classical-era forebears. Cheng and the Calder's have played this piece often enough to turn it into something of a signature, and showed remarkable cohesiveness and confidence—not to mention delicacy—in maneuvering through what at times sounded like five discrete rhythmic patterns layered on top of one another.
Bruce Hodges