Other Links
Editorial Board
UK

Editor

s

- Roger Jones and John Quinn

Editors for The Americas - Bruce Hodges and Jonathan Spencer Jones

European Editors - Bettina Mara and Jens F Laurson

Consulting Editor - Bill Kenny

Assistant Webmaster -Stan Metzger

Founder - Len Mullenger
Google Site Search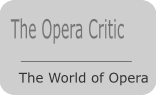 SEEN AND HEARD UK OPERA REVIEW


Bizet, Carmen: MJ-UK Productions. Conductor: Malcolm Webb, Director: Maria Jagusz, Choreographer: Maria-Louise Flexen. The Playhouse, Cheltenham 11.2.2011 (RJ)
Carmen – Alice Nelson
Don José – Daniel Joy
Micaela – Elizabeth Karani
Escamillo – Rhys Jenkins
Frasquita – Jenny Webster
Mercédès – Emily Campbell
Zunega – Neil Gray
Morales – Owen Hopkins
El Remendado – Rupert Irving
El Dancairo – Ben Maggs
Lillas Pastis – Tim Bateman
Carmen, the opera, always exerts a strange influence on me similar, I suppose, to the effect its eponynomous heroine has on the unfortunate Don José. However much I try to resist its allure, the music and the unfolding drama soon have me hooked and I succumb to its spell – unless the performance happens to be dreadful and the singers below par.
Fortunately this was not the case with Maria Jagusz' production set in 19th century Seville which followed traditional lines. It was strong on Spanish atmosphere and the crowd scenes abounded in joie de vivre; the singing was good; and the small orchestra, using Jonathan Lyness's reduced orchestration for The Opera Project, was more than adequate for the small auditorium.
The RNCM's Alice Nelson in the title role made her mark right from the outset and dominated every scene she appeared in. She has an impressive and versatile voice as well as considerable acting skills cleverly displaying the cruel, manipulative aspect of Carmen's character as she strung along the hapless Don José. The latter was sympathetically portrayed by tenor Daniel Joy who grew in stature artistically as his infatuation for Carmen took off. Joy has a splendid tenor voice which throbbed with emotion in his anguished outpourings of passion and jealousy, and his duets (and tussles) with Nelson sent a tingle down the spine.
There was impressive singing too from baritone Rhys Jenkins as the toreador Escamillo who lapped up the public adulation, yet looked a trifle too genial to take on a bull. Elizabeth Karani also has a fine, clear voice and distinguished herself in the role of Micaela portraying her as a sensible girl-next-door type of girl who, if given the chance, would have ensured that José's career blossomed.
Jenny Webster and Emily Campbell acquitted themselves well in the roles of Frasquita and Mercédès especially in the scene in the smugglers' camp as they tell their fortunes from cards. The smugglers led by Rupert Irving and Ben Maggs proved to be a cheerful but villainous lot; the cigarette factory girls were suitably common and excitable; while the folk who turned out for the bullfight in the final act were the epitome of elegance and good taste. The presence of children – and a dog – added to the general liveliness of the crowd scenes.
The dramatic and intense solo dances by the company's choreographer Marie-Louise Flexen enhanced the Spanish feel of the production, and there were many other deft touches: the fight scenes looked utterly convincing and the chorus, instead of singing off-stage during the final encounter between Carmen and José, performed on either side of the audience as if to emphasise that the real drama is happening on stage and not in the bullring.
Musical Director Malcolm Webb worked wonders in maintaining the tension during the performance and Maria Jagusz using her considerable experience as an opera singer brought many interesting touches to this lively, at times raunchy, and performer-friendly production.

Roger Jones