Other Links
Editorial Board
UK

Editor

s

- Roger Jones and John Quinn

Editors for The Americas - Bruce Hodges and Jonathan Spencer Jones

European Editors - Bettina Mara and Jens F Laurson

Consulting Editor - Bill Kenny

Assistant Webmaster -Stan Metzger

Founder - Len Mullenger
Google Site Search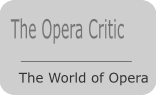 SEEN AND HEARD UK MUSIC FESTIVAL PREVIEW


Carducci Quartet Stages Weekend Festival at Highnam
: 27-29.5.2011
(RJ)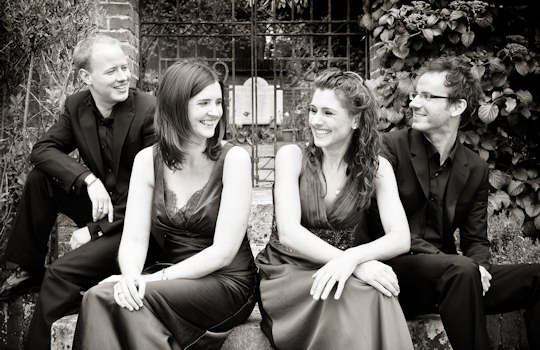 The Carducci Quartet - Picture © Andy Holsworth


The village of Highnam just outside Gloucester has strong musical associations.
Highnam Court
was home to one of the most English of composers, Sir Hubert Parry, whose father, Thomas Gambier Parry, built the magnificent Gothic parish church next door, the interior decoration of which would put Pugin into the shade. About two decades ago there were plans to create an opera house à la Glyndebourne within the grounds, but alas they were never realised, leaving the field open to Longborough on the other side of the county to fulfil its own dream.

Yet, this does not mean that the village no longer reverberates to the sound of music. Indeed, if you are at a loose end at the end of May it could be worth your while to head for Highnam for the annual weekend festival of chamber music put on by that most go-ahead and talented of younger string quartets, the Carducci. The Quartet, incidentally, do not hail from the continent, but are an Anglo-Irish ensemble who take their name from the Italian town of Castagnetto Carducci which presented them with an award for their playing - one of many they have received. They have played all over Europe and the USA, including in the Library of Congress in Washington DC, and already boast an impressive discography of recordings of music by Philip Glass, Graham Whettam, Joseph Horovitz, the Irish composer Brian Boydell - as well as Haydn, Piazzolla and others.

The weekend starts off on Friday evening with Mozart's
String Quartet No 17 in B flat, K458
and Dvorak's
Piano Quintet No 2 in A
in Highnam Church. The pianist for the evening is Charles Owen who will also play one of Schumann's most delightful pieces,
Kinderszenen
. Saturday morning is devoted to an interactive family concert with clarinettist Catriona Scott entitled
Getting the Quartet
Bug.
The Carducci are becoming renowned for their educational and outreach work and have been nominated for a Royal Philharmonic Society Award. This not only sounds great fun, it's also free! Later Charles Owen will give a piano masterclass to young people.

Viola player Cian Ó Dúill will join the Carducci Quartet on Saturday night in Beethoven's
String
Quintet in C Opus 29
; his
String Quartet in B flat Opus 18 No 6
also features.
T
he following morning Natalie Clein arrives on the scene to play
Kodaly's
Sonata for solo cello Opus 8
at a Coffee Concert in the Orangerie at

Highnam Court
.
Haydn's
String Quartet Opus 33 No 3
and Piazzolla's
Oblivion
also feature on the programme
.
I note with relish that a cream tea is on the menu for Sunday afternoon. This is clearly intended to fortify the audience for the world premiere of Sally Beamish's
Lost and Found in the Forest of Dean
with Crawford Logan as the narrator. The Festival ends with Tchaikovsky's
'Souvenir de Florence' String Sextet.
To download the Carducci Festival brochure go to
www.carduccifestivalhighnam.co.uk.


Roger Jones