Other Links
Editorial Board
UK

Editor

s

- Roger Jones and John Quinn

Editors for The Americas - Bruce Hodges and Jonathan Spencer Jones

European Editors - Bettina Mara and Jens F Laurson

Consulting Editor - Bill Kenny

Assistant Webmaster -Stan Metzger

Founder - Len Mullenger
Google Site Search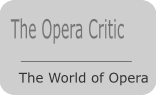 SEEN AND HEARD INTERNATIONAL CONCERT REVIEW


Avant Music Festival, John Cage -An Evolution: Vicky Chow (piano), Ekmeles Vocal Ensemble, Randy Gibson (reader and piano), William Lang (trombone), Kryssy Wright (lighting), Wild Project, New York City, 12.2.2011 (BH)
Cage: Dream (1948)
Cage: In a Landscape (1948)
Cage: Song Books (1970)
Cage: Indeterminacy (1958-59)
Cage: Music for Piano 4-19 (1953)
Cage: Two5 (1991)
As composer Randy Gibson notes, John Cage's revolutionary philosophies of sound and silence—shaped with his ideas on chance theory—have influenced virtually everyone who makes music since. Gibson, who co-curated this year's Avant Music Festival with Megan Schubert, also performed in the festival's fascinating second concert, devoted to some of Cage's most provocative creations. The unusual venue was Wild Project, a smart, intimate space in New York's East Village.
Vicky Chow opened with two short piano works, the Satie-like Dream, followed by In a Landscape, with its whiff of Philip Glass. As companions—both written in 1948—the two pieces gave a nocturnally placid introduction to the evening, with Chow exercising great care in letting them unfold, like mysterious boxes unwrapping themselves in slow motion.
For the next segment, a handful of audience members were asked to flip coins, to determine which of Kryssy Wright's lighting plots would be used—whether dim or bright, with light coming from the front, sides, or top of the stage. Then members of the vocal ensemble Ekmeles (Christie Finn, Jeffrey Gavett, and Ms. Schubert) performed Song Books, with Mr. Gibson laconically reading some of the texts of Indeterminacy, varying his delivery speeds on topics such as communication, travel, and fungi, and Ms. Chow in Music for Piano 4-19. (For those unfamiliar with the composer, he encouraged simultaneous performance of his works.) Adding to the fun were unexpected delights such as an amplified table with a laptop—the former scraped, tapped, and written upon—some cognac, and Mr. Gavett making his final appearance cruising around the stage on a single roller skate. The result was a playful, intriguing mélange of voices, words, theater, and the occasional notes from the keyboard, all combining and overlapping with each other in a never-to-be-repeated aural mural.
After intermission came a probably-rare reading of Two5, with Mr. Gibson on piano, joined by William Lang on trombone. This work—about 40 minutes long, at least as realized here—gives new meaning to the word "languid." The performers' paths rarely cross, as they carefully deploy isolated notes, usually separated by seconds of silence. Imagine Morton Feldman, slowed to half his normal speed, as a rough idea of the work's spaciousness. While probably not to all tastes, the calm result demonstrated the extreme, Zen-like concentration of the two performers over the time span.
Personally, I could have been happy with either of the evening's two halves separately; at a total of almost 150 minutes, the program probably tested patience for some. But the musicians' focus and enthusiasm offset the length. To see these performers so nimbly grappling with Cage's experiments—so patiently, yet so joyfully—was to feel engulfed in the composer's singular universe.

Bruce Hodges