Other Links
Editorial Board
UK

Editor

s

- Roger Jones and John Quinn

Editors for The Americas - Bruce Hodges and Jonathan Spencer Jones

European Editors - Bettina Mara and Jens F Laurson

Consulting Editor - Bill Kenny

Assistant Webmaster -Stan Metzger

Founder - Len Mullenger
Google Site Search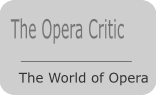 SEEN AND HEARD INTERNATIONAL OPERA REVIEW


Ravel

,

L'Enfant et les sortil

è

ges

and

Zemlinsky

,

Der Zwerg

:

Soloists, Orchestra and Cho

rus

of the Bavarian State Opera. Conductor: Kent Nagano. 23.3.2011

(JFL)

Coproduction with Opéra de Lyon

Direction: Grzegorz Jarzyna

Sets: Magdalena Maria Maciejewska

Costumes: Anna Nykowska Duszynska

Lighting: Jacqueline Sobiszewski


Cast: L'Enfant

The Child: Tara Erraught

Mother / Tea Cup / Dragonfly: Okka von der Damerau

Bergère / Bat: Laura Tatulescu

Fire / Nightingale: Rachele Gilmore

Princess: Camilla Tilling

Cat / Squirrel: Angela Bower

Clock / Tomcat: Nikolay Borchev

Teapot / Old Man / Frog: Kevin Conners

et al.

Cast Der Zwerg

Donna Clara: Camilla Tilling

Ghita: Irmgard Vilsmaier

Don Estoban: Paul Gay

Der Zwerg: John Daszak

et al.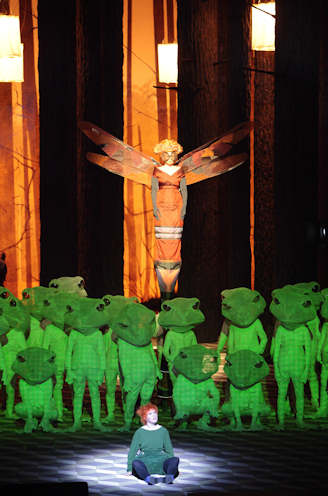 Production Picture - L'enfant et les sortilèges

A Midget, Frogs, and Broken Tea Cups

A wonderful -because rare and original - double bill at the Bavarian State Opera: Ravel's L'Enfant et les sortileges and Alexander Zemlinsky's Der Zwerg. Ravel's 45-minute tale about the unruly child, its nightmarish-fantastical visions, and eventual repentance is an adorable and lyrical feast for the ears… at least throughout part II, the dream scene in which the animals and pets come to life. Perhaps the most enjoyable aspect of the whole night are the animal costumes that Anna Nykowska Duzsynska created for Grzegorz Jarzyna's direction. When Kevin Conners' Frog gets to give his Squirrel-love Angela Brower a peck, it's cute enough to make hardened hearts melt - amid very solid singing and a willing, enthusiastic orchestra under Kent Nagano.
Grzegorz Jarzyna opens the opera as a film shown on a wide screen above the set, where a Walter Felsenstein-esque opera movie of "L'Enfant et les sortileges" is being shot. That would make sense if it had a child movie star gone wild ... an obnoxious little brat (as they invariably are) with his tantrums thrown at the stage-trailer, abusing the film crew and director around him. But that's not the case; the child merely acts its role within the film-within-the-opera. Is this a way to present a realistic version of something unrealistic? Or is the 'acting' perhaps the excuse for the child's behavior and the explanation for its 'repentance'? If the latter, it would rob the opera of its entire, sole point… so perhaps this first part - which is also the musically less gratifying - is better not pondered. The costumes are inventive but the characterization of the Wedgewood teapot, for example, is insufferably clownish; some of the voices - the Fire (slightly better, later on, as the Nightingale) and the Kid (Tara Erraught) - were not impressive. But all that is forgotten by the time the film director and sound technician enter within the dream, metamorphosed as ridiculously adorable fat prairie dogs or some such creatures.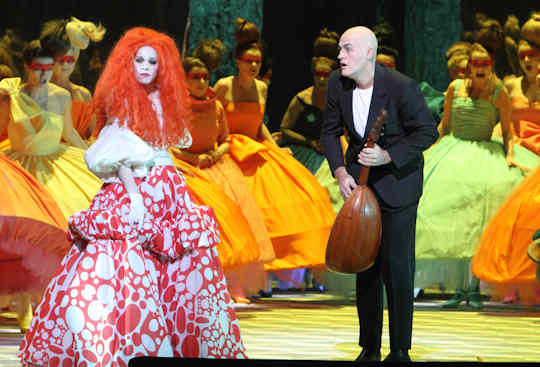 Camilla Tilling and John Daszak in Der Zwerg


I love the music of Alexander Zemlinsky (1871 - 1942). How superb to get to hear (!) his third-last opera, "The Dwarf", (incompetently) adapted from Oscar Wilde's short story The Birthday of the Infanta. It's really, really too bad that it's not a particularly good opera. Or at least not a good enough opera to make a lasting impression on stage - with a direction that had spent its main ideas on Ravel's Enfant and gave Zemlinsky an obviously very accomplished and professional treatment, but certainly not the most imaginative one. As a stage work, Der Zwerg - lacking that bit of added sophistication that the operas of Zemlinsky's contemporary Franz Schreker (1878 - 1934) contain - can't quite get by on craftsmanship alone. Fortunately though, the music can.

Written between 1919 and 1921, there are musically analogous moments to Richard Strauss (melodies for the voices and solo instruments), Gustav Mahler (orchestral color, including the use of mandolin) and Richard Wagner (harmonies). After some smug march music the lyrical, sweet, wallowing, romantic gene of Zemlinsky inevitably breaks through.

Zemlinsky adapts the story to whine on -for a whole 90 minutes - about how he, Zemlinsky, is so ugly that Alma Schindler (Mahler / Gropius / Werfel) couldn't possibly love him. The uninspired finale drones on forever; the Dwarf's demise being chewed back and forth like cud. As far as autobiographical whining is concerned it's not as bad as Bernstein's insufferable Kaddish Symphony, but it isn't dramatically compelling, either. The text doesn't seem very naturally set to the music, and the music is awfully tough for the voices. That John Daszak navigated the uncomfortable part of the Dwarf as well as he did was one of the marvels of the evening. Camilla Tilling's naïve-yet-calculating infanta Donna Clara-Salome's childish, but technically older, stepsister-was a wholly pleasing performance too. Paul Gay's Major Domo (Don Estoban) was undermined by his character's getup; an obnoxiously cliché-drenched freak with a 'Garry-Oldman-is-Bram-Stoker's-Dracula' hairdo. That's part of the production's aim of course: the infanta's birthday party is the actual freak-show and 'the dwarf' is not only regular size but reasonably handsome. His version of being 'ugly' is in fact simply to be 'different'. But the grotesque element of the party-folk is so mild that the contrast never really works - Kriegenburg's Wozzeck (also from the Bavarian State Opera) serves as an example of how it can be done.

Jens F. Laurson is Critic-at-Large of Washington's Public Radio station, Classical WETA 90.9 FM.
All pictures © Wilfried Hösl, courtesy Bavarian State Opera