Other Links
Editorial Board
UK

Editor

s

- Roger Jones and John Quinn

Editors for The Americas - Bruce Hodges and Jonathan Spencer Jones

European Editors - Bettina Mara and Jens F Laurson

Consulting Editor - Bill Kenny

Assistant Webmaster -Stan Metzger

Founder - Len Mullenger
Google Site Search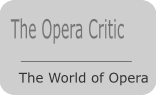 SEEN AND HEARD UK CONCERT SEASON PREVIEW
Bristol's International Classical Concert Season - Spring 2011: a preview from Roger Jones (RJ)

Classical superstar Nicola Benedetti will perform the piece that kick-started her career at Colston Hall this spring as part of their International Classical season, which brings the best national and international classical artists to Bristol. In a special concert Benedetti will join forces with the Bournemouth Symphony Orchestra to perform the hot-blooded piece that propelled her to the tile of BBC Young Musician of the Year in 2004; Szymanowski's Violin Concerto no 1.

Also appearing this season are the Philharmonia Orchestra with conductor Lorin Maazel who are presiding over a complete Mahler symphony cycle at the Southbank Centre this year and are bringing his Symphony no 4 to the Hall on Wednesday 27 April with Royal Opera House soprano Sarah Fox.

Lovers of musical theatre are well served later in the season as the Bolshoi Symphony Orchestra come to the Hall armed with soloists from the Bolshoi Opera and the unmissable jewel in Russia's operatic crown, extracts from Eugene Onegin on Wednesday 18 May. And following on from the great Valery Gergiev's Mahler 5 which he performed at the Hall in September, James Gaffigan leads the Bournemouth Symphony Orchestra in a seductive programme featuring his 7th Symphony and Strauss's interpretation of the great poem Don Juan on 3 March.

Alongside their main season, Colston Hall residents the Bournemouth Symphony Orchestra bring a special programme of work by enigmatic composer/jazz musician Karl Jenkins, including his large scale work Stabat Mater, and local musicians the Bristol Ensemble bring their ambitious Beethoven Piano Cycle in March which features international pianist Freddy Kempf performing some of the most loved concerti in the piano repertoire, which is a rare chance to hear them in close succession.

For a bite-sized classical music fix, the ever-popular free lunchtime concerts with performers from the Guildhall School of Music and the Royal Academy of Music make a welcome return to bring some musical cheer to your lunch hour.
Tickets can be bought by calling Colston Hall Box Office on 0117 922 3686. For more information on the Bristol International Classical season visit www.colstonhall.org/classical-season.
The Concert Listings

Thursday 27 January
Bournemouth Symphony Orchestra
Conductor Yan Pascal Tortelier
Violin James Ehnes
Richard Strauss Traumerei am Kamin
Tchaikovsky Violin concerto
Prokofiev Romeo and Juliet (excerpts)

Wednesday 9 February
Vienna Tonkunstler Orchestra
Conductor Andres Orozco-Estrada
Piano Natasha Paremski
Mozart Overture, Marriage of Figaro
Brahms Piano concerto no 1
Beethoven Symphony no 7

Thursday 3 March
Bournemouth Symphony Orchestra
Conductor James Gaffigan
Richard Strauss Don Juan
Mahler Symphony no 7

Thursday 17 March
Bournemouth Symphony Orchestra
Conductor Andrew Litton
Violin Nicola Benedetti
Liszt Les Preludes
Szymanowski Violin concerto no 1
Rachmaninov Symphony no 3

Tuesday 22 March
Beethoven Piano Concerto Cycle Bristol Ensemble
Vaughan Williams Fantasia on a
Theme by Thomas Tallis
Beethoven Piano concerto no 1
Ravel Le Tombeau de Couperin
Beethoven Piano concerto no 3

Thursday 14 April
Bournemouth Symphony Orchestra and the Bournemouth Symphony Chorus:
Karl Jenkins Classics
Conductor Gareth Jones
Karl Jenkins Palladio
Karl Jenkins Stabat Mater

Wednesday 20 April
Beethoven Piano Concerto Cycle Bristol Ensemble
Stravinsky Pulcinella
Beethoven Piano concerto no 2
Finzi Prelude
Beethoven Piano concerto no 4

Wednesday 27 April
Philharmonia Orchestra
Conductor Lorin Maazel
Violin Akiko Suwanai
Soprano Sarah Fox
Mozart Violin concerto no 5
Mahler Symphony no 4

Wednesday 18 May
Bolshoi Symphony Orchestra
Conductor Alexander Lazarev
Soloists Principals of the Bolshoi Opera
Tchaikovsky Extracts from Eugene Onegin: Polonaise,
Tatiana's Letter Scene, Onegin's aria, Final Duet
Prokofiev Suite from Cinderella

Tuesday 24 May
Beethoven Piano Concerto Cycle Bristol Ensemble
Barber Adagio for Strings
Copland Appalachian Spring
Beethoven Piano concerto no 5
Roger Jones