Other Links
Editorial Board
UK

Editor

s

- Roger Jones and John Quinn

Editors for The Americas - Bruce Hodges and Jonathan Spencer Jones

European Editors - Bettina Mara and Jens F Laurson

Consulting Editor - Bill Kenny

Assistant Webmaster -Stan Metzger

Founder - Len Mullenger
Google Site Search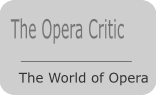 SEEN AND HEARD INTERNATIONAL CONCERT REVIEW
Stravinsky and Bartók: Boston Symphony Orchestra, Michelle DeYoung (mezzo), Russell Thomas (tenor), Albert Dohmen (bass), Raymond Aceto (bass), Matthew Plenk (tenor), Frank Langella (narrator, Stravinsky), Őrs Kisfaludy (prologue, Bartók), Men of the Tanglewood Festival Chorus, James Levine, Boston, 7.1.2011 (KH)
Stravinsky: Oedipus Rex
Bartók: Duke Bluebeard's Castle, Opus 11

This was a program of dedications which make for double-takes.

Stravinsky's early successes in the Parisian Saisons russes were all brilliantly colored and energetic ballets. For although at the start, Dyagilev was happy to introduce the legendary bass Chaliapin to Paris in (for example) his trademark role of Boris Godunov, as a rule Dyagilev hated the operatic tradition. (Don't think harshly of him: artistic greatness is partly a matter of deciding what you do not want to do.)

Not that we should claim that Oedipus Rex is quite containable in the operatic tradition. Stravinsky's conception of the staging was stylized and static—in its own way, a pointed contrast to, for example, the richness of L'oiseau de feu. The score bears the advisory, "Except for Tiresias, the Shepherd and the Messenger, the characters remain in their built-up costumes and masks."

Cocteau and Stravinsky worked on the piece "in secret," keeping Dyagilev in the dark as long as possible. Their idea was that the "opera-oratorio" should be included in a season celebrating 20 years of the choreographer's activity in the theatre; and Dyagilev (a distant cousin of Stravinsky's) called it un cadeau très macabre.

Bartók dedicated his opera Duke Bluebeard's Castle to his young wife, Márta; together with Shostakovich's Ledi Mekbet Mtsenskovo Uyezda, it is one of the most curious operas in the repertory to have a newlywed wife as its dedicatee. Maybe it was the times, and "Thank you, I think" was the desired response to a rich artistic present.

Even as the Sophoclean tragedy which Stravinsky chose is allied to deeper psychology, Béla Balázs's libretto for Duke Bluebeard's Castle is stylized to a level of profound truth. My own wife remarked on it that its depiction of the sexes is probably universal: women are inquisitive (and trending to too-inquisitive), and men are uncommunicative bricks. It is hard to dispute this characterization, when half of Bluebeard's lines seem to be iterations of "Are you afraid?," "No questions, Judith," and "I am waiting, come kiss me." Nor does he get anything like chatty, until the story gets to the point where he's talking about his former wives.

What Márta made of the present, I do not know. Maybe there was a box of chocolates and a bouquet, too.

Programming the two pieces together was really an inspiration on James Levine's part: two iconic stories which wend to an inescapable conclusion, featuring characters who, in the course of the drama, find out more than they can be quite comfortable knowing.

Although the evening was no more taxing to them than some nights at the opera (Michelle DeYoung has sung Dido in Berlioz's Les Troyens, and the first I heard Albert Dohmen sing at Symphony was a concert performance of Der fliegende Holländer), DeYoung and Dohmen gave stellar performances in their double billings. Dohmen served as Creon and the Messenger in the Stravinsky—and he never had the least difficulty being heard over full Stravinsky textures. His voice was at all times and all dynamic levels a sweetly modulated instrument, as well as the master of the castle in the Bartók. DeYoung sang both Jocasta and Judith, and her performance was of an excellence not merely musical but dramatic; her gesture and delivery were so deeply derived from the unfolding story, the drama came alive to such a degree that to have sets and lighting would have been a weakening of the power of the story-telling.

Russell Thomas was a fine Oedipus. (Reading that, I almost don't know how to take it, myself.) The young Matthew Plenk distinguished himself very nicely in the small role of the Shepherd. As ever, the men of the Tanglewood Festival Chorus did exemplary work. And the orchestra and maestro Levine were on brilliant form; this weekend's performances of the Bartók were even more thrilling than those of November 2006. To mention but one instance, when Judith opens the fifth door and gazes upon the Kingdom, the sound of the full orchestra, undergirt by the full organ, was massive, thrillingly impressive, and never out of control.

Two historical footnotes: The concert performance of Oedipus Rex is, as it turns out, an ironical "historical practice," since the piece's première was likewise in concert. Early in 1927 Dyagilev remarked: "I've thought of the way to give Oedipus. We'll simply give it a concert performance—no décor, and the cast in evening dress, sitting on the stage in front of black velvet curtains. Musically it will even gain."

And, it was right here in Boston that Koussevitsky led the first American performances of the opera-oratorio, 24-25 February 1928. Farewell, Oedipus; we loved you. We pity you.
Karl Henning