Other Links
Editorial Board
UK

Editor

s

- Roger Jones and John Quinn

Editors for The Americas - Bruce Hodges and Jonathan Spencer Jones

European Editors - Bettina Mara and Jens F Laurson

Consulting Editor - Bill Kenny

Assistant Webmaster -Stan Metzger

Founder - Len Mullenger
Google Site Search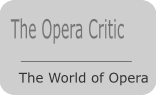 SEEN AND HEARD INTERNATIONAL OPERA REVIEW


Donizetti, Anna Bolena:
Soloists, Orquestra Simfònica and Cor del Gran Teatre del Liceu. Conductor: Andriy Yurkevych. Teatre del Liceu de Barcelona. 23. 2.2011(JMI)

New Production Gran Teatre del Liceu de Barcelona
Direction: Rafel Duran
Sets: Rabel Lladó
Costumes: Lluc Castells
Lighting: Albert Faura
Cast:
Anna Bolena: Maria Pia Piscitelli
Percy: Gregory Kunde
Giovanna Seymour: Sonia Ganassi
Enrico VIII: Simón Orfila
Smeton: Marina Rodríguez-Cusí
Rochefort: Marc Pujol
Hervey: Jon Plazaola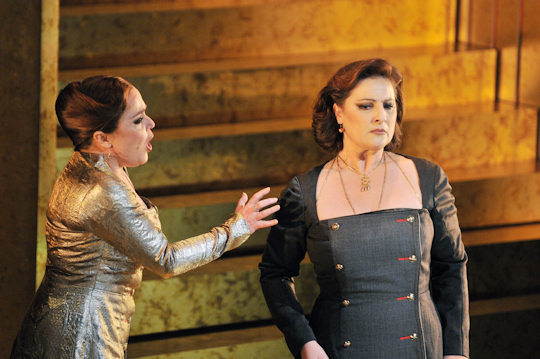 Sonia Ganassi (Giovanna Seymour) and Maria Pia Piscitelli (Anna Bolena)
Picture © Antoni Bofill
I reviewed this production with Edita Gruberova and Elina Garanca atop the bill here. Scheduled as Anna Bolena for the second cast was Mariella Devia; an exciting proposition for opera lovers since she is one of the most important belcanto singers of the last few years. Unfortunately, she cancelled her engagement for personal reasons. Fortunately her replacement, Italian soprano Maria Pia Piscitelli, offered a remarkable performance.
For starters, her voice is far more suited to the character of Anna Bolena than that of Mrs. Gruberova. Mrs. Piscitelli is a lyrical soprano, still short to meet the demands of the unfortunate Queen, but significantly closer to them than the famous Slovak diva. The overall impression is better than what I heard from her a year ago in this house as Leonora (Trovatore), because she is much more comfortable in belcanto than in Verdi. She sings with a good line throughout her very fine middle range that makes up for her metallic top notes and a weak lower register. Most of all she was a convincing, compelling interpreter who made sense of the dramatic moments, reaching, for example, the final lines of "Coppia Inicua" with appropriate tiredness.
José Manuel Zapata also cancelled as Percy and replacing the replacement was America tenor Gregory Kunde. The new Percy has proved an excellent choice, singing with elegance and good taste. In fact he had already replaced Jose Bros at the premiere and I have no doubt that we have gained significantly with Mr. Zapata's cancellation.
Sonia Ganassi was an excellent interpreter of Giovanna Seymour. Obviously it's a bit of a handicap to sing a role directly after Elina Garanca. But the Italian mezzo is a consummate belcanto specialist and she offered a remarkable performance even if she can't match the vocal opulence, volume, or extracurricular benefits of her Latvian colleague.
The new Enrico VIII was Simon Orfila, a better actor than Carlo Colombara in the first cast. His voice is not beautiful but he is an excellent artist on stage, giving sense to his phrases. As one gradually gets used to his voice, nothing stands in the way of complete enjoyment of his performance. Marina Rodriguez-Cusí was little more than acceptable in the part Smeton, with her struggling small voice. That was still better than the new, lacking Rochefort, but not as pleasing as Jon Plazaola who repeated his excellent Sir Hervey.

José Ma. Irurzun