Other Links
Editorial Board
UK

Editor

s

- Roger Jones and John Quinn

Editors for The Americas - Bruce Hodges and Jonathan Spencer Jones

European Editors - Bettina Mara and Jens F Laurson

Consulting Editor - Bill Kenny

Assistant Webmaster -Stan Metzger

Founder - Len Mullenger
Google Site Search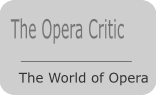 SEEN AND HEARD INTERNATIONAL CONCERT REVIEW


Mazzoli, Boulez, Hurel, Glass, Adès, Hartke: eighth blackbird, Zankel Hall, New York City, 31.1.2011 (BH)

Missy Mazzoli: Still Life with Avalanche (2008)
Pierre Boulez: Dérive I (1984)
Philippe Hurel: …à mesure (1996)
Philip Glass: Music in Similar Motion (1969)
Thomas Adès: Catch, Op. 4 (1991)
Stephen Hartke: Meanwhile, Incidental Music to Imaginary Puppet Plays (2007)
eighth blackbird
Tim Munro, flutes
Michael J. Maccaferri, clarinets
Matt Albert, violin and viola
Nicholas Photinos, cello
Lisa Kaplan, piano
Matthew Duvall, percussion
Never standing still, the sextet eighth blackbird gave a model barometer of its diverse concerns in this evening at Zankel Hall, demonstrating the group's versatility in everything from a short valentine from Pierre Boulez to restless score by Philippe Hurel, ending with a slice of theater from California composer Stephen Hartke. Opening the concert was Missy Mazzoli's Still Life with Avalanche, which I first heard from this ensemble last year, but they have obviously lived with the piece and its emotions came through more piercingly. The stasis seems more poignant; the harmonica drones seem more sorrowful, like some kind of 21st-century equivalent of bagpipes played on solemn, funereal occasions. And as Matt Albert, the group's violinist, half-jokingly remarked, he sees some similarities in Mazzoli's piece and Boulez's Dérive I, which followed: both use sustained tracts of sound. This relatively short study by Boulez, thankfully found often on programs these days, feels like a small, frozen glacier, coupled with the voluptuousness of Debussy, and again, this group shaped it elegantly.
Much less calm, Philippe Hurel's ...à mesure has a sparkling surface, beneath which tension—even violence—surges underneath. Its motion is activated immediately, like a series of prestissimo moments separated by silences, before the final pages slow to a largo punctuated by small bells. Its virtuosic demands seemed almost casually irrelevant here. Philip Glass requires virtuosity of a different sort in Music in Similar Motion, in which all players are required to adhere to the same rhythmic template; one hesitation and you're sunk. In this spirited, precise reading, it felt almost like an undiscovered work by Bach.
Two works with embedded theatricality closed the program. Thomas Adès wrote Catch when he was just 19 years old, and it shows his talent fairly bursting at the seams. Scored for a quartet of clarinet, violin, cello, and piano, the clarinet (Michael J. Maccaferri) enters from offstage, seemingly interrupting the discourse from the other three players. But soon the relationship changes, as the musicians engage each other in the often combative music. Mr. Maccafieri's droll persona was matched by some equally deadpan cues from the others.
I'm not sure the choreography given to Stephen Hartke's Meanwhile, Incidental Music to Imaginary Puppet Plays always felt illuminating, but the overall effect—of a set of strange court dances from some otherworldly plane—was retained. With the players merrily collaborating (each using the large array of percussion, including the winsome use of the flexatone), the evening ended with jovial good humor, and from the reaction, the audience couldn't have been more pleased.
Bruce Hodges