Other Links
Editorial Board
UK

Editor

s

- Roger Jones and John Quinn

Editors for The Americas - Bruce Hodges and Jonathan Spencer Jones

European Editors - Bettina Mara and Jens F Laurson

Consulting Editor - Bill Kenny

Assistant Webmaster -Stan Metzger

Founder - Len Mullenger
Google Site Search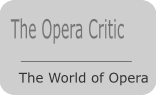 SEEN AND HEARD UK OPERA REVIEW


Donizetti, Belisario : (Concert performance) Soloists, chorus and orchestra of Chelsea Opera Group. Conductor: Richard Bonynge. Queen Elizabeth Hall, London, 13.2.2011 (JPr)


Chelsea Opera Group (COG) attracted Richard Bonynge – in his eighty-first year – to make his debut with this venerable performing group conducting this concert performance of Donizetti's 1836 Belisario. Apparently the composer had Cammarano's libretto for a number of year but it was only after the success of their joint collaboration on Lucia di Lammermoor in 1835 that he went back to it. Although Lucia remains something of a fixture of the repertoire, Belisario – first produced at La Fenice in Venice to great acclaim - is now all but forgotten. Its subject matter does not help of course, with a sixth-century Byzantine general accused of treason and the murder of his son. Add to that the typical eighteenth-century operatic devices of a hero's triumphant entrance, a vengeful woman, a devoted daughter, someone who does not know their parentage and discovers he is the son previously thought dead: throw in the wrongly accused 'hero's' blinding, enemies poised to attack, a mortal wound, a confession, the odd curse or two along the way and there you have it – utter tuneful tosh and not as Donizetti would have us believe, a 'lyric tragedy'.

The music is often relentlessly upbeat even in the most dire of circumstances such at the start 'Part Two' when the chorus sing about Belisario being blinded or about the hordes descending on Byzantium in Part Three. It reminded me of Jackie Mason's wonderful skit on how operas often end with a jolly stabbing or Monty Python's Life of Brian where they sing 'Always Look on the Bright Side of Life' while being crucified. Counting against the opera is as the essay in the programme book suggested: 'Belisario is without florid singing per se; the argument asks for a baritone (not a tenor) as hero – a jeune premier but not a young man – while the prima donna soprano is dark and threatening from he very first notes'. Indeed this did not go on to say that the mezzo-soprano singing Belisario's daughter, Irene, has a longer role than the soprano who sings his wife, Antonia. She is given an imposing entrance aria and a dramatic scena finale. The Act I duet for Belisario and his son, Alessi (previously Alamiro), has some memorable music but better still is the extended duet for the general and his loyal daughter, Irene, in Act II, which unfolds in contrasting sections filled with melodic pathos.

When Bonynge suggested Belisario to COG he had been thinking about it for some time. It was not clear how full a version we had though Bonynge is famous for opening up cuts in the bel canto and other repertoire. I assume there would have been an opportunity for a ballet particularly with the opera's ancient Greek setting and I suspect there were further cuts in the cabalettas and ensembles but I am unaware how much of the original version we heard.

David Soar's bass(-baritone?) voice had the suavity, generosity of burnished sound and sense of drama essential for this bel canto baritone role. It is one of this opera's quirks that Donizetti gives this title character no solos scenes but rather duets. In the scena e duetto Soar is ideally the grieving father who finds in Alamiro some solace for the son he thinks lost and in his trial scene he elicits our sympathy as the victim of his wife's treacherous machinations. In the watershed Act II duet with Irene he phrases 'Ah se potessi piangere' very elegantly and vocally he conjures up his character's suffering without it ever registering on his face – and since this was a concert performance why should it?

Almost as good as Soar were Yvonne Howard and Aldo Di Toro as Irene and Alamiro/Alexis. Howard's mezzo is controlled, refined and impassioned; the wide-range of her music never defeats her and she sings with a focused intensity from her first entry. Aldo Di Toro is quite a discovery - sounding like tenors used to sound in days of yore! Sadly he is – like this reviewer – a little on the short side and this would unfortunately tend to restrict his opportunities I would suspect. He launches into his Act III scena as though his character is an early prototype of Manrico: Di Toro sings throughout with suitably bright, ardent tones and a lyrically honeyed, effortless and untiring voice. Donizetti doesn't give the bass who sings Giustiniano much to work with but I doubt these often portentous pronouncements could have ever been sung much better than, as here, by Graeme Broadbent. The remaining smaller roles were adequately sung by Emily Blanch (Eudora), Andrew Mackenzie-Wicks (Eutropio), Richard Wiegold (Eusebio and Centurion) and Christopher Childs Santos (Ottario).

The disappointment for me of the evening was Nelly Miricioiu's Antonina. Her demeanour on the concert platform was at odds with the rest of the soloists as though the opera revolved around her when – truth be told – she isn't given that much to sing. Her soprano was relentlessly white-toned and declamatory. She didn't seem to have much coloratura at her disposal and her command of legato and pitch caused her intermittent problems. All top notes were hard-won and not always worth the effort. I am sure there are people who will disagree with me in this assessment but I could not help thinking that by accepting this role she had denied a younger singer an opportunity to make a name for themselves.

Richard Bonynge was - as to be expected – exactly the experienced maestro this operatic exhumation needed to make it all work. He led a very sound musical performance with the orchestra and chorus of Chelsea Opera Group performing with dedication, if not with absolute musical polish or precision. Despite smiling benignly whilst moving slowly to the podium, Bonynge is now a rather gaunt and frail figure but like most conductors of his age seems to shed his years once the music begins.

To conclude can I appeal to COG to revise their dress code as it is all much too formal for the men and women soloists for concert performance practice in the twenty-first century? And please, please, stop all the incessant clattering entries and departures from the platform during the music and give the singers chairs to sit on!

Jim Pritchard

Postscript: Two days later it was a wet, miserable lunchtime when more than two thousand people crammed into Westminster Abbey for a Service of Thanksgiving for the Life and Work of Dame Joan Sutherland. It is more than a quarter of a century since I heard Sutherland sing in Lucia di Lammermoor with Carlo Bergonzi on a memorable April night at Covent Garden in 1985. It was through making her debut there in that opera in 1959 that Dame Joan was propelled to international stardom. About two decades after her final public performances, recordings of the Australian's outstanding renditions of Let The Bright Seraphim from Handel's Samson and Casta Diva from Bellini's Norma resounded through the Abbey. It is a rare privilege for an Australian to be afforded the honour of such a memorial service and that is the measure of the esteem with which Dame Joan Sutherland is held.

I had fully expected to be behind a pillar far away from the main event, however was delighted to find myself near Poets' Corner and in prime position to appreciate the excellent performances of the Orchestra of the Royal Opera House under Antonio Pappano who were joined by an extremely accomplished young Australian soprano, Valda Wilson for Fauré's Pie Jesu and Mozart's Alleluia.

Dame Joan's family were involved in this moving ceremony, her grandson Vanya Bonynge poignantly walked up the aisle carrying her honour medals to the High Altar. Then her mentor and husband of 56 years, Richard Bonynge, struggled to compose himself for a reading from Colossians.

The Address was given by former director-general of the Royal Opera House, Sir John Tooley, who described Dame Joan as having 'the most glorious, the most beautiful voice to be heard anywhere round the world during the second half of the last century'. It is perhaps a little churlish but I must suggest that perhaps Sir John dwelt a little too much on the burgeoning 'La Stupenda's' insecurities - as well as the antics of her pushy mother - and too little on her triumphs.

The service was a collaboration between the Royal Opera House, the Australian High Commission and the Australian Music Foundation: Prince Charles represented The Queen, several distinguished Australians and eminent figures from the world of opera down the years were amongst the throng who came to show their respects four months after Dame Joan Sutherland died at her home near Geneva, Switzerland, at the age of 83.