Other Links
Editorial Board
UK

Editor

s

- Roger Jones and John Quinn

Editors for The Americas - Bruce Hodges and Jonathan Spencer Jones

European Editors - Bettina Mara and Jens F Laurson

Consulting Editor - Bill Kenny

Assistant Webmaster -Stan Metzger

Founder - Len Mullenger
Google Site Search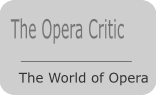 SEEN AND HEARD INTERNATIONAL OPERA REVIEW
Rossini, Il barbiere di Siviglia:
Seattle Opera, soloists, Dean Williamson (conductor), Marion Oliver McCaw Hall, Seattle, 16 & 17.1. 2011 (BJ)
Director: Peter Kazaras
Sets (from Canadian Opera Company): John Stoddart
Lighting: Duane Schuler
Choreographer: Rosa Mercedes
Chorus Master: Beth Kirchhoff
Casts:
Fiorello: Daniel Scofield
Il Conte d'Almaviva: Lawrence Brownlee/Nicholas Phan
Figaro: José Carbó/David Adam Moore
Rosina: Sarah Coburn/Kate Lindsey
Dr. Bartolo: Patrick Carfizzi
Ambrogio: David S. Hogan
Berta: Sally Wolf
Don Basilio: Burak Bilgili
Sergeant: Adrian Rosas

In former times, directors of Rossini's Barber of Seville used routinely to cut the episode in which, after Almaviva and Rosina have agreed on the plan for their midnight flit, Rosina's guardian Bartolo deceives her into thinking that her lover is unfaithful to her. The cut made nonsense of her furious reaction when Almaviva subsequently arrives at the top of the ladder. Geraint Evans directed the opera in Chicago some four decades ago, and when I asked him why he perpetrated that cut, his stupefying response was,` "Well, I have never actually thought about it."

No such lack of thought is to be found in any Peter Kazaras production. In his work, nothing ever happens on stage that is unmotivated. I'm told that in the days when Speight Jenkins, now Seattle Opera's knowledgeable general director, was still a music critic, it took repeated complaints in his reviews to persuade the Metropolitan Opera to restore the missing passage. So, all things considered, it was as unsurprising as it was welcome to find the scene back in place in Kazaras's new Seattle Opera production.

This Kazaras Barber is so much fun that a spectator might be tempted to ask: can a romp like this be compatible with Great Art? The temptation should be resisted. Great comedy may be even harder to achieve than great tragedy. Rossini was capable of tragic sublimity, as you can see from such works of his as Moses in Egypt and William Tell. Yet he was also partial to a romp, and nowhere did he indulge that partiality to better effect than in Barber.

As Kazaras has remarked, Rossini's opera is less complex than The Marriage of Figaro, Mozart's supreme treatment of the next play in the Beaumarchais trilogy that supplied the basics of both plots. Barber is closer to the commedia dell'arte tradition, in which, as he says, "subtlety and depth of character are less apparent and valuable than fleetness and dexterity."

Crafted in collaboration with choreographer Rosa Mercedes and lighting designer Duane Schuler, effects that recall hilarious moments from such unexpected sources as The Wizard of Oz and the Marx Brothers' Duck Soup may look irreverent. But what Kazaras has done is, rather, to treat this supreme comic opera with the greatest respect. His staging takes Rossini's repertoire of musical gesture, full as it is of sheer zaniness, and turns it into a congruently zany visual experience, while illuminating the characters' puppet-like status.

No dutiful devotee of art need feel guilty about having a good time at this marvelous Seattle Opera production. I can't remember the last time I laughed so much at any opera house. John Stoddart's handsome reversible set, created originally for the Canadian Opera Company, works brilliantly, like a sort of operatic twist on Michael Frayn's Noises Off. The experience was enhanced by the superb quality of Dean Williamson's orchestra and Beth Kirchhoff's chorus. And there wasn't a single weakness among the soloists either at the Saturday opening-night performance or in the second-cast Sunday matinee.

Argentine-born baritone José Carbó, in his U.S. debut, got the Saturday off to a flying start with his irresistible portrayal of Figaro, the barber of the opera's title. Taking over on Sunday, David Adam Moore sang and acted with splendid aplomb, but on a merely normal human scale, whereas Carbó's outsize personality and charm had the audience in the palm of his hand from the get-go, and his voice is gorgeous.

Rossini wrote the part of Rosina for a contralto, but in his day the distinction between soprano and mezzo-soprano was not yet current. So it was entirely acceptable that the role should be shared in this production between soprano Sarah Coburn (a delightful Adele in the company's 2006 Fledermaus) and mezzo-soprano Kate Lindsey (returning from her triumphant local debut in last year's premiere of Daron Aric Hagen's impressive Amelia). Both of them as lovely to look at as to listen to, they caught the character's mix of tenderness and spitfire volatility to perfection. Coburn's performance perhaps yielded more in the way of stunning vocal fireworks at the top of the range, but Lindsey's warmer tone achieved thrills that fully compensated at a slightly lower pitch.

Publicity for the production largely centered on the return of Young Artists program alumnus Lawrence Brownlee, now a tenor of world renown, as Almaviva, and his warmly focused voice, seemingly effortless technique—magisterial in the rarely-performed aria "Cessa di più resistere"—and dramatic flair justified all the hype. Nicholas Phan, making his company debut in the role on Sunday, was excellent, if not quite as smooth of vocal line.

Both casts featured Patrick Carfizzi, as a wonderfully comical Bartolo, and Burak Bilgili (the outstanding Raimondo in Vancouver Opera's recent Lucia di Lammermoor), as a no less droll Basilio. Daniel Scofield and Adrian Rosas did all that was expected of them as Fiorello and the police sergeant. Backed up by David S. Hogan, who had a ball as the persistently prat-falling Ambrogio, Sally Wolf made a hit with the long-suffering maid Berta's one touching little aria. But then the whole production is, to steal Osric's phrase in Hamlet, a very palpable hit. Seattle residents—don't miss it. And if you live somewhere else—well, get here as fast as you can: the run ends on 29 January.
Bernard Jacobson
A shorter version of this review appeared in the Seattle Times
.