Other Links
Editorial Board
UK

Editor

s

- Roger Jones and John Quinn

Editors for The Americas - Bruce Hodges and Jonathan Spencer Jones

European Editors - Bettina Mara and Jens F Laurson

Consulting Editor - Bill Kenny

Assistant Webmaster -Stan Metzger

Founder - Len Mullenger
Google Site Search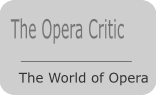 SEEN AND HEARD UK OPERA REVIEW


Verdi, Aida:
Soloists, chorus and orchestra of The Royal Opera. Royal Opera House, Covent Garden, London. 11.3.
20
11
(JPr)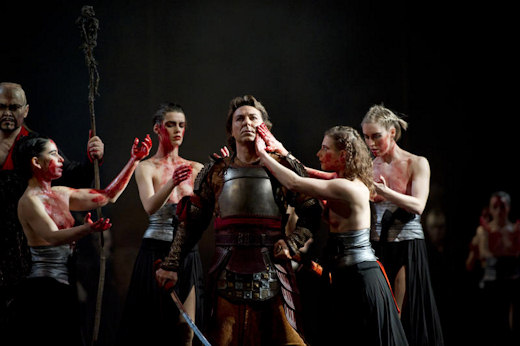 Act I


Previously when David McVicar has directed opera is has mostly been provocative and thought-provoking. However, with this Aida he has put something on stage that is - for long stretches of the evening - rather dull and tawdry to the eye. The production deserves to be retired now but - I fear - is destined to run and run as it provides a fairly cost-effective backdrop to four or so principal singers who can come in a few days before the performance to be walked round the set and told where to stand - and then be left to get on with it without further direction: witness the relative success of the 'new' Aida Liudmyla Monastyrska who came in at the very last moment - and after the dress rehearsal - when the previously announced singer decided she was pregnant and could not fulfil her contract.
Most of the faults I saw in this production's first appearance are still valid (review) but now there is even less attention of the original detail (much of the elaborate face painting seems no more) and the main singers now just about acknowledge each other on stage before facing steadfastly forward to sing to the back of the auditorium. Sing out they certainly do as this was just about the loudest Aida I have ever heard I think these broadly acted performances - the 'acting' was often, to be truthful, non-existent - would be entirely appropriate in an arena situation but in the theatre it is of the sort that Mahler first tried to eradicate from stagings of opera over a hundred years ago!

It cannot help the prospects of success of this Italian opera par excellence that nobody was actually Italian; among the main cast there was one Frenchman (albeit of Sicilian descent), a Russian, two Ukrainians, a German, an American, a New-Zealander and one British singer. Ms Monastryrka has probably made an international name for herself with this Aida but it cannot disguise the fact that she sang Italian with what appeared to be a strong Ukrainian dialect and very few words were discernible. The Italian coach, Marco Canepa, should get a chance to work with her now and this may improve.

At least when you sit down in the opera house you can often be assured of over-hearing something memorable. On this occasion it was 'Oh, Aida is a slave and she is a princess too' - as the synopsis was read out aloud to 'inform' a couple about what they had come to see. The programme book was particularly informative and it reminded me again how Aida has been accused of 'presenting an Imperialist vision of Egypt and thereby of the Orient as a whole'. In truth, there has never seemed to be more of Meyerbeer to Aida then there is in McVicar's 'vision' - 'effects without cause' as Wagner put it. The programme book actually never tells us whether human sacrifice was rampant in Egypt and he turns the usual 'Glory to Egypt' into the 'Gory of Egypt' as all the pageantry and the grandeur that are inherent in the music - the triumphal march or the ballet for example - are much diminished in this production by all the blood letting, as well as, the huffing and puffing sword-wielding or simulated male-female, female-female couplings. We are clearly meant to be siding with the proud Ethiopians against the cruel and vainglorious Egyptians.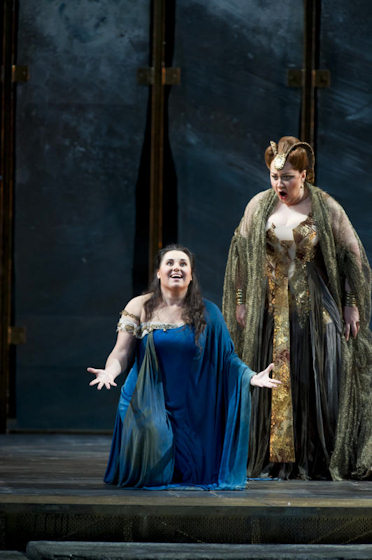 Act II


While Jean-Marc Puissant's rotating installation art wall - from a warehouse rehearsal space perhaps - with its long spear-like accretions, plus the crowd scenes and frequently gyrating bodies do provide some limited 'spectacle' in the first two acts; 'inspiration' - or more possibly money - has run out for Acts III and IV and it is little more than a semi-staging. There is no place for Amonasro to hide and overhear Radames and Aida and he ends up about two metres away from them and there is no real sense of entombment at the end. It is clear again how Moritz Junge has referenced almost every tribal culture for his costumes - apart from Ancient Egypt - and there is too little distinction between the priesthood and anyone else.

In fact I return to how I began this review: there are in fact two things going on in this production and McVicar has made no real attempt to unite the 'grander' moments when the stage is full of supernumeraries with his principal singers often left to their own devices towards the front. As such it becomes just a showcase for the singers the Royal Opera can engage from those available and its current eleven performances are mostly doubly cast … and there are three tenors for Radames.

On this first night apart from the Covent Garden debutant, Liudmyla Monastyrska, Roberto Alagna was singing the role for the first time at Covent Garden. He was in stentorian voice but I wish he had channelled his inner-Bergonzi rather than singing like Jon Vickers. His performance was too self-absorbed, and however stirring the sound he produced there was too little refinement in his vocalism and too little engagement with what he was singing about. At the curtain call, with a protective arm around his Aida, he showed more connection with her than he had during the actual opera itself.

There can be few finer mezzos singing this Italian repertoire than Olga Borodina. Her voice has an incredible range and is strong, sonorous and piercing: she almost seemed capable of matching her Aida note-for-note at times. Her imperious portrayal of Amneris is one that I suspect she takes with her from opera house to opera house regardless of the production she is engaged for.

The smaller roles were cast from strength though I felt both Ramfis and Amonasro are opportunities where British singers might be given a chance for career development; witness British bass Brindley Sherratt's commanding presence as the King of Egypt. He sang superbly in the role - that is presented here as a grand inquisitor - and will get his chance as Ramfis in the last three performances. He should have been singing it throughout the run given that Vitalij Kowaljow was a disappointment with his idiomatically Slavic-sounding Ramfis. Michael Volle is an excellent German lieder and German opera singer and whilst he sang with typical dramatic conviction and expressiveness, he was more Alberich than Amonasro.

In the programme book it was written that an Aida performance by Adelina Patti was once described as follows: 'There was a new note of tragic feeling in her voice and she seemed to embrace the whole gamut of human misery and passion'. That Liudmyla Monastyrska never did. Her voice is a thrilling raw instrument and less destined for a career in spinto roles than as Strauss heroines or Brünnhilde I would guess. Her voice is clear and bright-toned with top Bs and Cs of clarion power, although it is not used - as yet - with any subtlety or beauty.

The chorus were their usual excellent selves, forthright and well-balanced and the conductor, Fabio Luisi, is to be applauded for not indulging his singers with an energetic, propulsive and exhilarating account of the score but one that very occasionally left his singers lagging behind his beat.

Jim Pritchard

Pictures © Bill Cooper / The Royal Opera