Other Links
Editorial Board
UK

Editor

s

- Roger Jones and John Quinn

Editors for The Americas - Bruce Hodges and Jonathan Spencer Jones

European Editors - Bettina Mara and Jens F Laurson

Consulting Editor - Bill Kenny

Assistant Webmaster -Stan Metzger

Founder - Len Mullenger
Google Site Search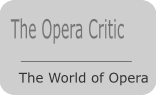 SEEN AND HEARD NEWS ITEM


New Chief Executive for

Welsh National Oper

a
:
David Pountney to head the company from September (BK)
One of Britain and Europe's most renowned opera directors, David Pountney, is to take up the position of Chief Executive and Artistic Director of Welsh National Opera in September this year.

David Pountney has had a long association with Welsh National Opera and knows the company well. He has directed many acclaimed productions over the years, receiving the Janacek Medal for his series of Janacek's operas, co-produced by WNO and Scottish Opera. In the spring of 2013, Pountney will direct Alban Berg's Lulu for the company, under the musical leadership of Lothar Koenigs, WNO's Music Director.

In an illustrious career, David Pountney has worked as Director of Productions for both Scottish Opera and English National Opera and since 2003 has been Intendant of the prestigious Bregenz Festival in Austria. He will continue to act as artistic director of this summer festival until his present contract ends in 2013, but will be reducing his other freelance commitments.

Geraint Talfan Davies, chairman of WNO, said that the appointment had come at the end of an international search that had produced applications from all over the world. "We are truly delighted to have found someone of David Pountney's experience and stature to lead WNO for the next five years. With his substantial track record for innovation and excellence, he will reinforce the international standards and the sense of artistic ambition on which the company's reputation has been built," he said. "His extensive connections throughout the world of opera will also be an enormous asset to Welsh National Opera in the years ahead. The whole company is excited at the prospect of working with him."

David Pountney said: "I am really thrilled to have the chance to return to lead a company that has long been very close and important to me - a national and international company that has enormous potential to be a powerful creative force on the European opera stage. That potential stems from its secure base in Wales, from which it derives its deeply grounded musical tradition. I particularly look forward to nurturing that tradition alongside my friend and colleague, music director, Lothar Koenigs.

"I have long experience of the special needs and challenges of a touring opera company, and am very aware that WNO is also strongly supported in England. It is encouraging that, despite the inevitably harsh financial climate, the value of WNO's work has been fairly recognised by the arts councils of both Wales and England.

"Opera is the ultimate collaborative art form, and it's through collaboration that I want to see WNO continue to draw on and give back strength to the wider cultural community. With that strength and belief behind us, I look forward to being able to deploy the international experience I have gained over the last years to lead this flagship company into a new era of artistic adventure."

Described by one critic as "one of the country's sharpest theatrical minds" David Pountney has worked in most of the major opera houses in Europe, as well as the United States and Japan. He has always championed new work and has directed more than ten world premieres, including three by the British composer, Sir Peter Maxwell Davies.

An experienced librettist, he collaborated with Sir Peter on The Doctor of Myddfai for WNO, and in recent weeks a new Maxell Davies work, Kommilitonem, for the Royal Academy of Music in London and the Juilliard School in New York. He has also translated many operas from Russian, Czech, Italian and German. The production of Die Fledermaus, in WNO's current season is based on a translation by him.


Bill Kenny