Other Links
Editorial Board
UK

Editor

s

- Roger Jones and John Quinn

Editors for The Americas - Bruce Hodges and Jonathan Spencer Jones

European Editors - Bettina Mara and Jens F Laurson

Consulting Editor - Bill Kenny

Assistant Webmaster -Stan Metzger

Founder - Len Mullenger
Google Site Search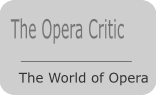 SEEN AND HEARD INTERNATIONAL CONCERT REVIEW


Unsuk Chin Portrait
: The Talea Ensemble: Victor Adán (electronics), James Baker (conductor), Chris Gross (cello), Jennifer Choi (violin), Matthew Gold (percussion), Stephen Gosling (piano), Alex Lipowski (percussion), Jeff Missal (trumpet), David Nelson (trombone), Elizabeth Weisser (viola), Alex Woods (violin), Taka Kigawa (guest piano), New York City, 16.2.2011 (JE)
Unsuk Chin : Allegro ma non troppo (1994/1998, New York Premiere)
Unsuk Chin : ParaMetaString (1996, New York Premiere)
Unsuk Chin : Etudes for Piano
II. Sequenzen (1995, rev. 2003)
IV. Scalen (1995, rev. 2003)
VI. Grains (2000)
V. Toccata (2003)
Unsuk Chin : Fantaisie Mécanique (1995, rev. 1997, New York Premiere)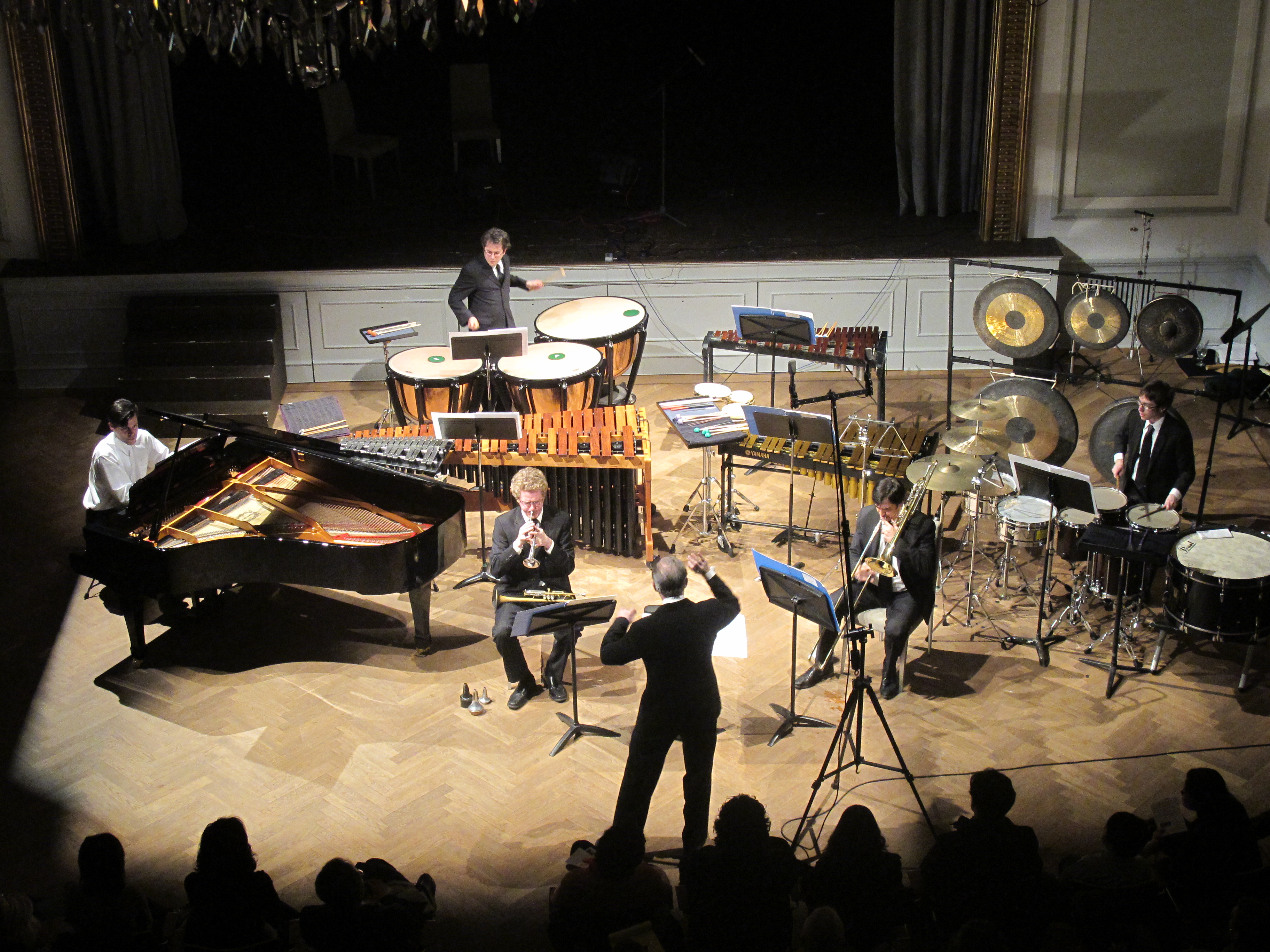 James Baker conducts the Talea Ensemble in Unsuk Chin's Fantaisie Mécanique
Photo courtesy Korean Cultural Service

Even in her recent and most acclaimed works-the Violin Concerto, the opera Alice in Wonderland-seductive timbres never quite conceal the double nature of Unsuk Chin's musical voice. It is an animating quality-a near and far, a within and without, an I and thou-and yet her counterpoint stirs up a desire for unity of person and place. As she finds new ways to reconcile widely divergent musical influences, her sound trembles between the hum and echo of different cultures. Her use of percussion, for instance, combines a fleeting sensation of the Balinese gamelan with a memory of the European symphony orchestra. Her refined harmonies summon a tranquility that modern life unsettles. While many culture-hopping composers respond to similar feelings of displacement by merging non-Western, folk, and popular genres into their music, her achievement is to work entirely within a modernist idiom.

But this double nature, sonorous and subtle in Ms.Chin's new compositions, was formerly discordant and agitated. This restlessness was expressed with impressive skill and dedication by the Talea Ensemble, along with the excellent pianist Taka Kigawa, in a concert presented by Korean Cultural Service devoted to works by Ms. Chin, mostly from the 1990s. The program, at Bohemian National Hall, opened with Allegro ma non troppo, a psychologically tense solo for amplified percussion and recording. The percussionist, Alex Lipowski, played with his usual virtuosity. He also was called upon to inhabit this domestic nocturne as if an actor playing a role. With verve and understanding, he ripped open a cardboard box, pulled out colored tissue paper (later used to create sounds), struck instruments with household implements-feather duster, fork, ticking clock, drinking glass-and mallets, all doubled by the same sounds previously recorded and heard from speakers. The result evoked the daytime clatter of home rattling around a sleepless mind-a crescendo of pent-up dissatisfaction ending abruptly as Mr. Lipowski crushed tissue paper into a ball and threw it into the audience.

The drama was followed by a sharp examination of musical elements for amplified string quartet and recording, ParaMetaString, which studied, in four movements respectively, tremolo, pizzicato, legato, and col legno. In other hands, it might have been sterile, but Ms. Chin has an uncanny ability to invest the contrast between acoustic and electronic sounds (the acoustic sounds recorded, and in this case, processed) with interest and emotional weight. Hearing the piece was like looking at music though a microscope; but seeing a small part of something large is disorienting. In this way, the components of music felt clear and mysterious at the same time. An intense metallic trill, for instance, magnified the facts of oscillation but also sounded like a cimbalom, suggesting Ms. Chin's fraught relationship with her teacher, Ligeti. The irony was illuminated during an in-concert discussion between Ms. Chin and Anthony Cheung, Talea's artistic director. Ms. Chin also elaborated on her Presbyterian upbringing in South Korea, studies and long residence in Germany, and her growing sense that, culturally and emotionally, she is Korean.

A selection of four piano etudes, performed with clarity and grace by Taka Kigawa, followed. In Sequenzen, Scalen, andGrains, Mr. Kigawa etched repeated notes, overtones, and scales as if they were pastoral images, and not finger-twisting exercises. In Toccata he separated and blended voices into a chorus of bird-like song. The concert ended with Fantaisie Mécanique, nimbly played by the Talea Ensemble, which has quickly come to seem indispensable to the New York City new music scene. Throughout this exuberant chamber work, the trombone repeatedly tempted piano, trumpet and percussion to slide, bend, and wobble into a mood of raucous improvisation, but reassuring balance was attained between the colors, textures, and rhythms of modernist decorum and enigmatic spontaneity. That once again I heard a tension between two different ways of being in Ms. Chin's music did not come as a surprise. Her sound brings to mind a quality of apprehension, both as dread and as understanding.

Jeffrey Edelstein