Other Links
Editorial Board
UK

Editor

s

- Roger Jones and John Quinn

Editors for The Americas - Bruce Hodges and Jonathan Spencer Jones

European Editors - Bettina Mara and Jens F Laurson

Consulting Editor - Bill Kenny

Assistant Webmaster -Stan Metzger

Founder - Len Mullenger
Google Site Search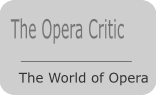 SEEN AND HEARD INTERNATIONAL OPERA REVIEW

Roussel, Hussain:Zakir Hussain (tabla), Shankar Mahadevan (vocalist), Hariharan (vocalist, Kelley O'Connor (mezzo), Christoph Eschenbach (cond.), National Symphony Orchestra, Kennedy Center, Washington 2.3.2011 (RRR)

Albert Roussel : Padmavati Suite
Zakir Hussain : Concerto for Four Soloists


For the Washington, D.C. celebration of India-"Maximum India," the National Symphony Orchestra programmed a concert suite version of Albert Roussel's opera, Padmavati, and the première of Indian composer Zakir Hussain's Concerto for Four Soloists at the Kennedy Center on the evening of March 3rd.

Generally ignorant of Indian music, I confess I came Thursday night for Roussel, a French composer of the first half of the twentieth century, whose works I greatly admire. Roussel wrote Padmavati in 1917 after a trip to India had impressed him deeply with the lore of this queen who preferred the self-immolation of suttee with her dead husband to the attentions of the Muslim Mongol conqueror Alaouddin (circa 1300 AD).

Roussel considered Padmavati pivotal of his "transitional period" during which, he said, "the style changes, the harmonic sequences become bolder and harsher, [and] the Debussian flavor has completely disappeared." One must know that his preceding works, such as the First Symphony, were steeped in Impressionism and bathed in lush harmonies. Four years prior to Padmavati, Roussel had written Evocations, a triptych for soloists, choir, and orchestra, an almost hallucinatory recollection of India and its holy Hindu sites. It was an early sign of Roussel's ability to take on major subjects with massive forces that could erupt in almost barbaric power without losing a sense of refinement and control. Padmavati fulfills the promise of Evocations.

Roussel conceived his opera on a vast scale for large orchestra, chorus, ballet troupe, and challenging soloists' parts-the expense of which is one reason why it is seldom seen. But at least it can be heard in concert version or, here at the Kennedy Center, in two suites. The program notes, other than noting that this was the Washington première, indicate nothing on who arranged these suites, but they are without chorus, or soloists except for Padmavati herself. What we end up with are the orchestral preludes to the two acts, Padmavati's long "Il est trop tard . . ." solo, and other orchestral music. Since the chorus is a major figure in the opera (and in some of the music redacted for these suites), this is a grievous (but economical) omission. I would hate for anyone to think that these suites, despite their orchestral brilliance, give a true measure of this opera's worth.

But I am so thirsty for Roussel that they will have to do. And they did quite well, especially under Christoph Eschenbach's vigorous direction. He and the NSO captured the propulsive power of the music in an interpretation that clearly took to heart Roussel's own description of the work as pointing to his future, rather than to his Impressionistic past. Eschenbach eschewed languor and refused to luxuriate in what are still some gorgeous harmonies, but convincingly showed the relationship of this work to the grinding power and rhythmic maelstrom of the Third Symphony that was to come in 1930.

Padmavati contains some very complicated passages, but the remarkably spry Eschenbach led with a steady pulse and marvelous clarity. He also showed that he and the NSO players could pull off a delicate diminuendo at the close of Padmavati's lament. In short, the NSO was in very good shape, and this was further evidence that we are lucky to have Eschenbach here. The one rub came in the form of mezzo soprano Kelley O'Connor's Padmavati aria. O'Connor has a dark chocolate voice with a tight vibrato, but it seemed stuck in her throat. She could barely be heard. I thought this might have been a problem with the low ceiling over the parterre section in which I sat, but I checked with a friend in row R of the orchestra and the verdict was the same: no projection.

East moves West in Zakir Hussain's Concerto. The four soloists consisted of the composer (pictured above) playing the tabla, a pair of Indian hand drums, and three vocalists-Shankar Mahadevan and Hariharan from India, and Ms. O'Connor, who did much better in this piece, admittedly assisted by a microphone now (used by the other soloists, as well). The vocal soloists are supposed to represent an Islamic Sufi, a Hindu priest, and a biblical preacher who "embark on a journey together, convinced that they have nothing in common." Not surprisingly, at the beginning this journey in the first movement, they each sing alone. By the third movement, they are singing all "together in the strength of oneness," having "experience[d] the unity emerging from what mankind presumes to be an irreconcilable diversity." In other words what we have here is an Indian version of crossover music. Or perhaps I should say "crossovers" in the plural - as it both crosses over from pop to classical and from East to West.

The music was highly rhythmical, as might be expected with a timpani soloist, simple in its attractive melodies, and fairly repetitious at times, reflecting its vaguely ritualistic character. There were some fun orchestral riffs, broken by vocal expostulations, supported by the tabla, that itself was then given its own Gene Krupa moment. Hussain is obviously a virtuoso player. The vocalizations, often sounding improvised (a form of Sufi scat singing?), were far more exotic than anything in the Roussel, and let us know that we were not in Kansas anymore. There was some lovely lyricism in the second movement, while the third, which began lyrically, reverted back to the highly rhythmic. The concerto was very colorful, perhaps orchestrally inflated, and heavier on flash than substance. In this it reminded me of the music of Alan Hovhaness. But one wonders how else one could conflate the diversity of Muslim, Hindi and Western musical traditions? This does not speak to the merits of whether one ought to try.

The NSO played in the full spirit of the thing, miming an Indian orchestra when necessary. I was intrigued by the Indian vocalists, who, the program notes informed us, are superstars, but I have no standard by which to judge their performances other than my own pleasure in listening to them. (Why, however, did the program not provide the texts that they were singing?)


Robert R Reilly