Other Links
Editorial Board
UK

Editor

s

- Roger Jones and John Quinn

Editors for The Americas - Bruce Hodges and Jonathan Spencer Jones

European Editors - Bettina Mara and Jens F Laurson

Consulting Editor - Bill Kenny

Assistant Webmaster -Stan Metzger

Founder - Len Mullenger
Google Site Search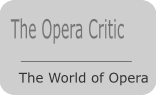 SEEN AND HEARD INTERNATIONAL CONCERT REVIEW
Music from the Time of Monteverdi: Soloists, Juilliard415, Monica Huggett (leader), Willson Theater, Juilliard School of Music, New York City, 3-02-11(SSM)

It might seem like a strange way to start a review, but I am refraining from listing all the music played last night. This is simply because I'm not totally sure what actually was played. A note in the playbill states that the ensemble will present selections from among the pieces listed within. Monica Huggett said to the audience at the beginning of the concert that several pieces listed would not be played due to time constraints and she named them. After the intermission, Nathan Helgeson announced that he would be playing an additional work for dulcian (an early Baroque bassoon) accompanied by cellist Beiliang Zhu, written by a composer whose name I couldn't catch.
Even though there was no attempt to play these early to mid-Baroque works in any chronological order, it was interesting to note how the music changes from the earlier works of Castello, Buonamente, Jarzębski and Rossi to the later compositions by Legrenzi, Cavalli and Bertali. The earlier music is often more adventurous harmonically, more likely to stray to far-off keys, more likely to jump to another meter or suddenly change tempo. The later works, in contrast, are more refined, more melodic, less likely to be formulated by a simple canonic structure, but also less likely to take risks. With Legrenzi, in addition to hearing echoes of Vivaldi, you can also hear the music moving ever so slightly towards the classical era and away from the elemental freedom of form of the earlier Baroque period.
Of the composers whose works were performed, I'm familiar only with the music of Salamone Rossi (madrigals), Giovanni Legrenzi (Northern Italian School, the most important mentor to Vivaldi) and Francesco Cavalli (composer of the seminal operas,
La Didone
and
La Calisto
). I felt better about my lack of knowledge when Ms. Huggett asked the audience if anyone had heard of the Polish composer Adam Jarzębski, and no one that I could see raised a hand. Anyone wanting additional information about the composers and their works could do no better than to read the detailed and well-researched program notes by Robert Mealy. As I have said in earlier reviews, Mr. Mealy's comments are exemplary.
In discussing the composer Adam Jarzębski, Ms. Huggett joked that the work that they would be playing should be an Itunes hit. She was not far from the truth. This work, as well as most of the others on the program had an elemental jauntiness so rhythmic that it was hard to keep one's foot from tapping the beat. Many of the selections were canonic, giving each musician the chance to share the theme. Usually the canonic theme is started by the first violinist and is followed down the line of string players,  varied and repeated again. The opening work by Dario Costello (fl. early 16c) was almost fugal and very modern in its modulations that took it strikingly far from home. In this and later works Liv Heym, second violin to Ms. Huggett, was able to keep pace with Ms. Huggett. It almost seemed as if they were playing the memory game,
Simon
, where a series of notes are played that each player has to play back. If you played the theme correctly one note was added, and the one who succeeded in playing back the longest run of notes won the game.  In this match, both players came in first. If at times Ms. Heym didn't quite have the intonation that Ms. Huggett had, it could partially be the difference in instruments. Ms. Huggett's violin was unusually deep  and rich.         
The other instrumentalists were equally accomplished. In one work, the gambist, Andrew Arceci, turned his instrument on its side, sat down and played his viola da gamba as if were a guitar. In the additional work presented by Mr. Helgeson, he made a great effort playing his dulcian in a canonic round against the cellist, Ms.Zhu. He got stuck once or twice, trying to duplicate the musical phrases that Ms. Zhu sent him. Both Tatiana Daubek and Adriane Post were equally proficient playing Baroque violas as they were with their violins. The excellent basso continuo, often hardly noticed, consisting of Jeffrey Grossman on organ and Daniel Swenberg on theorbo provided the support without which the music played would sound thin and lifeless.
I again commend Ms. Huggett for her adventurous choice of composers and the students for their upbeat, spirited and enthusiastic playing of this uncommon and unusual music.

 

Stan Metzger