Other Links
Editorial Board
UK

Editor

s

- Roger Jones and John Quinn

Editors for The Americas - Bruce Hodges and Jonathan Spencer Jones

European Editors - Bettina Mara and Jens F Laurson

Consulting Editor - Bill Kenny

Assistant Webmaster -Stan Metzger

Founder - Len Mullenger
Google Site Search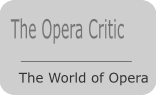 SEEN AND HEARD OPERA REVIEW
Puccini, La Bohème: Soloists, chorus and orchestra of the English National Opera. Conductor: Stephen Lord. The London Coliseum, 22.1.11. (JPr)

It is interesting to revisit this revival of Sir Jonathan Miller's 2009 production with the statement he made then about how 'Puccini's operas are really rather like movies, and La bohème is the most natural and believable of them all. I want to make it as much like a movie as it could possibly be. I'm basing the artists' relationship on the movie Withnail and I – shabby, upper class boys who think squalor is very romantic.' As I reported in 2009 (full review here http://www.musicweb-international.com/sandh/2009/jan-jun09/boheme0402.htm)  what we got was 'not seedy, hedonistic or drug-fuelled enough to be associated with this slice of life in late 1960's London' though that concept would give a very interesting 'take' on La bohème for some future director … if ENO survives. This may be more problematic than it seems as not only were there leaflets on seats requesting money, there was an appeal from the stage by music director, Edward Gardner before curtain up as well as buckets to collect patrons' loose change both during the interval and at the end of the evening! Dignity at all times surely is needed and things can't be that bad?
 
Perhaps this outward show of desperation is helping bring everyone together and engendering some fighting 'gung ho' spirit in the 80-year-old English National Opera because as the evening went on the orchestra, chorus and soloists began to perform as if their life – or at least livelihoods - depended on it, which might be very well.


Miller returned to the ENO in 2009 promising some quasi-cinematic realism for the lives of the bohemians, their poverty and Mimì's suffering. We are in Paris in the early 1930s and photos of the city's demi-monde by Gyula Halász (alias Brassaï) dominate the programme book and were the inspiration for Isabelle Bywater's designs. I was sitting closer than I was before and the two split level revolving sets, together with the costumes and lighting, had a monochrome palette I didn't appreciate before. Having the flatmates in a loft above the Café Momus still restricts what they can get up to. When they perform a comic Pas de Quatre in Act IV they really don't have far to go with it. There is only one bed and little furniture, yet for some reason we can see into the bathroom. On the plus side, I found seeing the comings and goings of Marcello, Colline, Schaunard, Benoit, Mimì and Musetta, up and down the external stairs, now gave continuity to the action rarely seen in most La bohème productions.


For the Café Momus scene there is still too much going on in a restricted space at the front of the stage and those in the Stalls can still see little of what is happening further back.


Things improve immeasurably after the interval and now Act III and Act IV work very well. The snowy scene in Act III was a strong reminder of Britain in December 2010 - and underscored by Puccini's genius – the emotional plight of Marcello, Musetta, Rodolfo and Mimì was brought vividly to life. Although for Act IV everyone was on top of each other once again in the cramped garret it didn't seem to matter as much as before and the opera reaches a suitable tragic conclusion. We all know how La bohème ends but it is to Jonathan Miller's credit that Mimì's death - and the bohemians' reaction to it - is so natural and convincing.


Rodolfo – though still not a very romantic figure – seems to have gained confidence from how he was originally conceived as he very knowingly conceals Mimì's key. Mimì clearly remains the experienced 'older woman', one of those who have notoriously taken the virginity from eager students through the ages. How they fall so quickly for each other remains a mystery as they rarely make eye contact. I think there may be a reason for this because high up on the set they would need to see the conductor's beat and must look off-stage to the TV screens to do this, hence they cannot be looking at each other. 


Alfie Boe was Rodolfo once more and he began by trying to force his small-scale lyrical voice too much. He relaxed as the evening progressed and was at his best in the Act III farewell duet and quartet, as well as, as in his final agonized cries of 'Mimì'. Elizabeth Llewellyn, a former ENO Opera Works singer, confirmed her outstanding promise with an accomplished Mimì. She has a rather full soprano sound for Puccini and she took a little time to focus her voice but she seems quite a discovery by ENO. However like most Mimìs she never appears frail enough for her early demise and there was more coughing from the audience than from her Mimì on stage.


There was insufficient sparkle in voice or personality in Mairéad Buicke's Musetta and Marcello (Roland Wood), Colline (Paul Putninš) and Schaunard (George von Bergen). However enthusiastically they threw themselves into their roles they did not always seem in the freshest of voices, but that did not spoil the overall success of the evening. The chorus and the children were well-schooled and Simon Butteriss and Richard Angas repeated their finely-detailed cameo appearances as Benoit and Alcindoro.


Significantly compared to 2009 matters have improved in the pit with the excellent ENO orchestra now under the experienced baton of Stephen Lord who conducted with suitably idiomatic Puccini conviction, tenderness and 'heart-on-the-sleeve' emotion.


© Jim Pritchard
Back to
Top
Cumulative Index Page