Other Links
Editorial Board
UK

Editor

s

- Roger Jones and John Quinn

Editors for The Americas - Bruce Hodges and Jonathan Spencer Jones

European Editors - Bettina Mara and Jens F Laurson

Consulting Editor - Bill Kenny

Assistant Webmaster -Stan Metzger

Founder - Len Mullenger
Google Site Search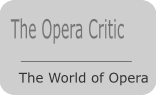 SEEN AND HEARD INTERNATIONAL OPERA REVIEW

Purcell, The Indian Queen Early Music Guild, Baroque Northwest, Seattle Early Dance,, The Chapel at the Good Shepherd Center, Seattle, 25.2.2011 (BJ)


Direction and choreography: Anna Mansbridge
Musical direction: Kim Pineda
Lighting and set: Theodore Deacon
Costumes: Jamia Hansen-Murray

Cast:

Zempoalla: Rebekah Gilmore, soprano
Adario: Catherine Olson, soprano
Don Alvaro: Aaron Cain, bass-baritone
Damon: Jay White, countertenor
Erika Chang, Spirit 1, soprano
Sibyl Adams, Spirit 2, soprano

With a major festival waiting in the wings to treat Seattle, in mid-March, to more than two dozen performances of Handel (for information: www.americanhandelfestival.org), it was a pleasure to encounter what was probably the first local performance of a work by his great English predecessor, Henry Purcell. Enterprisingly staged, The Indian Queen was played, sung, and danced with gusto, and in the end provided a fine evening's entertainment before a sold-out house of appropriately modest size.

I say "in the end" because the first sounds that emerged from the period instruments assembled to the side of the stage were a shade lacking in allure; happily, the playing, under the direction of baroque flutist Kim Pineda, rapidly rose to the kind of vigor and artistry expected from a line-up of highly reputed and skilled musicians. But there were also oddities in the version of the work that had been put together under the text-editorship of Theodore Deacon.

A note in the program made no secret of the presenters' dismissive feelings about John Dryden's and Robert Howard's libretto and about the viability of giving the work as originally conceived. This, we were told, "would involve some five hours of melodramatic and poetic tedium." Mr. Deacon had therefore decided to effect a kind of blend of Indian Queen elements with the plot of Act V of Rameau's Les Indes galantes.

In the process, what began as a semi-opera was converted into what might be called a three-quarter opera, by which I mean that the 17th-century genre's distinction between principal characters who only speak and secondary ones who sing and dance was subverted. Certain illogicalities followed from this. Zempoalla, the Indian queen of the title, was asked to sing that gorgeous air, "I attempt from love's sickness to fly in vain," at a point in the action before there had been any hint that she was suffering from the sickness in the first place. And her two vying suitors, the Frenchman Damon and the Spaniard Don Alvaro, after vividly demonstrating their mutual hostility at their first entry, suddenly came back on stage having become all sweetness and light without any rhyme or reason. (Their ostensible reconciliation soon evaporated, rather like the cordiality of that famous Rabin-Arafat handshake back in the other Washington in 1993.)

But if logic, and dramatic sense, were ill served, there was still so much wonderful music to be heard, so much fine singing and playing to be enjoyed, so much lively dancing to be watched, and so colorful an assemblage of costumes and sets to admire that, as I've suggested, the whole thing ended by giving me-and clearly the rest of the audience-a great deal of pleasure and indeed fun.

Of the four principals in the cast, Catherine Olson, as Zempoalla's trusty courtier and then lover Adario, possesses the most distinctive voice, clarion-like in its avoidance of romantic vibrato, yet never harsh; she sang splendidly. The Zempoalla, Rebekah Gilmore, also sang well, but less commandingly, and there was something not quite appropriate about her acting and deportment. Where Ms. Olson inhabited her part with total conviction, Ms. Gilmore seemed less at ease in hers. It is possible to essay a portrayal of authority without quite achieving it-and authority did not sit convincingly on this attractive and charming but hardly regal performer. Aaron Cain's Don Alvaro was resonantly sung and wittily acted-he has a real talent for the curled lip of disdain. Jay White, as Damon, sounded excellent in solo passages, though he had some difficulty in projecting his voice over the bigger ensembles. Erika Chang and Sibyl Adams did well in the minor roles of Spirits 1 and 2. And even in its puzzling position in the plot, "I attempt from love's sickness," like almost all of the score, was a joy to listen to. If only Purcell had not died just two months after his 36th birthday, Handel, when he appeared on the London musical scene, might have had a far harder act to follow.

Bernard Jacobson