Other Links
Editorial Board
UK

Editor

s

- Roger Jones and John Quinn

Editors for The Americas - Bruce Hodges and Jonathan Spencer Jones

European Editors - Bettina Mara and Jens F Laurson

Consulting Editor - Bill Kenny

Assistant Webmaster -Stan Metzger

Founder - Len Mullenger
Google Site Search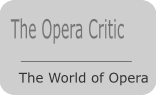 SEEN AND HEARD INTERNATIONAL CONCERT REVIEW
Mozart, Rachmaninoff, Tchaikovsky: Klassik Philharmonie Hamburg, Robert Stehli (conductor), Caterina Grewe (piano), Laeiszhalle Hamburg, 21.1.11 (TKT)


Mozart:                              Symphony no. 25 in G Minor, K. 183
Rachmaninoff:                   Rhapsody on a Theme by Paganini for Piano and Orchestra, op. 43
Tchaikovsky:                     Souvenir de Florence, op. 70, Sextet for String Orchestra


The program consisted not exactly of evergreens, but of works that have been popular for good reason. This is clearly the world in which Robert Stehli, who also founded the Hamburg Proms, feels perfectly comfortable. He established the Hamburg Mozart Orchestra 32 years ago; in 2001, it was renamed Klassik Philharmonie. And the Swiss-born conductor has just been awarded Germany's Federal Cross of Merit.


The evening started like the orchestra: with Mozart, who wrote his "little G minor symphony" at age 17. The piece has lost nothing of its verve and beauty. Stehli's interpretation did not contain the almost violent elements the symphony can have, but it was forceful and highly energetic. Perhaps it did not always sound quite as effortless as it could have, but the performance definitely had moments of grace – altogether, an effective beginning

.
Composed in 1890, Tchaikovsky's sextet Souvenir de Florence, here performed in its version for string orchestra, concluded the program. (I am trying to banish from memory the encore, a positively silly medley of A Little Night Music, "Amazing Grace" and Scottish melodies, which however was well received.) Along with his sixth symphony, Souvenir was Tchaikovsky's last work consisting of several movements. Its first and last movement having a sonata structure, it is symphony-like itself. The title, however, is so private it is downright misleading, as it is a memory of Florence only because that is where the composer, who was working on something else at the time of his Italian sojourn, conceived of the melody of the second movement. Other than that, there is nothing Italian about the work, which in fact has a decided Slavic sound in its last two movements. Be that as it may. That melody of the Adagio is pure Tchaikovsky: beautiful and only seemingly simple but in truth quite complex. Stehli and his orchestra successfully brought out the movingly painful sound of Tchaikovsky strings.


The absolute highlight of the evening, however, came before the intermission: Caterina Grewe's performance of what may be called Rachmaninoff's fifth piano concerto. (It is possible to listen to the 24 variations as three groups, or three movements: 1 to 11 [or 15, depending on your point of view], 12 [or 16] to 18, and 19 to 24, with the middle group representing the slow movement.)


Written in 1934, within just a few weeks, the work is based on two themes that are not Rachmaninoff – Paganini's much feared 24th Caprice and the Medieval "Dies irae." Ironically, it is nonetheless hard to imagine a piece that is more Rachmaninoff, as it contains everything that makes his music so powerful when he was at his best. Since he was also one of the foremost pianists of his day – who also played the piano part at the premiere under Stokowski – this also means that it is a profoundly demanding piece.


Grewe, who has appeared as a soloist at Hamburg's Laeiszhalle twice before – with Liszt's first and Grieg's only piano concerto – mastered the difficulties with apparent ease. She had the audience spellbound from the get-go with her complex understanding of this work: at once passionate and light, intense and playful, ferocious and gentle, her interpretation lacked even a touch of the vulgarity the work can have in some performances. Nothing was flashy, everything was substance (to which the encore, two selections from Prokofiev's Visions Fugitives, attested as well). The cantilena of the slow "movement" was introverted, played with deep emotion. At times the orchestra was a tad too loud for this subtle reading of the work, but the precise, controlled exuberance of Grewe's performance was so formidable, the audience was swept away.


(See also the interview with Ms Grewe coming up in Seen and Heard.)


Thomas K. Thornton


Back to
Top
Cumulative Index Page