Other Links
Editorial Board
UK

Editor

s

- Roger Jones and John Quinn

Editors for The Americas - Bruce Hodges and Jonathan Spencer Jones

European Editors - Bettina Mara and Jens F Laurson

Consulting Editor - Bill Kenny

Assistant Webmaster -Stan Metzger

Founder - Len Mullenger
Google Site Search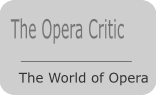 SEEN AND HEARD UK CONCERT REVIEW


Takemitsu, Larcher, Rachmaninov

:
Isabelle Faust (violin); BBC Symphony Orchestra/Kazuki Yamada. Barbican Hall, London, Friday, March 4th 2011 (CC)
Takemitsu Requiem for String Orchestra (1957)
Larcher Violin Concerto (2008/9) UK premiere
Rachmaninov Symphony No. 2 in E minor, Op. 27 (1906/7)

Stimulating programming does not automatically lead to stimulating listening, as this evening proved in no uncertain terms. On paper, the combination of a UK premiere, some Takemitsu conducted by a Japanese conductor and Rachmaninov's stirring Second Symphony sounded intriguing, and had the distinct potential to be a winner.

Kazuki Yamada, winner of the 2009 Besançon conducting competition, is a bright and clearly eager young man who was here making his London debut. Yamada is to be Principal Guest Conductor of the Orchestre de la Suisse Romande from the 2012/13 season. He daringly chose to open with a work that would test the BBCSO strings - Takemitsu's early Requiem (the composer's first large-scale composition, in fact). The piece features long, aching melodies for the first violins. On the
credit side, the BBC violins were laudably together; on the debit side, the sound was painfully thin, robbing the drooping, melancholy lines of their essence. A better string section, with a more integrated sound than was on offer here, would have made much more of this brief (ten-minute) offering.


I have been impressed by Thomas Larcher's music before, notably an ECM release of Madhares (actually the title of Larcher's Third String Quartet of 2006/7), a disc that also includes a marvellous performance by Kim Kashkashian of Larcher's 2002 piece Still (in a 2004 revision). There is a MusicWeb review by Gavin Dixon http://www.musicweb-international.com/classrev/2010/July10/Larcher_ECM2111.htm. Gavin is right to assert that Larcher is difficult to place in terms of composition "schools", although in terms of sound world he is certainly perfectly placed on ECM, where his modern but not too harsh sound world seems almost written to order. Here was the UK premiere of the Violin Concerto (no subtitle). The scoring is interesting, as it includes a kalimba (an African thumb piano). He is unafraid of tonal constructs, too - it is an unashamed E-Minor triad that forms the meat of the violin's opening musings; the work emerges gradually out of silence.


Larcher could not have asked for a more ardent advocate than the excellent Isabelle Faust. The piece clearly requires great stamina from the soloist, and Faust was absolutely rock solid throughout. Aggression finds a place in this music, and Yamada ensured that the orchestra were not only vehement in their reaction but rhythmically on the ball, too. Technically, he is all one could ask, and that stood him in good stead here. Larcher has melodies strive to gain expression, foiling their efforts at the last moment. The second movement had its own organic growth within its identifiably post-Romantic language; jagged interruptions, which had also found a place in the first movement, provided the structural hurdles. Larcher's ear for sonority is confident and results in many a fascinating timbral mix. It is probably my personality type that causes me to wish for more to get my teeth into - Takemitsu is an acknowledged influence on Larcher, and it is an audible one here (hence the programming, of course).
Colin Clarke