Other Links
Editorial Board
UK

Editor

s

- Roger Jones and John Quinn

Editors for The Americas - Bruce Hodges and Jonathan Spencer Jones

European Editors - Bettina Mara and Jens F Laurson

Consulting Editor - Bill Kenny

Assistant Webmaster -Stan Metzger

Founder - Len Mullenger
Google Site Search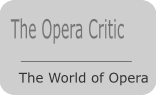 SEEN AND HEARD INTERNATIONAL OPERA REVIEW
Schoenberg, Erwartung: (Concert Version) Orquesta Sinfónica de Madrid. Conductor: Sylvain Cambreling, Deborah Polaski. Teatro Real de Madrid. 4.3.2011 (JMI)
Within its "Great Singers" cycle, Teatro Real presented the American soprano Deborah Polaski in a concert version of Schoenberg's one act opera "Erwartung". The recital was not an obvious fit for this cycle, considering that the concert's first half consisted entirely of orchestral music: the prelude to Act III of Paul Dukas' Ariane et Barbe-Bleue (the opera will soon play at Barcelona's Liceu) and Maurice Ravel's Ma Mère l'Oye.

Deborah Polaski has been one of the most important dramatic sopranos of the past 25 years, having successfully covered the most demanding repertoire. Now, at 61, she is has encroached on the mezzo field, the way sopranos go when they lose the high notes. The artist, of course, is always there.

Deborah Polaski's interpretation of the character of The Woman was as intimate as chamber recital, and well suited to the abilities of her aged voice. Age that becomes increasingly notable at any notes sung above forte. Still, by focusing her interpretation on the pure expressiveness and intimacy, Deborah Polaski remains remarkably convincing.

The musical direction was entrusted to Sylvain Cambreling who made his debut at Teatro Real. His was a nuanced reading of Schoenberg's score and he got a good sound from the orchestra-a promising affair given that he will be back in a few months to conduct Olivier Messiaen's Saint François d'Asisse.


José Mª Irurzun