Other Links
Editorial Board
UK

Editor

s

- Roger Jones and John Quinn

Editors for The Americas - Bruce Hodges and Jonathan Spencer Jones

European Editors - Bettina Mara and Jens F Laurson

Consulting Editor - Bill Kenny

Assistant Webmaster -Stan Metzger

Founder - Len Mullenger
Google Site Search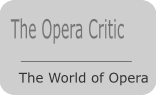 SEEN AND HEARD INTERNATIONAL CONCERT REVIEW



Widmann, Schumann, Brahms:
Yefim Bronfman (piano), New York Philharmonic Orchestra, Christoph von Dohnányi (conductor), Avery Fisher Hall, New York City, 13.01.2011 (SSM)
Jörg Widmann:
Con Brio,
Concert Overture for Orchestra
Robert Schumann:  Symphony No. 4 in D minor, Op. 120
Johannes Brahms: Concerto No. 2 in B-flat major for Piano and Orchestra, Op.83     

An apt title for last night's sparkling program at Avery Fisher Hall might be "All Is Not What It Seems." The young German composer Jörg Widmann's engaging "Con Brio, Concert Overture for Orchestra" could well have been entitled "Con Brio, Paraphrases on Themes of Beethoven." Schumann's Fourth Symphony might have been listed under its original name, Symphonische Phantasie, and Brahms's Second Piano Concerto, as it was expertly played here, could have been called "Symphony with Piano Obbligato."

Musical paraphrase brings to mind the dozens of piano pieces written by Liszt in which the source of the music is made clear either by its title or by the music itself, as in his Rigoletto Paraphrase de Concert. Widmann's paraphrasing is different. Without the program notes would one know that this work, commissioned by the Bavarian Radio Symphony Orchestra, was written specifically to precede and be shaped by Beethoven's Seventh and Eighth Symphonies?  Of course, now that we do know, can't you hear the opening of the last movement of Beethoven's Seventh, the famous opening of the Fifth, the Leonore Overture, the finale to The Creatures of Prometheus and the opening of the second movement of the Ninth?

This was a delightful and wonderfully orchestrated piece. With only a slight adjustment in instrumentation, Widmann used the orchestra Beethoven would have used for his symphonies. But save for its cryptic allusions to Beethoven's musical themes and its moments of tonality hovering appropriately around the Seventh Symphony's A major and the Eighth's F major, this composition never for  a moment sounded "Beethovian." Parts of the work were composed in a vertical style reminiscent of Charles Ives's Concord Sonata and Fourth Symphony. In both of them, Ives uses a technique similar to Widmann where multiple distinct musical phrases are played simultaneously rather than sequentially.
Widmann was able to bring out sounds seldom if ever heard from the timpani, crackling and scratchy notes that would normally have you covering your ears but that seemed entirely appropriate in the context of the piece. Conductor Christoph von Dohnányi held tight control over the orchestra, which is playing contemporary music these days with as much élan as they have always brought to the standard repertoire.

Just as Widmann's Con Brio was more a paraphrase than an overture, so it seems questionable to call Brahms's Second Piano Concerto a concerto, particularly in the way it was played by Yefim Bronfman. Bronfman made it clear both in his style of playing and his self-effacing mien that this was not Brahms Piano Concerto but rather Brahms "Symphony with Piano Obbligato." For a good part of the work, the pianist sat patiently, hands in lap, listening and watching the performance as if he were a member of the orchestra, or of the audience for that matter. This was particularly true of the third movement with its poignant arioso for cello (later transcribed by Brahms into a song) but to some extent for all the movements.

Bronfman intentionally emphasized the "non-concerto" nature of the work. Playing without a score, he was in eye contact with the conductor whenever possible. This was no battle of egos à la Glenn Gould and Leonard Bernstein (albeit that was over Brahms First, not Second, Piano Concerto). In fact, Bronfman clearly recognized that this piece required him to follow the conductor, that to perform in a different manner would be to gain control of the piano but to lose Brahms's concept of the entire composition.

If you were to take away the orchestra, the pianist would be left with a score void of any completed themes. We hear flourishes, but never the whole of any melody. If the piano concertos of Schumann, Chopin, Liszt or Tchaikovsky were played without an orchestra, they might sound stark but they would still reveal the true soul of the composition. If the same were done with Brahms's Second, we would hardly be able to pick out the skeleton of a coherent melody.

This was an exemplary performance, somewhat coolly played.  Bronfman did not appear for a second to be perturbed by the difficult piano maneuvers required by the score. What was important was not technique (that would be a concern of mere virtuosos) but the transparency of detail revealed by transcending the piano's mechanical demands.

So we step back chronologically to a "non-symphony," Schumann's Fourth, which he originally entitled Symphonische Phantasie. Although this work is symphonic in its traditional four movement construction, each movement having the standard symphonic tempo and meter, its internal structure is tampered with enough to be considered "fantasized." The first movement's most prominent theme occurs not in the exposition section but right where the development section begins. The recapitulation of the opening themes never occurs at the movement's end. Instead Schumann segues without pause into the second movement, a brief interlude of calm that proceeds without a break into the third movement's Scherzo. The Scherzo moves along traditional lines until the second trio is completed, and a repeat of the Scherzo's opening section is expected. Instead what we hear is a slow interlude leading up to the final movement which opens with none other than the first movement's most prominent theme.

Dohnányi's performance of the symphony was in the tradition of the great conductors of the twentieth century, men like Toscanini, Furtwängler, Klemperer or von Karajan, who conducted this work in a manner confidently self-assured, solidly taut and always well detailed. As he did with the Brahms concerto, Dohnányi led the orchestra without a score: it was obvious that he was performing a work whose every note has been deliberated upon over his long career.

One walked out of the theater feeling lucky to have been present for this unusually satisfying program, enhanced by the collaboration of a major conductor and master pianist.

Stan Metzger