Other Links
Editorial Board
UK

Editor

s

- Roger Jones and John Quinn

Editors for The Americas - Bruce Hodges and Jonathan Spencer Jones

European Editors - Bettina Mara and Jens F Laurson

Consulting Editor - Bill Kenny

Assistant Webmaster -Stan Metzger

Founder - Len Mullenger
Google Site Search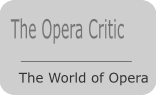 SEEN AND HEARD INTERNATIONAL FESTIVAL REPORT


American Handel Festival, Seattle (4):
Acis and Galatea; *Esther;
orchestral and chamber works; Town Hall and *St. James Cathedral, 25, 26, & 27.3.2011 (BJ)

Acis and Galatea:
Boston Early Music Festival and Pacific MusicWorks:
BEMF Chamber Ensemble
Musical directors: Paul O'Dette and Stephen Stubbs
Stage director: Gilbert Blin
Costumes: Anna Watkins
Cast:
Acis: Aaron Sheehan
Galatea: Teresa Wakim
Damon: Jason McStoots
Coridon: Zachary Wilder
Polyphemus: Douglas Williams

Esther:
Orchestra of Pacific MusicWorks
The Tudor Choir (Doug Fullington, director)
Musical director: Stephen Stubbs
Cast:
Esther: Shannon Mercer
Assuerus: Ross Hauck
Haman: Charles Robert Stephens
Mordecai, Habdonah, First Israelite: Zachary Wilder
Israelite Priest: Matthew White
Israelite Boy: Catherine Webster
Persian Officer, Second Israelite: Thomas Thompson

Orchestral and chamber works:
Seattle Baroque Orchestra
Musical director, conductor, and violin soloist: Ingrid Matthews
Artistic director and harpsichord soloist: Byron Schenkman

The final weekend of the American Handel Festival, which explored the composer's output to the tune of some 30 concerts over the past two weeks, offered performances of Acis and Galatea and Esther. This was a clever pairing. It was these two works - the first labeled "A pastoral entertainment," the second "An oratorio" - that essentially marked the turning-point for Handel, away from his German roots and partly Italian training toward a new career that saw him feted as an essentially English composer.

It's true that his London seasons as composer and impresario were centered for the next two decades on opera in Italian. But Acis and Esther, composed in 1718 at the future Duke of Chandos's estate of Cannons near London, were both set to English texts, and carried within them the seeds of the monumental series of English oratorios that was to occupy him through his final years after the production of opera had become commercially unsustainable.

The festival's Acis and Galatea came to Seattle by courtesy of the celebrated Boston Early Music Festival, whose local debut this was. Co-directed musically by BEMF's Paul O'Dette and Seattle's own Stephen Stubbs, it was one of those "play within a play" productions, semi-staged, with handsome costumes by Anna Watkins but without scenery. Stage director Gilbert Blin conceived it as an imaginary rehearsal for a performance at Cannons.

What we saw on the Town Hall stage was a rather Pirandello-esque spectacle - the five characters of this Arcadian love-story in search of a composer. The principals took their turns on center-stage, and then moved off to the side to enjoy what my English compatriots still call "a nice cup of tea" while someone else took over the vocal thread. It was somewhat reminiscent of the way Peter Kazaras, in his recent Seattle Opera production of Falstaff, broke down the conventional distinction between the actor-singers as human beings and the action on stage. And the spectacle of a group of aristocrats playing at being shepherds was rather like the effect of highly sophisticated and elegantly dressed persons at charity balls trying to match the primitivism of contemporary popular dance.

Movement was largely stylized. Blin drew from his actor-singers a vocabulary of gesture faithful to the pre-Romantic tradition, with the performer aiming not to embody, as it were, but to represent in a more dispassionate way the emotions of the character in question. This made it easier for the persons of the story - the shepherds Acis, Damon, and Coridon, the sea-nymph Galatea, and the Cyclops Polyphemus - to shift when necessary out of character and become simply the tenors, soprano, and bass of the ensembles that frame the plot.

Once or twice there was a danger of distraction, when someone was gesturing upstage while another of the principals was singing, but for the most part the conception worked beautifully. And musically the performance was an unalloyed delight. Aaron Sheehan and Teresa Wakim in the title roles made a splendid pair of lovers; the two other shepherds' parts were finely touched in by Jason McStoots and Zachary Wilder; and the Polyphemus, Douglas Williams, was a formidable stage presence. It was perhaps due to the exceptional firmness of the foundation his beautifully produced bass laid for the harmony that the texture of the ensembles - not to mention the words - sounded more lucid than in any of the Aces and Galateae I have heard over the years. The BEMF Chamber Ensemble, too, played superbly, with some spectacular tootling on the sopranino recorder by Kathryn Montoya over Williams's bucolic "O ruddier than the cherry."

The program booklet for this performance was unusually detailed and informative. It was all the more surprising, then, that no mention was made of the Italian version of the story, Aci, Galatea e Polifemo, that Handel had composed ten years earlier.

The following evening's performance of Esther in St. James Cathedral under Stephen Stubbs's direction attained a similar level of excellence, with clean singing and playing by Doug Fullington's Tudor Choir and the Orchestra of Pacific MusicWorks, and with impressive soloists including Sharon Mercer in the title role and the indefatigable Ross Hauck as Assuerus. Charles Robert Stephens was suitably formidable as the unsavory Haman, and Zachary Wilder, Matthew White, Catherine Webster, and Thomas Thompson filled the roles of a variety of Israelites capably. The work itself does not quite match the charm of Acis, but its compelling rendering of the human drama in this regrettably still relevant tale of historical anti-Semitism is prophetic of much in the later Handel's greatest oratorios and operas.

Handel had a genius for ending substantial works with a light touch, so it was perhaps appropriate that the festival's last offering was a relatively lightweight concert in Town Hall on Sunday afternoon by Ingrid Matthews's splendid Seattle Baroque Orchestra. It seemed almost perverse to bill the program as "Handel's Grand Concertos" and then not to include anything from the supreme Opus 6 set, but the concertos and sonatas we did hear were expertly and often beautifully done.

Two sonatas for, respectively, one and two violins brought incisive playing from Ms. Matthews and Tekla Cunningham, backed by harpsichordist and cellist Byron Schenkman and Nathan Whittaker's stylish continuo. The second and third concertos from Opus 4 were less convincing: certainly instrumentation in the 18th century was far from being set in stone, but to play what are clearly solo organ parts on a rather flimsy-sounding harpsichord was not a very satisfying idea. Harpsichords built from Zuckermann kits work well enough in a domestic context, but perhaps it's time for some wealthy philanthropist to treat the Seattle Baroque Orchestra to a more luxurious instrument.

Grateful thanks are due to musicologist and broadcaster Marty Ronish for bringing the American Handel Festival for the first time to Seattle. The only trouble is to work out what we devotees are to do with ourselves in the Handel-less weeks to come.

Bernard Jacobson

A shorter version of this review appeared in the Seattle Times.