Other Links
Editorial Board
UK

Editor

s

- Roger Jones and John Quinn

Editors for The Americas - Bruce Hodges and Jonathan Spencer Jones

European Editors - Bettina Mara and Jens F Laurson

Consulting Editor - Bill Kenny

Assistant Webmaster -Stan Metzger

Founder - Len Mullenger
Google Site Search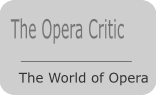 SEEN AND HEARD INTERNATIONAL FESTIVAL REPORT


American Handel Festival, Seattle (2)
: Bernstein:
The Man in the Mirror
(world premiere), Trinity Parish Church, Seattle, 16.3.2011 (BJ)
Most of what Handel wrote fits comfortably within that questionable category, "serious music." But his opera
Serse,
with its opening number addressed to a beloved tree, is one among many clues that he had a keen sense of humor. I think he would have enjoyed the little comic entertainment that had its world premiere on 16 March in Seattle's Trinity Parish Church.
Conceived by Ben Bernstein, a California-based composer who doubles, or rather triples, as an acting coach and a performance psychologist,
The Man in the Mirror
is a study in the well-known phenomenon of pre-performance jitters. We, the audience, function as the mirror. Looking out at us is a tenor who, preparing to sing in Handel's
Messiah,
comes on stage in his boxer shorts and proceeds to go through his preliminary vocalizing while gradually getting dressed.
Any onlooker who has ever tied a bow tie must have empathized with his struggles to attach that pesky article of clothing. But it's not the only problem our tenor faces: the initially supportive voices in his head (which we hear through a pre-recorded sound-track) begin to unsettle him with their increasingly snide subliminal suggestions. "You should have been a lawyer," says one of them, dismissively enough.
Along with snatches of
Messiah,
the modest score Bernstein has put together brings in a variety of more-or-less familiar bits of tune from other sources. The instrumental parts were spiritedly played in the premiere performance by cellist David Morris and harpsichordist Phebe Craig. The atmospheric voices-in-the-head (those of Steven Hoffman, Katherine Howell, and Kali Wilson) were skillfully marshaled by sound designer Gregory Lenczycki and technical director Vance Galloway.
But
The Man in the Mirror
depends above all for its success on the tenor in the frame, and for this role Bernstein, as composer and director, was enormously fortunate to have found Ross Hauck, who lives in nearby Issaquah. Making what the program bio described as his "first public appearance in his boxers," Hauck, already admired locally for his stylish work in Pacific Musicworks performances of Monteverdi, revealed not just a trim physique (this is no role for a Pavarotti) but hilarious comic chops. With desperate facial and bodily contortions worthy of that great French mime Marcel Marceau, he had the audience chuckling with glee, while managing to sing his progressively more incoherent melodic mélange with cleanly focused tone and assured technique.
If Seattle is within your geographical reach and you want to see Mr. Hauck with his clothes on, the performance of Handel's
Esther
on 26 March will provide a good opportunity. Meanwhile, he and Mr. Bernstein have given the American Handel Festival a delightful fillip of irreverent yet psychologically perceptive fun.

Bernard Jacobson

This review appeared also in the Seattle Times.