Other Links
Editorial Board
UK

Editor

s

- Roger Jones and John Quinn

Editors for The Americas - Bruce Hodges and Jonathan Spencer Jones

European Editors - Bettina Mara and Jens F Laurson

Consulting Editor - Bill Kenny

Assistant Webmaster -Stan Metzger

Founder - Len Mullenger
Google Site Search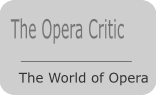 SEEN AND HEARD INTERNATIONAL FESTIVAL REPORT


American Handel Festival, Seattle (1)
: "Songs of Cleopatra," Benaroya Hall, 11.3.2011; "Handel's Divas," Queen Anne Christian Church, Seattle, 13.3.2011 (BJ)
Two remarkable sopranos, one long established as a baroque expert, the other a more recent arrival on the scene, helped to get the American Handel Festival-presented for the first time in Seattle-off to a very auspicious start over the weekend. The newcomer was Isabel Bayrakdarian, a thrilling soloist on the opening Friday, when the Seattle Symphony played under the leadership of one of the world's leading Handelians, Nicholas McGegan, whose concerts are never less than exhilarating. Sunday afternoon's offering, though on a much smaller scale, was equally satisfying: teaming up with three luminaries of Seattle's thriving early-music community, Julianne Baird showed that she has lost none of her artistry and technique since I used to hear her in Philadelphia a decade ago-indeed, she sounded better than ever.
The best composer-centered festivals tend to be those that present the subject of their focus not in isolation, but set in context by work from other hands. This festival is no exception. Friday's brilliant and stylish performances of an F-major suite from Handel's
Water Music,
excerpts from his opera
Giulio Cesare,
and his G-major Concerto grosso, Op. 6 No. 1, were flanked by explorations of three of his German contemporaries.
The evening was headlined "Songs of Cleopatra." That Egyptian queen is famous not only for her political acumen but for her bewitching appearance, so it was appropriate that the singer representing her on the stage of Benaroya Hall is herself a striking beauty.
Isabel Bayrakdarian's good looks, however, are worthily matched by her voice and artistry. The voice itself is essentially a lyric soprano, but she wields it with more power than that designation would suggest, so I suppose the right designation might be "spinto." The arias she sang from Carl Heinrich Graun's
Cleopatra e Cesare
and Johann Adolf Hasse's
Marc'Antonio e Cleopatra
called forth some fearless coloratura, free and flexible throughout the range, and clear in the separation between notes even at rapid tempos. Ms. Bayrakdarian does not shrink from risk-taking, and the result is an intensity of music-making that, despite an occasional trip to the brink of vocal roughness, is far preferable to any anemic "playing (or singing) for safety." More impressive still, perhaps, was her profound identification with the grief of the death scene from
Cleopatra,
by Johann Mattheson, who once fought a duel with Handel but remained on terms of close friendship with him. The four sections of this intensely emotional excerpt ended the official program, but the ovation that greeted its performance was rewarded with an aria from the same work, and this little gem reinforced the impression that this neglected composer and his music must surely be candidates for rediscovery.
Through all this, McGegan was his usual exuberant self. He drew elegant and zestful playing from the orchestra's strings, with Emma McGrath, Elisa Barston, and Eric Gaenslen constituting an impeccable concertino group. Oboist Stefan Farkas, who had much to do, did it beautifully, and there were strong contributions from Michael Gamburg on the bassoon, Kimberly Russ on the harpsichord, and John Cerminaro with two of his horn-section colleagues.
Julianne Baird's collaborators for her recital in the intimate Queen Anne Christian Church (so named, I suppose, to distinguish it from all the Muslim and Jewish churches in Seattle's elegant Queen Anne neighborhood) were violinist Tekla Cunningham, gambist Margriet Tindemans, and harpsichordist Jillon Stoppels Dupree. Their performances of the (possibly misattributed) F-major Violin Sonata, HWV 370, an A-minor transposition of the G-minor Viola da Gamba Sonata, HWV 364b, William Babell's rather hilarious harpsichord arrangement of the aria
Or la tromba
from
Rinaldo,
and three movements from the G-minor Keyboard Suite, HWV 432, were all models of practiced stylistic authority and musical acumen-and Ms. Tindemans drew brilliancies from her instruments that you might not have thought the viola da gamba capable of.
Still, it was three arias from Handel's oratorios and four from his 40-plus operas that provided the afternoon's deepest satisfactions. As with Ms. Bayrakdarian's program, rapid coloratura, in
O! Had I Jubal's lyre,
Deh! Fuggi un traditore,
and
Scherza in mar la navicella
(respectively from
Joshua, Radamisto,
and
Lotario
) was dispatched with pinpoint command, and in
Myself I shall adore,
from
Semele,
Ms. Baird brought a delightfully mischievous sense of fun to the empty-headed title character's self-absorbed musings. But again it was in the slower and more serious numbers that this peerless singer took the listener's breath away, while remaining in flawless control of her own. Quite aside from the relatively minor pleasure to be had from hearing final "r's" in Italian pronounced with rare clarity,
O sleep, why dost thou leave me
, from
Semele,
and
Qual nave smarrita,
from
Radamisto,
were sung with a feeling for line that did justice to Handel's inexhaustibly varied melodic gift and a sensitivity that fully realized his insight into human emotions. And the delicate yet heartrending performance of
Dove sei,
from
Rodelinda
-probably the most ravishingly beautiful and the most touching of all these arias-could stand alongside those I have heard from some of the greatest Handel singers of our time as a
tour de force
of sheer unassuming perfection.
I can't promise, of course, that all the remaining concerts-nearly thirty of them-in this two-week festival will be on quite that level. But any music-lover within practicable reach of Seattle would be ill-advised to miss the opportunity of finding out.
Bernard Jacobson