Other Links
Editorial Board
UK

Editor

s

- Roger Jones and John Quinn

Editors for The Americas - Bruce Hodges and Jonathan Spencer Jones

European Editors - Bettina Mara and Jens F Laurson

Consulting Editor - Bill Kenny

Assistant Webmaster -Stan Metzger

Founder - Len Mullenger
Google Site Search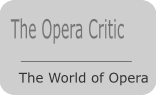 SEEN AND HEARD INTERNATIONAL OPERA REVIEW


Lorin Maazel, 1984:
Soloists, Orquestra de la Comunitat Valenciana, Cor de la Generalitat Valenciana. Conductor: Lorin Maazel. Palau de les Arts de Valencia. 26.2.2011 (JMI)
Production Big Brother Productions in coproduction with Royal Opera Opera House.
Direction: Robert Lepage.
Sets: Carl Fillion
Costumes: Yasmina Giguère
Lighting: Michel Beaulieu
Cast:
Winston Smith: Michael Anthony McGee
Julia: Nancy Gustafson
O'Brien: Richard Margison
Gym Instructress/Drunken Girl: Silvia Vázquez.
Syme: Andrew Drost
Parsons: Graeme Danby
Charrington: Lynton Black
Prole Woman: Mary Lloyd-Davies.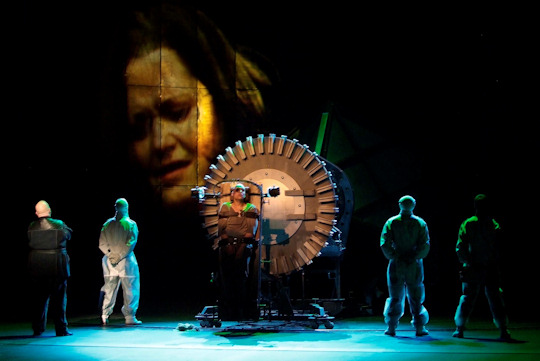 Production picture © Tato Baeza

Lorin Maazel is famous as a conductor, but his compositions had not gotten much notice until he set out to write an opera, based on George Orwell's novel "1984" which premiered in May 2005 at London's Covent Garden.

The libretto is credited to J. D. MacClatchy and Thomas Meehan, following Orwell's novel with agility and it offers an excellent plot that is followed with great interest and attention. With the profession of (opera-) librettist having all but disappeared it's rare to come across such a good libretto as this. In fact, I cannot remember any new opera of last decade with such an exciting libretto.

Lorin Maazel's score betrays a good musician but misses two things: There is little perceptible personal musical style and, more damning, the whole thing is rather devoid of inspiration. The music is easy to listen to, best in the most dramatic moments, weakest at its most lyrical (the love duet in Act II). I don't believe anyone was leaving the theatre humming any melodies, except may be the song that the proletarian lady sang while cleaning the shop windows. The orchestration is particularly good in the ensemble and choral scenes, such as the execution of prisoners at Victory Square. All in all more of a sound work than a masterpiece.

The stage production is the same that premiered at Covent Garden and three years later at La Scala. With everyone eschewing the risk it was Mr. Maazel himself who footed the bill for the production, which is owned by Big Brother Productions, which inturn is controlled by Maazel himself. The stage direction was (again) in the hands of Canadian Robert Lepage who employs a revolving set that facilitates the many scene changes. The job of narrating the story of the libretto, using his imagination and creativity, is served in outstanding fashion.

Of course, the musical direction was in the extraordinarily able hands of the composer. In performances that mean the farewell of Mr. Maazel as Musical Director of Valencia's Palau de Les Arts, he leaves a great orchestra whose future might perhaps be jeopardized by monetary concerns, but not by artistic ones, thanks to the great work of Maazel and the great promise of his wonderful successor, young Omer Meir Wellber.


The protagonist of this opera is Winston Smith, the role created by Simon Keenlyside and now, here interpreted here by young American baritone Michael Anthony McGee, virtually unknown on the international circuit. McGee, with a a small, but expressive voice, performed sensitively and even exciting at times.

Nancy Gustafson reprised her Julia and she was good in the part, although she is a little beyond her peak. The same could be said of Richard Margison as O'Brien. He does a good enough job, but the voice is rather tired sounding at the top of the range. Young Valencia soprano Silvia Vázquez was joy as Gym Monitor in act I and the Drunken Girl in act III, roles that were sung by Diana Damrau at the London premiere. Silvia Vázquez offered the best vocal perfomance of the evning, showing off her easy and responsive soprano and having plenty stage-skills, to boot.

José Ma. Irurzun