Other Links
Editorial Board
Editor - Bill Kenny
Assistant Webmaster - Stan Metzger

Founder - Len Mullenger
Google Site Search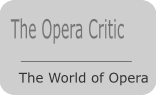 SEEN AND HEARD INTERNATIONAL OPERA REVIEW
The Metropolitan Opera, New York, 21.1 – 25.1.2010 : A report from our Swedish correspondent Göran Forsling on his recent visit to New York (GF)

Four operas within a week may seem almost too solid fare, but the general standard at the MET is on a high level and the diet was evenly divided between standard lollipops and relative rarities. These are no in-depth analyses but a more generalized overview of what was played during the week.

Carmen 21.1.2010

Conductor: Yannick Nézet-Séguin
Production: Richard Eyre
Set & Costume Designer: Rob Howell
Lighting Designer: Peter Mumford
Choreography: Christopher Wheeldon

Cast
Moralès – Trevor Scheunemann
Micaëla –Barbara Frittoli
Don José – Roberto Alagna
Zuniga – Keith Miller
Carmen – Elina Garanča
Frasquita – Elizabeth Caballero
Mercédes – Sandra Piques Eddy
Escamillo – Mariusz Kwiecien
Le Dancaire – Earle Patriarco
Le Remendado – Keith Jameson
Solo Dancers – Maria Kowroski & Martin Harvey


The new Carmen, directed by Richard Eyre and with sets and costumes by Rob Howell, was premiered on New Year's Eve and the performance I saw was the sixth of this production. It's rather beautiful, somewhat stylized and employing MET's turntable to good effect, most spectacularly and illuminatingly so in the final scene: Don José is leaning over Carmen, whom he has just killed, the set is rotated away and we are exposed to the interior of the bullring where Escamillo is leaning over the bull he has just killed. Blood is the leitmotif from the outset with a red streak of blood on the curtain before the performance begins. This is repeated on the inner curtain which partly opens during the overture and in the gap two dancers perform what can only be interpreted as a Danse Macabre.

Yannick Nézet's dash tempo for the opening aroused apprehensions that this would be a hard-boiled affair, but he soon settled in uncontroversial speeds, if anything, as in parts of the third act, verging on bloodless. Generally, however, his was a safe reading and the MET orchestra showed their world class and the chorus was at least on a par with the Vienna State Opera's – which is praise indeed.

The rapidly rising Latvian star-mezzo Elina Garanča was an alluringly sexy Carmen. I have heard more fiery singing of the role but Garanča bestowed us an uncommonly consummate portrait of this many-faceted character and she found more nuances in her vocal set-pieces than most Carmens I have heard. This judgement applies to the other leading characters, even though Roberto Alagna took some time to warm up and his flower song lacked the true lyricism of, say, Gedda or Simoneau. But his intensity and identification was tangible, sparks flew in the final duet and a vocal high-spot was the duet with Micaela in the first act – always my favourite number in this opera – with its ravishing pianissimo ending. Barbara Frittoli may not have the youthful timbre one ideally wants from Micaela but she to is a master of nuance and Mariusz Kwiecien was an aristocratic Escamillo, no plain butcher. Keith Miller was formidable Zuniga, vocally as well as scenically.

Turandot 23.1.2010

Conductor: Andris Nelsons
Production and Set Designer: Franco Zeffirelli
Costume Designer: Anna Anni & Dada Saligeri
Lighting Designer: Gil Wechsler
Choreographer: Chiang Ching

Cast
Turandot – Maria Guleghina
Liù – Maija Kovalevska
Calàf – Salvatore Licitra
Timur – Hao Jiang Tian
Emperor Altoum – Bernard Fitch
Ping – Joshua Hopkins
Pang – Tony Stevenson
Pong – Eduardo Valdes
Mandarin – Patrick Carfizzi
and others

Franco Zefirelli's production of Turandot has been around at the MET for more than twenty years but it certainly wears its years lightly. As a matter of fact this is the most lavish and spectacular Turandot I've ever seen – and I have seen some. The magnificent sets, the throng of extras and the architectonical grouping of the people make this a truly engrossing visual experience. No wonder there was ecstatic applause when the curtain rose. Andris Nelsons, Latvian like Garanča, had the full measure of the score and brought home the mass-scenes with aplomb.

In the title role Maria Guleghina sported a tremendous voice, vibrant almost to excess but with glorious top notes. Her acting was rudimentary, however, and there wasn't much room for nuances. Salvatore Licitra's Calàf was much better in those respects and he gave a nuanced reading of the role. Liù was sung by Maija Kovalevska, a name new to me, and hers was an endearing impersonation of the slave girl – one of the most likeable of Puccini's many soprano roles. Her aria in the third act offered the most magical moments in the whole performance. I had high expectations on Hao Jiang Tian, having reviewed his recital disc on Naxos a couple of years ago, and he didn't disappoint. Joshua Hopkins, Tony Stevenson and Eduardo Valdes formed one of the best sung trios of ministers I have heard in any performance.

Any Zeffirelli production is worth seeing but this Turandot possibly caps everything else.

Stiffelio 23.1.2010

Conductor: Placido Domingo
Production: Giancarlo del Monaco
Set & Costume Designer: Michael Scott
Lighting Designer: Gil Wechsler

Cast

Jorg – Phillip Ens
Stiffelio – José Cura
Stankar – Andrzej Dobber
Raffaele – Michael Fabiano
Lina – Julianna Di Giacomo
and others

When this production of Stiffelio was first seen at the MET in 1993 it was conducted by James Levine and Placido Domingo sang the title role and they were also responsible for the first revival in 1998. When the opera now returns a third round Domingo has moved down in the pit and José Cura has stepped into his shoes as the wronged priest.

In an interview in the program booklet Domingo calls Stiffelio 'a very significant piece because it comes exactly before Rigoletto, Traviata, and Trovatore'. It is true that there are things that point forward to those masterpieces but I don't feel that Stiffelio comes anywhere close to the later works, neither musically nor dramatically. The plot is rather thin and that is I suppose the main reason for its relative neglect. Musically too it's uneven. There are patches of the rum-ti-dum style that occasionally disfigures several of Verdi's other operas from the galley years. But, as in every Verdi opera, there are also highly satisfying and memorable moments and for the four main characters have grateful solos. Finest of all is, to my mind, Stankar's long scene that opens Act III scene 1. The aria Lina, pensai che un angelo is almost as eloquent and beautiful as Philip's monologue in Don Carlo. It was sung with deep insight and warm tone by the Polish baritone Andrzej Dobber, whose timbre reminded me of Renato Bruson's. He seems predestined for a great career. Phillip Ens was a more than acceptable Jorg while Julianna Di Giacomo sported a fine lirico spinto voice that should be an asset in many of the great Verdian soprano roles. Alas José Cura's once so beautiful voice has deteriorated rapidly and his strained singing was almost painful to hear. Michael Fabiano in the other tenor role as Raffaele overshadowed Cura with his elegance and beauty of tone.

'I really feel at home conducting Verdi' says Placido Domingo in the aforementioned interview and the whole performance felt utterly idiomatic. The sets were rather dark and gloomy in line with the rather forbidding story. In the last scene Stiffelio is converted however, when he reads the words from John 8:7 'Let him who is without sin among you be the first to throw a stone at her'. Maybe this transformation was the reason for Verdi, the humanist, to set this libretto.

Simon Boccanegra 25.1.2010

Conductor: James Levine
Production: Giancarlo del Monaco
Set & Costume Designer: Michael Scott
Lighting Designer: Wayne Chouinard

Cast

Paolo Albani – Patrick Carfizzi
Pietro – Richard Bernstein
Simon Boccanegra – Placido Domingo
Jacopo Fiesco – James Morris
Maria – Adrianne Pieczonka
Gabriele Adorno – Marcello Giordani
and others

The centre of interest in this performance was naturally Placido Domingo in his much heralded return to the baritone range, where he started his career more than fifty years ago. Since 1932 Simon Boccanegra has been at the MET with irregular intervals and the present production was first mounted in 1995 with Domingo singing Gabriele Adorno. But now he is the ageing Doge and looks his age with his grizzly hair and beard. The sets, historically correct and truly lavish, are a feast for the eye. Musically this opera has never caught the general opera public in the same way as Rigoletto, Trovatore, Traviata and Aida, primarily due to the darkness of the story and the lack of ear-catching set pieces. The greatness of this score lies in the psychological depth and masterly use of orchestral colours. The title role is one of the most demanding of Verdi's many baritone roles and it is rather high-lying.

Having known Boccanegra in readings by Tito Gobbi and Piero Cappuccilli – probably the two foremost interpreters during the last sixty years – I at first felt something was lacking in Domingo's assumption of the role. Once we were through the prologue and the character had gained twenty-five years of age, his stature also grew and in the second scene of Act I he showed his usual identification and dramatic urgency in his address to the people Plebe! Patrizi! The voice is still in good shape, though it has become somewhat greyer. Through the years it has darkened and filled out in the lower end of the register, where his timbre was quite baritonal.

Another veteran, James Morris, who has been singing at the MET since 1971, has also retained much of his monumental voice. In fact he was steadier and more secure now than when I last heard him in Vienna in 2002. The lowest notes were however rather rudimentary. Adrianne Pieczonka may not have the sappy voice of Kiri Te Kanawa, who sang Maria back in 1995, but she gave a palatable performance even so. I still remember very clearly Marcello Giordani's brilliant Faust in Paris some years ago. He wasn't quite in that class now as Gabriele Adorno but far better than on the Naxos recital that was issued at about the same time as that Faust performance. Patrick Carfizzi showed star quality in the role of Paolo and might advance to the title role in due time. He was also a sonorous Mandarin in Turandot.

James Levine knitted the many strands of the score together admirably and even though one can imagine better singing in some of the roles this was a fully worthy representation of one of Verdi's finest scores.
Göran Forsling