Other Links
Editorial Board
UK

Editor

s

- Roger Jones and John Quinn

Editors for The Americas - Bruce Hodges and Jonathan Spencer Jones

European Editors - Bettina Mara and Jens F Laurson

Consulting Editor - Bill Kenny

Assistant Webmaster -Stan Metzger

Founder - Len Mullenger
Google Site Search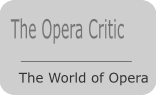 SEEN AND HEARD UK OPERA RELAY REVIEW

Met Opera Live - Donizetti, Don Pasquale: Metropolitan Opera's HD transmission live to the Barbican Cinema, London. 13.11.2010 (MMB)

Don Pasquale is arguably Donizetti's comic masterpiece and it is the last work of the great tradition of opera buffa, from the first half of 19th century, to remain popular on the international stage. It was written near the end of the composer's career, in 1842, while Donizetti was still at the peak of his powers. His last opera Don Sébastien was composed in 1843. Donizetti died in April 1848 of a prolonged infection of a syphilitic nature, which ultimately robbed him of his mental health.

 

By the time he composed Don Pasquale, Donizetti was a very experienced man of the theatre and this combined with his immense musical talent, created a work that is still as pleasant and fresh today as at the time it was written. The plot is not really interesting and the characters are not particularly nice; like most works of this genre, it is a comedy of errors, confusion and mistaken identities; it is good-humoured and light-hearted with a moral of sorts at the end. Here, the moral being that an old man (Don Pasquale) should not attempt to get himself a much younger wife (Norina, young enough to be his grand-daughter) or interfere in the lives that the younger are trying to build for themselves (in this case his nephew Ernesto's life). Personally, I think that there are much better plots, as for example Rossini's Il barbiere di Siviglia; still my favourite opera buffa and to my mind definitely one of the very best. What makes Don Pasquale such a great work is, to my mind, the wonderful music that Donizetti wrote. The score is full of gorgeous moments; it is also witty, moving, funny and ultimately simply beautiful, allowing the singing voice to shine, as should be the case in a bel canto opera.

 

This Met staging of Don Pasquale is a revival of Otto Schenk's sparkling 2006 production, which brought back the work to the Met's stage after an absence of more than twenty years. The original 2006 production had a star cast and was a great success. Two of the original cast members were also present in this 2010 revival, i.e. Russian star soprano Anna Netrebko, as Norina, and wonderful Polish baritone Mariusz Kwiecien, as Dr Malatesta.

 

Anna Netrebko played Norina with style and was up to all the antics that were required of her, including a somersault in her "chaise longue". To my personal taste, there were a bit too many antics and these sometimes distracted from the music while making the character even less pleasant than what it normally is. While Netrebko's performance is a little self-serving (she plays up to the audience almost shamelessly, though of course the director allowed her to) she also showed off her acting talents with a feisty though irritating Norina but perfectly managed to make the character human, even likeable, in Act III when Norina briefly feels sorry for Don Pasquale, after slapping him on the face, fearing for a brief moment that the joke may have been too cruel. More importantly though, Ms Netrebko was definitely in very fine voice and although her rich, heavy soprano is perhaps a tad too dark for Donizetti's light, sparkling melodies, Netrebko is still spot on; delivering all her pieces, especially her opening aria, with beauty, precision, charm and rather easy high notes even amidst all the running, jumping and general romping through the settings.

Splendid baritone Mariusz Kwiecien, as Dr Malatesta, delivered yet again another outstanding performance. He seems to be at home both in tragedy or comedy, and sings with equal easiness a bel canto role as he does a Mozart aria or anything else for that matter. I have yet to hear him in something where his singing is not superb and his acting not effective. His voice is expressive, sonorous and masculine but, at the same time, possesses great warmth and is rich in colour; he is capable of great power but also delicate beauty. His Malatesta was magnificent and very funny and to me one of the great performances of the night. He was wonderfully partnered by the fabulous and genuinely funny John Del Carlo in the title role. Del Carlo has incredibly flexible face muscles and one of the joys of this live transmission are the close-ups of his expressive face and lips, which accentuate the character's buffoon aspects without making him ridiculous; instead endearing and even loveable. His bass is very powerful and, like Kwiecien, he has amazing voice dexterity. Their duet in Act III was supremely executed and it was obvious throughout that they were having a lot of fun singing it. So much so that they did a little encore, repeating the end of the duet for the absolute delight of the audience.

 

The other major role is that of Ernesto, Don Pasquale's useless nephew (as the chorus of servants puts it in Act III, commenting that he is a "good for nothing") who wants to marry Norina, as they are deeply in love with each other. Donizetti gave Ernesto some of the most beautiful, sensitive music of the entire opera, possibly to enhance his youthful and a little naive character. Singing Ernesto was young tenor Matthew Polenzani. While Mr Polenzani has a clear, sparkling voice and is very much at home with high notes, which enables him to sing the part with fluid easiness, his muscular, manly presence does not make Ernesto believable as the vulnerable youth that he is supposed to be. This was particularly obvious when he is serenading Norina, in Act III, with the lovely (and difficult) Com'é gentil. He sang it effectively but I thought he lacked warmth; the phrasing was not as refined as the piece requires and his legato though technically well executed lacks a silky, velvety tone and therefore did not quite melt the heart, which I think may have been Donizetti's intention when he wrote this lovely, little gem.

 

The orchestra of the Metropolitan Opera was led by the great James Levine, now appearing rather frail. He conducted sitting on a high chair, placed for the purpose on the podium, and he was heavily leaning on a walking stick, as he came on stage at the end of the performance, to thank the audience for their applause. However, once the music began, his old magic was there and there were no signs of illness or frailty. His genuine enthusiasm and love for the score come effectively across and the orchestra follows him with "gusto". The performance was dynamic, energetic; enabling the music to flourish, giving the singers enough room, however without allowing them to take over. As ever, maestro Levine delivered a well judged performance and the audience, in the Met auditorium, responded by giving him and the orchestra a well deserved, roaring standing ovation.

 

The live HD transmission for the cinema was directed by Gary Halvorson who headed a few others before. It was generally very good, particularly the close-ups of the singers' faces, however, he used some camera angles that I did not find very appealing; namely, filming from the orchestra pit with the camera looking up to the characters on stage, which made them appear overly large and slightly distorted. Apart from this minor aspect, the filming was excellent, as was the sound quality.

 

Susan Graham introduced the live transmission and conducted the interviews with the cast during the interval. She was simply brilliant. I have seen a variety of other famous opera singers playing the presenter at these Met broadcasts but Graham is undoubtedly one of the best. Unlike most of her counterparts, she does not use cue cards nor does she appear to need them. She is natural, genuinely good-humoured, always interacting in a pleasant, spontaneous manner with her peers, asking intelligent, interesting questions and making attractively funny comments. I think her presence always enhances these live transmissions and if she ever wanted to make a career out of it, I firmly believe that she would be successful.

 

To conclude and summarise my opinion, I must say that I thoroughly enjoyed this Met staging of Don Pasquale. Although on occasions, I thought that Otto Schenk (as the director) allowed Netrebko's Norina too many antics on stage; he still managed to create a lovely production. The cast was generally excellent; comically very effective and delivering some outstanding performances. Most importantly, there was some truly great singing and Levine and the orchestra were splendid in their witty interpretation of Donizetti's music.

 

Margarida Mota-Bull

The next Met Opera Live broadcast at the Barbican is on 11th December of Verdi's political drama Don Carlo.