Other Links
Editorial Board
UK

Editor

s

- Roger Jones and John Quinn

Editors for The Americas - Bruce Hodges and Jonathan Spencer Jones

European Editors - Bettina Mara and Jens F Laurson

Consulting Editor - Bill Kenny

Assistant Webmaster -Stan Metzger

Founder - Len Mullenger
Google Site Search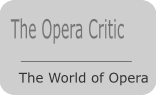 SEEN AND HEARD INTERNATIONAL OPERA REVIEW
Jonathan Dawe, Cracked Orlando: The Second Instrumental Unit (orchestra), Company XIV (dance), Ryan McAdams (conductor), Austin McCormick (choreographer), Alastair Boag (director), Teatro Theater at the Italian Academy, New York City, 16.10.2010 (SSM)

Dramma per Musica e Fractals (World Premiere) Libretto by Terry Marks-Tarlow (after Grazio Braccioli 1727)
Cast:
Anthony Roth Costanzo: Orlando
Mary Elizabeth Mackenzie: Angelica
Karim Sulayman: Medoro
Hai-Ting Chinn: Alcina


Cracked, cut, sliced, shredded: I'll take my Baroque opera in whichever form it is made available. In last year's performance of Cavalli's La Didone (1641) by the Wooster Group at St. Ann's Warehouse in Brooklyn, the cast wore absurdist space suits and sang the arias word for word. Simultaneously the troupe parodied a 1965 grade-B Italian science-fiction film playing on screen in the background. Segueing back and forth in time between the campy film about zombies on a space ship and the high-art of Cavalli's version of the Dido and Aeneas myth, the singers went in a blink from glorious virtuosic vocal runs to banal, clichéd, semi-sung dialogue. Both the Wooster Group's method of adding and mixing modern media and Cavalli, and tonight's Cracked Orlando which put Vivaldi's opera through a grinder, are opposite ways of accomplishing the same thing: the deconstruction and reconstruction of a Baroque opera.

The production of La Didone was clearly denoted as being based on Cavalli's opera. It is less clear exactly what the source of Jonathan Dawe's music for Cracked Orlando is. The press kit states that the text has been extracted from the libretto originally used by Vivaldi, and it credits Grazio Braccioli as the source of Terry Marks-Tarlow's libretto. The 1727 version of Orlando, so named on that opera's title page but usually known as Orlando Furioso (to distinguish it from the much earlier Orlando Finto Pazzo), incorporated Braccioli's original 1714 libretto as text for its recitatives. However, Braccioli's words are used for just a handful of Vivaldi's arias. The title page of the 1727 version lists no librettist at all and much of the additional text might be by Vivaldi himself. Perhaps I'm missing something about fractal music, but if Braccioli is credited with the libretto for Cracked Orlando, shouldn't Vivaldi and his opera also be credited as the musical source of this fractalized opera?

From the opening notes of the brief Sinfonia, we know that we are being suspended between two worlds. At first, the music seems to be not much more contemporary than the neoclassicsm of Stravinsky, Poulenc and a dozen other composers of the early and mid-twentieth century. But as the soloists join in singing in true Baroque period style one hears the unmistakable underlying tone, timbre and rhythmic pulse of Italian Baroque opera. As if it were a guessing game, I thought I heard the distinct voices of Vivaldi's opera arias, of Monteverdi's and Gesualdo's madrigals, even of Handel's cantatas written in his youth while in Italy. So much of the music of this period was borrowed, copied, revised, plagiarized or simply taken in whole to be performed elsewhere: Orlando itself initially appeared with Braccioli's libretto but with music by Giovanni Ristori. It then appeared a year later as Vivaldi's second opera Orlando Finto Pazzo, and a year later still as a modified version of Ristori's opera. In the same year Vivaldi presented yet another Orlando Furioso with most of the arias taken from other composers. Finally, in 1727, the Orlando as we know it appeared with all of the music from Vivaldi's hand. Would Vivaldi have minded having his music recomposed as fractal music? I doubt it.

The singing was, in general, excellent. Anthony Ross Costanzo seems to improve each time I see him, from his performance in Handel's Ariodante at Juilliard to his role as Armindo in the New York City Opera's production of Handel's Partenope. I look forward to seeing him at the Met some time in the near future. Hai-Ting Chinn, who played the title role in the above mentioned production of La Didone, continued her masterly command of this unusual repertory, easily negotiating the wide vocal and emotional range required for her role as Alcina. Mary Elizabeth Mackenzie as Angelina sang and acted with great expressiveness. With the understandable absence of any projected titles, super or otherwise, her dramatic gestures and mien were a helpful aid in following the plot. Only Karim Sulayman seemed to be struggling with both the vocal and theatrical demands of the part. In particular, when the music required big jumps between notes, he couldn't quite nail both of them. The difficult role of the orchestra during an opera, of being clearly heard yet remaining unnoticed, was exemplified in this performance under the reliable direction of Ryan McAdams. The players breezed through the score, smoothly handling the changes in instruments as they were required.

The choreography suffered in the constrained space of the theater: the dancers did their best but their movements felt restrained. Although the choreography kept within the spirit of fractal music, I couldn't help comparing it to the more elegant and gracious work of Catherine Turocy and her New York Baroque Dance Company.

Mr. Dawe is to be congratulated for composing a rare, uncompromising work that needs no defense for its dissonance and atonality, is genuinely appealing in its own right, and puts to rest the complaints of those who still think the term "modern music" is an oxymoron.
Stan Metzger