Other Links
Editorial Board
Editor - Bill Kenny
Assistant Webmaster -Stan Metzger

Founder - Len Mullenger
Google Site Search
SEEN AND HEARD OBITUARY

Mike Edwards (31 May 1948 — 3 September 2010) : Founder member cellist with the Electric Light Orchestra and Devon Baroque (BK)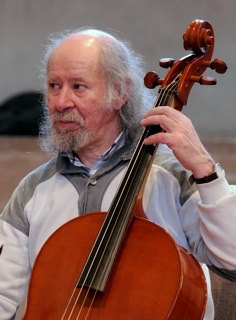 Mike Edwards - Picture © Ambergreen Photography
South West television was full of the news yesterday (Monday 6th September) that Mike Edwards, a founder member of both the Electric Light Orchestra and the Devon Baroque chamber orchestra, died in a car crash on Friday. In an extraordinary accident, Mike was killed when a large bale of hay weighing something like half a UK ton, somehow rolled downhill to crash through a hedge onto the A381 in South Devon, falling on top of Mike's van and causing it to swerve into an oncoming car. Fortunately, the other driver was unhurt.

Locally, Mike Edwards was probably best known as a founder member of Devon Baroque, the county's only professional chamber orchestra which was formed by the violinist Margaret Faultless - a co-leader of The Orchestra of the Age of Enlightenment - following a workshop with the European String Teachers' Association in 1999. Since then Mike had played in almost all of the 100 or so concerts that the orchestra has given since January 2000, all of them under Margaret Faultless's Artistic Direction.

Beyond that – and as he might well have said himself – in another life, Mike was also a founder member of the Electric Light Orchestra from their first live concert in 1972 until 1975. ELO enjoyed a string of top 20 hit singles on both sides of the Atlantic, and sold more than 50 million albums worldwide between 1972 and 1986. Mike left the band after their fourth studio album Eldorado was released in 1974 to live at Osho's ashram in Poona and became a sannyasin there, taking the name Deva Premada (Divine Light.) By all accounts, Mike's flamboyant cello playing in his time with ELO was characterised by quirky novelties like stopping the strings with a lemon and by his performances of Saint-Saëns' The Dying Swan after which his cello would invariably explode.

Mike lived in Totnes where he taught cello as well as working with Devon Baroque. He was a champion for music in Devon generally and had many and diverse musical interests - among them playing medieval, mediterranean and near eastern music, together with newly composed music to medieval lyrics in the five piece band Compagnie Giulia. He had also been due to play in a concert with another early music group The Daughters Of Elvin on the Saturday evening following the accident as part of the Totnes Early Music Festival. The concert went ahead after an announcement of Mike's death was made to the audience.

Totally in keeping with his faith, at least to my mind, Mike Edwards was an amiable, slightly self-effacing and rather gentle man whose playing always revealed complete devotion to his music regardless of genre. It was always a great pleasure to meet him and to hear him perform, and there is no doubt whatever that he will be sadly missed by his former colleagues and students. The news of his death is a shock and my personal musical world has suddenly become much poorer with Mike's untimely passing.
Bill Kenny

A You Tube video of Mike Edwards playing Bach is Here
The Devon Baroque web site is Here.