Other Links
Editorial Board
Editor - Bill Kenny


Assistant Webmaster -Stan Metzger

Founder - Len Mullenger
Google Site Search
SEEN AND HEARD INTERNATIONAL OPERA REVIEW

Bayreuth Festival 2010 (2) - Wagner, Die Meistersinger von Nürnberg: Soloists, chorus and orchestra of the Bayreuth Festival. Conductor: Sebastian Weigle. Bayreuth Festspielhaus, 5.8.2010. (JPr)




Eva (Michaela Kaune) and Sachs (James Rutherford)

This is the opera production singled out as the scandal among those currently presented at the Bayreuth Festival. After thunderous applause at the curtain calls for the singers, a young woman darkly and elegantly dressed comes from behind the curtain to a cacophony of boos … and increasingly a few 'bravos'. She greets this volley of abuse with a beaming smile, a wave, and an extravagant flick forward of her - equally extravagant - blonde hair. This is the director whose staging goes largely unappreciated mainly because she has had the misfortune to be born into the Wagner family and so some opinion has it that she is there birth right rather than talent. This person is… of course you know already…. - Katharina Wagner, who also now joint director of the Festival. For Die Meistersinger, hers is clearly a Konzept from the school of Regietheater and if it was by Marthaler, Neuenfels or Herheim - all of whom currently have 'shows' running at Bayreuth - then the applause would undoubtedly have outscored the catcalls.

Like Stefan Herheim's current Parsifal staging there is a great deal going on in this production, although there seems to have been a recent attempt to discipline some the stage action and to make the presentation of her ideas a little clearer. I have seen this production twice now (in 2007 and 2008) but can only assume these changes have been made in the last two years. The overall outline of the production remains as I described it before. We are in a traditional seat of learning where instruction in art, music and literature takes precedence, the apprentices are the students who all look rather similar to the blonde children from John Wyndham's The Midwich Cuckoos. We are in a library where busts of the great German masters of centuries past (including Goethe, Schiller, Kleist, Bach, Dürer, Beethoven and Wagner himself) look down on the morning assembly and then a staff meeting for the teachers. Hans Sachs begins as the outsider – a barefooted, chain-smoking typist suffering writer's block. Walther is the paint splashing rebel and a sort of German Banksy. Tradition is clearly stifling innovation but does the riot of Act II – the cascade of paint from the Campbell's soup tins, the falling pairs of trainers and the display of semi-naked masters – develop the society any? And if it does, is this a good thing or a bad thing? Sachs believes it is the latter as, along with fellow non-conformist Walther, they eventually espouse conservative family values in the Quintet and also in the presentation of the Prize Song as an Elizabethan theatrical tableau, in the Festwiese scene. Meanwhile Beckmesser goes from chief pedant - the very embodiment of the stodgy artistic institution to which he belongs – to rebellious 'pop artist' who moulds a naked Adam seemingly from clay; he pulls an Eve from the audience who quickly finds herself naked and together they pelt the audience with apples as Beckmesser continues his song.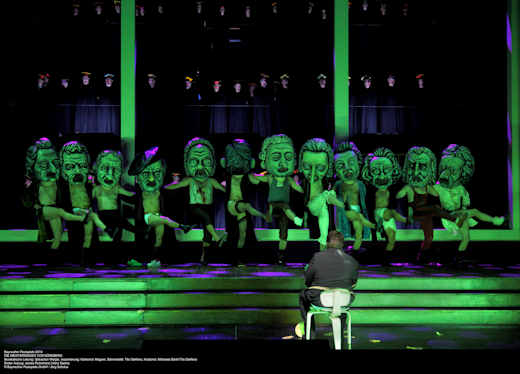 Act III


Finally, Katharina Wagner plays up the supposed nationalistic import of this work to maximum effect. The sing-off between Walther and Beckmesser is shown as the final of 'Germany's Got Talent' with the winner getting a cheque for 10,000 euros. Walther then dismisses the award of the 'Golden Calf' that has been 'forged' by Sachs from the immolation of an avant-garde theatrical production team responsible for the large grotesques of the German icons: these kidnap and dance around Sachs during the processions of the guilds and arrival of the Mastersingers. Things clearly are taking a nasty turn and the failure to welcome a new slant on things leads inevitably to fascistic conservatism. Sachs - flanked by two large statues which owe a lot to Leni Riefenstahl - is in full Goebbels mode for 'Verachtet mir dir Meister nicht'.

Among the changes I have suggested I think I noticed quite a lot that was different from the performances in 2007 and 2008. In Act I there is a lot less paint sloshed around by Walther who now appears to be sporting dreadlocks. It seems clearer that Katharina wants deliberately to contradict the stage directions (and why shouldn't she?) since for a start, Sachs puts his academic robe on for the first time and leaves the stage to the stunned masters as Act I ends. Then after the Act II riot Katharina does not part Walther and Eva from Sachs because all stay to help with the clean up and Sach conspicuously begins to recover the precious Reclam texts so venerated by the fusty academics. In Act III Eva is seen clearly as 'hot' for Sachs and strokes his legs with her shoeless foot: indeed he has to pull himself away from her on more than one occasion. Eva's feelings are also reciprocated since Sachs has obviously been waiting to give her a bunch of flowers for so long that their petals have dropped off. Additionally, I don't remember Sachs coming on with bags of shopping containing clothes for himself, Eva and presumably Walther, before he relinquishes Eva to him before – along with Magdalena, David and Pogner – they all pose as 'happy families' for the Quintet.

There were many other things I thought I noticed for the first time but this may equally have been because of the more 'disciplined' presentation this time. Unfortunately however, after an Act I which had moments of genuine comedy in it, laughs became fewer and farther between as the rest of the opera unfolded. I didn't seem to connect with what was going on as much as I had in previous years and yet it is difficult to resolve in my mind why this was so exactly. The love story-aspect of Eva and Walther's relationship is played up more than previously, so that there should be more emotion in this staging than formerly due to the dramatic potential of the implied development of Ménage à Trois between Sach and the young couple. Maybe this was partly because Adrian Eröd – good as he was - had none of Michael Volle's charisma as Beckmesser and his 'Beck In Town' T-shirted characterisation was merely a pale imitation of what Volle had done before.

The orchestra and the chorus were as good as ever. Sebastian Weigle mostly eschewed grandiosity and pomposity for a lighter, airy and fleet-footed approach to an often over-weighted score - at least until it became essential in Act III so that his reading entirely suited the production. James Rutherford, another Brit making a name for himself at Bayreuth, was a younger than usual Sachs, and a realistic rival to Walther for Eva's affections. His bass-baritone seems ideal for this role and he sang tirelessly and with little straining. His interpretation will of course, only benefit from this experience. Returning as the female love interests were Michaela Kaune as Eva and Carola Guber as Magdalene. Both were as giggly and schoolgirlish as before but this time Eva seemed more of a sexual predator than before and both women sang pleasantly enough but without any real distinction. Sadly, Artur Korn's Pogner felt just a little past its sell-by date. Norbert Ernst was a rather buttoned-up, and unusually repressed, David but he sang convincingly and amongst the gaggle of masters, I particularly enjoyed Markus Eiche's anally-retentive Kothner.

The vocal honours again went to Klaus Florian Vogt's Walther who sang throughout the evening with an untiring lyrical freshness and an unforced natural sound that had eluded Jonas Kaufmann as Lohengrin. Indeed, Vogt will take over the role of Lohengrin at Bayreuth as early as next year. Unlike the recent poor efforts of Welsh National Opera which I thought was conducted in a stop-start way by Lothar Koenigs and given a lazy traditional production by Richard Jones, at least Katharina Wagner's 'take' on Die Meistersinger stimulates debate – surely a good thing and especially at Bayreuth of all places.

Jim Pritchard

Pictures © Bayreuther Festspiele GmbH / Enrico Nawrath