Other Links
Editorial Board
Editor - Bill Kenny


Assistant Webmaster -Stan Metzger

Founder - Len Mullenger
Google Site Search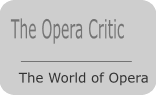 SEEN AND HEARD COMMEMORATIVE ARTICLE

Sir Charles Mackerras - 17 November 1925 – 14 July 2010: Some personal recollections by the celebrated tenor Alberto Remedios CBE (AR)


Charles, as he liked to be called, was already working at Sadler's Wells when I first joined the company in 1956. I believe he started there as an oboist in the orchestra during performances of La bohème and then went on to conduct Katya Kabanova there in 1951. So by the time I got to know him he was already well established as a conductor for the company.

When the company moved to The London Coliseum in St Martin's Lane and then changed its name to The English National Opera, he became the music director. Our first production together was Wagner's Ring Cycle, which he conducted after Reginald Goodall had premièred the works the season before. He came with us when we went on tour to Bristol and Newcastle. Some time later we recorded excerpts in German from Götterdämmerung with Rita Hunter as Brünnhilde. I remember the day being a miserable one outside but when we started with Charlie conducting the London Philharmonic Orchestra, the sun seemed to shine. Another memorable occasion was when we were rehearsing Carmen and Charlie said to me, 'It's your birthday, Alberto, I'm taking you to lunch'. We dined at the Grange, a very posh restaurant in London. We had a fabulous repast with rather too much to drink. Somehow we staggered back to the 'Coli' and Charlie sat down at the piano and played like a God. Just how I sounded I don't know, but with all that lubrication I suppose it was alright.

We worked together on Berlioz's Damnation of Faust, Massenet's Manon in 1974 and Wagner's The Mastersingers of Nuremberg in 1975, all again for ENO. Charles was asked to conduct Tristan und Isolde in Australia in 1982 and these were to be concert performances set up by the Australian Broadcast Corporation. I was contacted by my agent and asked would I like to travel out to Australia to work with Charles again: I jumped at the chance. During the rehearsals for Act III, Charles turned to the orchestra and said, 'You will have to get on with this yourselves as I have to be with Alberto. This is the hardest piece ever written for a tenor. I can't watch you and Alberto at the same time'. If only every singer got that support from their Maestros! We did four performances in all, with two in Sydney and two in Melbourne. The audiences went wild, and Charles was rightly pleased with the results.

I always found Charles to be a wonderful musician and indeed a great friend, who was always with you when you needed him most. Charles wanted me to do Halévy's La Juive for him, but somehow this was not to be. His contribution to the world of music was justly recognized in 1979 with a knighthood.

Alberto Remedios