Other Links
Editorial Board
UK

Editor

s

- Roger Jones and John Quinn

Editors for The Americas - Bruce Hodges and Jonathan Spencer Jones

European Editors - Bettina Mara and Jens F Laurson

Consulting Editor - Bill Kenny

Assistant Webmaster -Stan Metzger

Founder - Len Mullenger
Google Site Search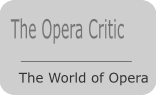 SEEN AND HEARD INTERNATIONAL OPERA REVIEW


Donizetti, Lucia di Lammermoor: Seattle Opera, soloists, Bruno Cinquegrani (conductor), Tomer Zvulun (director), Robert A.Dahlstrom (set designer), Robert Wierzel (lighting designer), Beth Kirchhoff (chorus master), Marion Oliver McCaw Hall, Seattle, 16 & 17.10.2010 (BJ)





Aleksandra Kurzak as Lucia. Picture © Rozarii Lynch

 

Cold logic might admittedly find a problem or two in Seattle Opera's new production of Donizetti's Lucia di Lammermoor. For one thing, there's a ghost interfering in the proceedings. And though the top-hatted mourners with their umbrellas under the snow in the final scene make a wonderful stage picture, "it's lucky" (as my wife remarked after the final curtain came down) "that they took their mourning clothes to the party!"

But then, opera, which Dr. Johnson called "an exotic and irrational entertainment," is hardly a prime candidate for assessment by cold logic, especially when the work in question is one that culminates in the most famous of all mad scenes. To my mind, Israeli stage director Tomer Zvulun's debut production for the company was a practically unalloyed triumph.

Usually, distracting the audience from listening to the prelude by offering stage business while it's playing annoys me, but in this case the eerie passage of the aforesaid ghost was a poetic touch justified by later events, and by Lucia's own obsession with the ghost of a former victim of Ravenswood violence. (Was the last-appearing ghost played by the same body-double, or was it the just-expired Lucia herself? That's a question I can't answer for certain even after witnessing both opening-weekend performances, and again, the uncertainty is itself poetically satisfying.)

This and other effects were heightened by the frequent use of scrims, which combined with Robert Wierzel's subtle lighting design to add a touch of mystery to the action. The huge painted portrait that dominated the first scene of Act II neatly restored to the action a crucial character omitted in librettist Cammarano's adaptation of Walter Scott's The Bride of Lammermoor: this was Lucy's mother, Lady Ashton, to the life–the cold, manipulative matriarch we may justly blame for the disasters that befell her family. Deborah Trout's handsome costumes meshed nicely with the production's transfer of the story to the mid-19th-century period when the opera was written. Marshaling principals and Beth Kirchhoff's superb chorus with telling clarity on a clever set adapted from the one Robert A. Dahlstrom originally designed in 2008 for I puritani, Zvulun's production drew intensely lifelike performances from all concerned. One particularly moving touch, emphasizing the ambivalence of Edgardo's fury, was the kiss he planted on Lucia's lips in the very act of repudiating her. One small gaffe in social relations might be mentioned: I know that captain of the guard Normanno has special privileges in the Ashton household, so it was understandable that he should shake hands with Arturo–but the friendly pat on the arm that he then administered was, I think, a mistake.

Following company custom, to cope with the tight scheduling of performances, three roles were double-cast. On opening night, William Burden made a marvelous hero, evoking the urbane and complex character of Scott's novel more than the simpler figure of the opera's Edgardo, and rightly letting passion trump literal clarity in his singing. As Enrico, Ljubomir Puškarić, initially a shade colorless, gained strength as the evening went on. But it was Polish soprano Aleksandra Kurzak, making her company and role debut as Lucia, that set the theater alight both vocally and dramatically. She made me believe she really was the "ordinary teenager, but with a particularly vivid imagination," that Zvulun sees in the character. In addition to creating electricity, this Lucia was palpably vulnerable from the start. Without ever becoming ungraceful, she relapsed from time to time into the sort of pout that most parents of teenagers would immediately recognize. And when madness took hold, she personified it with utter conviction, with due regard for the sexual undertone of her affliction, and understandably making the chorus react with exactly the kind of shrinking fear such a phenomenon would arouse in the onlookers.

In the Sunday-Friday cast, Davinia Rodriguez was not so credible in the title role: she was a shade too self-possessed for a potential hysteric, and her voice, cleanly produced as it was at all points of the range, seemed to me not very personal or sympathetic in tone. Philip Cutlip's incisively characterized Enrico, however, was a distinct gain, and Scott Piper rivaled Burden with singing by turns strong and delicate–the hushed tones in which he put his accusatory question to Lucia after the signing of the wedding contract with Arturo were spine-chilling. Besides good work in both performances from Seattle Opera Young Artists Eric Neuville as Normanno, Lindsey Anderson as Alisa, and Andrew Stenson as the unfortunate Arturo, company favorite Arthur Woodley contributed a sonorous and personable Raimondo.

I regretted that, as in many productions, the so-called "Wolf's Crag" scene, which helps to flesh out Enrico's character, was omitted. But Bruno Cinquegrani paced everything else in the opera authoritatively, and managed to persuade his singers to refrain from the persistent shouting that disfigures even the most celebrated "classic" recordings of Lucia. Excellent orchestral playing was highlighted by impressive solos from harpist Valerie Muzzolini Gordon and flutist Scott Goff, and the conductor's cool authority evoked from the closing scene a highly surprising affinity: this was the kind of penetrating ritual characteristic of Stravinsky–perhaps the last composer anyone would think to associate with the hyper-romantic Donizetti.

Bernard Jacobson

 

A shorter version of this review appeared in the Seattle Times.