Other Links
Editorial Board
UK

Editor

s

- Roger Jones and John Quinn

Editors for The Americas - Bruce Hodges and Jonathan Spencer Jones

European Editors - Bettina Mara and Jens F Laurson

Consulting Editor - Bill Kenny

Assistant Webmaster -Stan Metzger

Founder - Len Mullenger
Google Site Search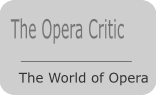 SEEN AND HEARD UK CONCERT REVIEW
Mahler and Beethoven: London Philharmonic Orchestra, Vladimir Jurowski (conductor) with Christine Schäfer (soprano) Steven Osborne (piano), Birmingham Symphony Hall, 2.12.2010 (GR)


Any Mahler Cycle is an event to savour and Birmingham's first is proving to be a winner. Fourth in line (after Numbers 8, 3 and 5, – see reviews on this site) was fittingly his Fourth Symphony, although this concert saw the first in the series from a visiting orchestra, the London Philharmonic complete with their Principal Conductor, Vladimir Jurowski. They defied the wintry elements outside the Birmingham Symphony Hall on Dec 2nd to deliver a scorching performance inside.

As Mahler's Fourth is his shortest symphony (just under the hour on this occasion) there was time in this programme from the 2010/11 Birmingham International Concert Season for a first half piece from Beethoven, one of his Fourths, the Piano Concerto in G Major, Op 58 from 1806. One interesting detail in the programme notes of Lyndon Jenkins was that during the premiere 'everyone on stage and in the audience complained about the cold'; although many of the THSH faithfuls retained their outer layers of clothing, they soon warmed to soloist Steven Osborne. This Scot, the 1991 winner of the prestigious Clara Haskil competition, seems to have an affinity to the world's industrial heartlands and Beethoven, having given this very concerto in Birmingham Alabama earlier this year.
Perhaps the most understated of the five Beethoven piano concertos, Osborne calmly portrayed the unruffled mood expressed in opening bars of the Allegro moderato. There was a superb fluidity to the movement; moments of delicate lyricism were seamlessly bonded to more robust scalic passages. Much was due here I feel to the many visible exchanges between Osborne and Jurowski, the frequent glances from the pianist and the head and hand indications of the maestro, each in tune with other's role. This was clearly a partnership of mutual respect; Osborne is not a virtuoso who single-mindedly buries his head in the keyboard. Rasping chords from the London Philharmonic strings opened the Andante con moto, coolly answered by the lightest of touches on the keyboard. Osborne's measured tones were a sufficient antidote to gain supremacy in this particular conversation. The Rondo - Vivace final movement was exhilarating, truly in the Beethoven mould – a classic appetiser for the subsequent romantic fayre!

It is always interesting to observe how different conductors arrange their forces and this was certainly the case with Jurowski and the London Philharmonic. Having split the violins for the Beethoven, they were similarly divided for the Mahler; cellos were again centre left and violas centre right but the double basses were now shifted from rear left to rear right. It was an adroit arrangement as Jurowski coaxed some idyllic sounds from his strong string section, in keeping with the overall concept of infant innocence associated with this popular composition. Mahler rarely gets into top gear in any of the four movements and this was certainly the case in the first arranged in sonata form and denoted Bedächtig (deliberate). The LPO made the audience forget the winter weather outside the auditorium, overwhelmed with visions of lazy summer days: the initial theme on the first violins tripped gaily along, impressions reinforced by a relaxing second statement on the cellos. This pastoral scene was confirmed by some delicious woodwind sounds, particularly the principal bassoon of John Price and the unified flutes. But Mahler, forever looking over his shoulder, portrayed his Fourth from a bipolar perspective and storm clouds appeared. However I thought the climactic dissonance somewhat disappointing and rather weak in volume.

The In gemächlicher Bewegung second movement was a busy one for leader Pieter Schoeman, switching between his regulation instrument and a second one tuned up a tone. But the overriding relaxant mood of the first movement failed to desist – no highly-strung sensations got to me. Mahler's first notation for the scherzo had been Freund Hain spielt an; any spine-chilling references to death by this Fiedel, mythical or otherwise, failed to invade my space. The journey to heaven was becoming too easy a ride. On the plus side, there was some humour in the guise of Robert Hill's clarinet, ostensibly laughing in the face of death and the closing woodwind shrieks were realistic.

Jurowski wonderfully recreated Mahler's marking of Restful in the third Poco adagio movement, the emotional heart of the symphony. The heart-rending strains from the orchestra recalled the vision that had motivated the composer – the carved image of the departed atop a tombstone, a child asleep in death. The ebb and flow of the strings was indeed poignant and distinctively Mahlerian. I thought the role of second violins here was crucial, admirably led by Clare Duckworth. But this was a real team effort: subtle changes in pace were expertly handled by Jurowski; the autumnal colours of the woodwind were vividly set against the lilting strings; the surge in anticipation that led to the climactic depiction of the opening of heaven's gates was fabulous. After the exultations of the horn and timpani, the tranquil runs on the harp in the coda produced the 'My Mahler' moment of the evening (see THSH's website www.mymahler.com).

The final Sehr Behaglich movement is based upon one of Mahler's Wunderhorn songs – Das himmlische Leben (Heaven's Life). Its success depends very much on the soprano soloist. Christine Schäfer delivered the goods on this occasion; experiences of her rendition of the four stanzas with Haitink and the Concertgebouw had whetted my appetite. Although I failed to recognise Schäfer from her photograph in the programme (Why was such an austere shot used?), there was no mistaking her timbre when she started to sing of – and with – himmlischen Freuden. Naturally her German was fluent and crystal clear. She was not exactly childlike as Mahler intended, but in the opening verse she danced merrily along, soaring effortlessly and memorably at Sankt Peter in Himmel. The horrors and enigmas of this particular 'child's view of heaven' were predicted by the orchestra in the bars leading to the second verse, the percussion and the flutes led by Jaime Martin that bit special. With words such as 'St Luke slaughters the oxen without any scruples or care', Schäfer frowned as her line took a more serious tone, relieved when the angels rose to 'bake the bread'. The festive delights of heaven came across in the third verse leaving St Martha to be cook. Never at full operatic throttle, Schäfer allowed the words to project with belief and meaning. The cor anglais of Sue Bohling and the strings produced some further gorgeous Mahler sounds in the interlude before the final verse. This began 'There is no music on earth that can be compared to ours'; with no evidence as to the quality of the heaven's sounds, I was contented to soak up the delights of Mahler, Jurowski, Schäfer and the London Philharmonic.

Geoff Read