Other Links
Editorial Board
Editor - Bill Kenny


Assistant Webmaster -Stan Metzger

Founder - Len Mullenger
Google Site Search
SEEN AND HEARD INTERNATIONAL OPERA REVIEW

Bayreuth Festival 2010 (1) - Wagner, Lohengrin: Soloists, chorus and orchestra of the Bayreuth Festival. Conductor: Andris Nelsons. Bayreuth Festspielhaus, 3.8.2010. (JPr)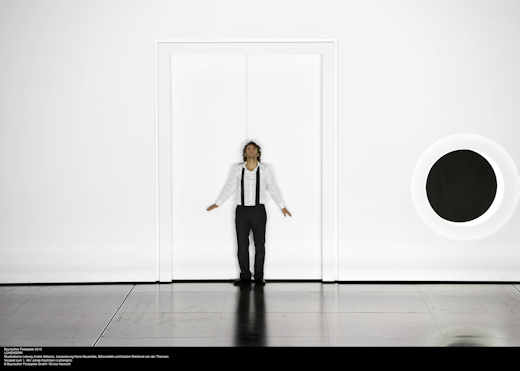 Jonas Kaufman as Lohengrin


Returning for the 2010 festival I find the sleepy Bayreuth town – which I understand has a population not much different to Brentwood in Essex – is not coping well with the problems in the German economy. There are empty shops everywhere and although there is some municipal redevelopment going on that cannot be the only reason; it is clear times are hard. Obviously they welcome the influx of tourists at this time of the year but even then it is surprising how many businesses are shut for the holidays during the Festival – so maybe things are not so bad.

At the Festspielhaus there is certainly a growing optimism now that good times are ahead. It has been remarked on how the level of singers attracted to Bayreuth has reversed the decline of recent years with important debuts this year from, amongst others, Lance Ryan, Johan Bohta, Annette Dasch and Jonas Kaufmann. Also with this new Lohengrin many commentators have suggested that the production brings Bayreuth back from the doldrums and to the forefront of the opera world, with the appropriate artistic merits to match its ambition.

Hans Neuenfels is, I understand, notorious for including lots of blood and sex in his productions but here – as everyone must know by now – what we have are often cute, Pixar-like, rats. The staging reeks of the Regietheater symbolism that Neuenfels and his designer Reinhard von der Thannen try to explain in an interview in the programme book. However, this was translated from the original German probably using software rather than a real person, because whilst it may be English, it's not 'as she is written' and so their insights into what they intended to show remain obscure. Of course, it is their obvious intention to be provocative and deliberately so at the expense of any analysis of the Lohengrin story. This is important because as the opera unfolds we are left with a 'chicken and egg' question – what came first … the Konzept or the opera? I ask because quite plainly it is would be possible to stage Parsifal with only minimal changes to the sets and costumes for this Lohengrin.

Once again – as with Stefan Herheim's Bayreuth Parsifal – Neuenfels seems to be unable to let a bar of music pass by without some action on stage. So during the Prelude, we see a white-walled room with metal gates on the opposite sides and a rear wall with some strange portholes in it. Lohengrin, mostly with his back to the audience, is shown pushing the wall to the back of the stage. I guess this is a metaphor for something although it looked rather like a large slab of cheese for the rats that we see later … perhaps Gruyère?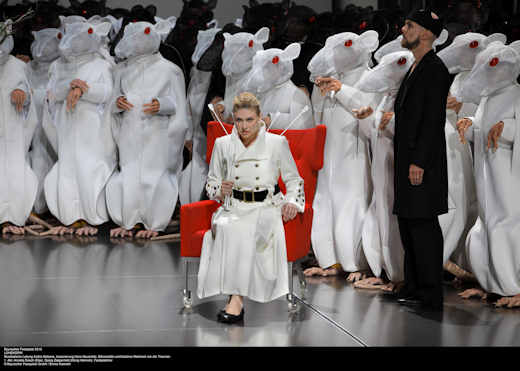 Annette Dasch as Elsa


Actually, we seem to be in the extremely sterile setting of a modern day laboratory with the noblemen and people of tenth-century Brabant all dressed mainly in black or white - loose and flimsy - rat costumes; all have large floppy feet with matching paws. They have see-through head masks with glowing ratty red eyes and all are numbered. This is a well-ordered social system and obviously people in it are there to do what they are told – not a terribly difficult 'concept' to understand. Perhaps we are just all rats anyway under the control – as here - of a higher anonymous power. Warders in what appear to be turquoise hazard suits control the laboratory animals with injections … and also usefully help to change the scenery when necessary.

Lohengrin, Elsa, King Henry, the duplicitous pair Telramund and his manipulative wife, Ortrud, all appear as normal human beings and are therefore superior to the rats. Elsa relates her dream where God sends a knight to defend her. We first see her as a female version of St Sebastian in a stunning white coat pierced with arrows: the arrows possibly representing all the false accusations that have been fired in her direction. We have already had the first of three videos about 'Truth' that we will have during this staging. They all show cartoon-like images of rats but did not seem to add anything to the 'storytelling' and I got nothing from them – but perhaps that's just me?

Lohengrin wanders in as through in a dream of his own and looking like he has just been out for the night and is wandering home the next morning in the same clothes - open-necked shirt and loose tie. Lohengrin begins to champion Elsa against the charges that she has murdered her brother. The chorus remove their rat clothing for the duration of the scene, here – and repeated later – the costumes rise above the stage on hooks in a compelling image. Everyone wears bright yellow suits and have hats that match. It is clear that in some way they all can transcend their rat incarnations somehow, yet they retain the paws and feet. At the end after Telramund is too easily defeated, I wondered about the plucked swan shown hovering over the stage.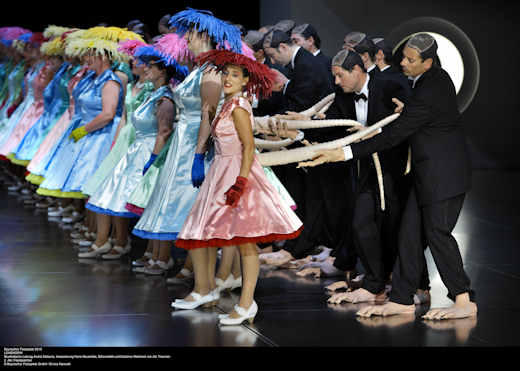 Act II


At the start of Act II, Ortrud and Telramund's carriage has overturned and a clearly solid black horse is on its side: rats scavenge through the couple's scattered belongings. The swan has become a ceramic casting and is encased in glass that reflects views of both the prompter and the conductor to us in the audience. Is this done deliberately to reveal the artifice of what is going on – or just poor stagecraft? Personally I plump for the latter! Unfortunately, Telramund's four henchmen dressed in tails-suits but with rat appendages actually looked to me like Thalidomide victims – and again I wondered if this reference was intended as an example of medical science taking a wrong turn? Ortrud ends her confrontation with Elsa by revealing her true intentions when she is sits astride the 'swan' and is strangling it. The rats come on to welcome the 'Schützer von Brabant' and then strip off as before. The men are in black tie with skullcaps giving them a hint of a comb-over. The women are in a glorious array of pastel-coloured dresses, matching feathered hats, yet still they keep their rats' tails. Elsa and Ortrud are now in matching feathered couture gowns with the former as a white swan and with the latter – you've guessed it – as a black one. The women berate Telramund by lashing at him with their long tails. Throughout the production, Neuenfels uses the chorus as commentators who come on stage and sing when necessary but then move offstage and mostly leave the individual singers alone.

By the start of the final act, I am beginning to wonder why it is all getting almost unbearably cute. The citizens of Brabant sing out the very famous wedding march for Lohengrin and Elsa and the immensely impressive Bayreuth chorus (impeccably coached throughout the Festival by Eberhard Friedrich) look adorable as black and white rats in neat rows. Cue entry of ten pink baby rats, followed by lots of waving to the newlyweds and an audible 'Ahh!' from the audience. So Disney … but not so, Lohengrin!

The marital bed comes downstage and is roped off like a museum exhibit. As Elsa imagines the swan returning, the boat emerges from the bed. Lohengrin all but forces himself on her but cannot stop her asking the fatal question. Telramund again is too easily dealt with and his body is brought before the Brabantians who now just have helmets as rat heads and are more human than ever in black uniforms with an 'L' on the front and a swan motif on their back. They again remove themselves from the stage to leave Lohengrin spotlit for 'In fernem Land'. Ortrud re-enters and has the opportunity to steal the show at the last moment believing she is victorious: she is dressed in a mock-Elsa outfit of white feathers and arrows. Neuenfels and von der Thannen then have one last surprise in store of us as Gottfried emerges from a swan's egg as an ugly and ungainly looking foetus tearing itself free of its umbilical cord.

Annette Dasch's stridency in her outbursts does not make her the ideal sounding Elsa - who needs a touch more radiance and pliancy in the voice than she can manage. She is a credible actress on stage and her performance was quite affecting at times. Georg Zeppenfeld (King Henry) and Samuel Youn (Herald) sing well and are ideally cast for this production. I would like to reserve judgement on Jonas Kaufmann's Lohengrin until I could hear him again in the role but the production will not be at Bayreuth next year so I must make some assessment of how he did. I was generally disappointed; mainly because his sound seemed manufactured and the phrasing and dynamics of his vocal delivery seemed to be of his own devising and definitely Wagner-lite. Some phrases soared as they should, but others didn't although I should say that I don't think he was in his best voice on this evening. He is a natural for the role of the pensive knight but generally seemed to sleep-walk through the role. Despite this however, he is a charismatic stage presence - and together with Dasch – made half of a perfect physical pairing. Kaufmann is always the most intelligent of singers but here he was all chesty burnished bronze and showed no heldentenor brilliance or real power. Some of the vocal colouring he did was sublime and one example must suffice: what he did with 'eine Taube' during his Narration was a model for all potential and current singers of this role. He believed he saw the dove … and so did I!

The conductor was the young Latvian, Andris Nelsons, the Music Director of the City of Birmingham Symphony Orchestra and someone whose career seems to be on a meteoric upward trajectory. He drew out a supple and richly-detailed performance from the always impeccable Bayreuth Festival orchestra. This was a young man's Lohengrin and compared to the translucent account of the Act I Prelude, his Act III Prelude and bridal chorus sounded rather trivial and operetta-like. Again, in some ways, this reading stripped of the score of otherworldliness - and with a number of marked changes of tempi – it matched a production which also varies a great deal in tone during the evening.

This is an intriguing staging that may develop in future years; we are already promised some important cast changes in 2011 and new artists often bring their own slant to anything they are asked to portray. Finally, I repeat some of what I discussed earlier: take most of the sets, the costumes of the humans, the rat costumes and uniforms for the men, the dazzling costumes for the women in Act II, a small cross and some steps that are there at the end of that Act … and you can create a Parsifal. So was this more Konzept than Lohengrin? Maybe only time will tell.

Jim Pritchard

Pictures © Bayreuther Festspiele GmbH / Enrico Nawrath