Other Links
Editorial Board
UK

Editor

s

- Roger Jones and John Quinn

Editors for The Americas - Bruce Hodges and Jonathan Spencer Jones

European Editors - Bettina Mara and Jens F Laurson

Consulting Editor - Bill Kenny

Assistant Webmaster -Stan Metzger

Founder - Len Mullenger
Google Site Search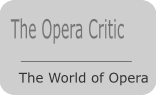 SEEN AND HEARD INTERNATIONAL OPERA REVIEW
Korngold, Die Tote Stadt : Soloists, Finnish National Opera, Helsinki, ( New Production Premiere) 26.11.2010 (GF)

Directed by Kasper Holten
Sets by Es Devlin
Costumes by Katrina Lindsay
Lighting Design by Wolfgang Goebbel
Choreography by Signe Fabricius

Cast:
Paul – Klaus Florian Vogt
Marietta – Camilla Nylund
Marie (Silent role) – Kirsti Valve
Frank / Fritz – Markus Eiche
Brigitta – Sari Nordqvist
Juliette – Kaisa Ranta
Lucienne – Melis Jaatinen
Victorin – Per-Håkan Precht
Count Albert – Juha Riihimäki
Gaston – Antti Nieminen
The Finnish National Opera Chorus, Children's Chorus and Orchestra / Mikko Franck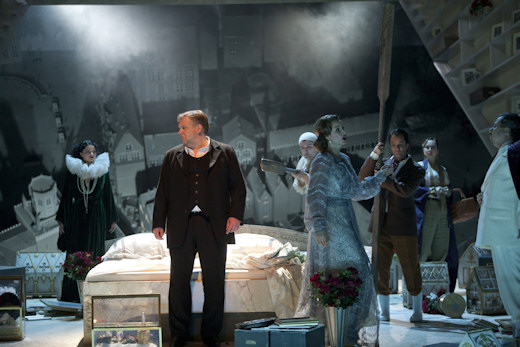 Production Picture © Stefan Bremer
The child prodigy Erich Wolfgang Korngold, hailed by musical personalities like Richard Strauss and Gustav Mahler, wrote two highly successful operas while still in his teens, Der Ring des Polykrates and Violanta, and when his next work, Die tote Stadt, arrived a few years later the interest from opera houses was so immense that it was premiered simultaneously in Hamburg and Cologne. The Cologne premiere was conducted by Otto Klemperer, incidentally, while in Hamburg the role of Marietta was created by Maria Jeritza, who a year later also bowed at the Metropolitan Opera in the same role. Die tote Stadt was no doubt one of the most popular operas during the 1920s, but when the Nazis came to power it was banned (Korngold was Jewish) and for decades to come it was practically forgotten, until the 1970s, when it was staged again and RCA recorded it under Erich Leinsdorf. Today it is less of a rarity and has received notable productions in Vienna, at Covent Garden, San Francisco and Opéra Bastille. I have seen two previous productions: in Stockholm in the mid-1990s (also recorded by Naxos) and at Chậtelet in Paris in a guest appearance from Opéra du Rhin (available on DVD). The former was very moving, with Thomas Sunnegårdh as a noble Paul; the latter was weird and rather repulsive, with Torsten Kerl's Paul lurking around like a loony.
In Helsinki, the whole opera is played in Paul's bedroom, which is a mausoleum for his dead wife, filled with her belongings. Marie is omnipresent, and Paul lives his life in a dream world. In the first act, it is a closed room, the blinds are shut, the outer world doesn't exist. But in the following acts, Paul gradually conquers the world, the blinds are opened (his eyes are opened) and we can see Bruges from a bird's eye perspective. It is all very beautifully done and Klaus Florian Vogt is a dignified mourning husband, who in the end realizes that he must part with Marie and return to life.
Korngold's music is marvellous throughout, something I didn't realize until I bought the Leinsdorf recording. Until then, I only knew the first act duet Glück das mir verblieb from the early recording with Lotte Lehmann and Richard Tauber, and Pierrot's aria from a recording by the young Hermann Prey. The theme of the duet is recurrent throughout the opera and Paul's long final aria is entirely built on that music. This aria must be considered to be one of the most trying in the entire repertoire, especially considering the fact that Paul has already been on stage and singing for the better part of two hours. Vogt, whose Walther von Stolzing I admired enormously in Bayreuth several years ago, has, besides the required stamina, also the beauty of tone and the ringing top notes to allow him to ride over the orchestra. His youthful timbre and intelligent phrasing made him the most consummate Paul I have heard, whether live or on a recording. I hope some record company has grabbed the opportunity to record this production, since Vogt was not alone in vocal brilliance.
Marietta's role is also enormously taxing, but Camilla Nylund sang it with the same assurance as Vogt, actually on a par with Katarina Dalayman's reading in Stockholm. Markus Eiche was an authoritative Frank. He also doubled as Fritz, and thus the Pierrot aria fell to him. I would have liked it to sound more lyrical, more longing, as Stefan Genz did it in Paris or Thomas Hampson on a recital disc. But it was sung beautifully and with an admirably steady tone. Sari Nordqvist's Brigitta was strong and vibrant, albeit after a somewhat shaky start.
Mikko Franck, Artistic Director and General Music Director of the Finnish National Opera, is a charismatic conductor and there was an extraordinary glow to the orchestra. With analytic clarity, he laid bare every strand of Korngold's masterly orchestral colours. I regard Die tote Stadt as one of the greatest operas of the first quarter of the 20th century and the Finnish National Opera's production makes it stand out as a true masterpiece, scenically and musically.

Göran Forsling