Other Links
Editorial Board
Editor - Bill Kenny


Assistant Webmaster -Stan Metzger

Founder - Len Mullenger
Google Site Search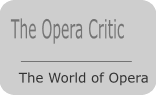 SEEN AND HEARD UK OPERA FESTIVAL REVIEW

Buxton International Gilbert and Sullivan Festival 2010 - Iolanthe: Soloists, National Festival Orchestra, Richard Balcombe (conductor) Directed by Alan Spencer, Buxton Opera House, Derbyshire, 31.7.- 2.8. 2010 (RJW)
Louise Crane - Iolanthe
Giles Davies - Strephon
Rebecca Knight - Phyllis
Jill Pert - Fairy Queen
Barry Clark - Lord Tolloller
Philip Blake-Jones - Lord Mountararat
Simon Masterson-Smith - Private Willis
Richard Suart - The Lord Chancellor

Iolanthe's topical libretto by the witty and cynical Gilbert sends an Arcadian shepherd to Parliament as a Liberal Conservative. With the current Coalition now running the country how much more up-to-date can you get? This production could not have been better timed.

Iolanthe is one of three professional Gilbert & Sullivan productions playing at the annual International Gilbert and Sullivan Festival in Buxton this year. These weekend professional productions are sandwiched between midweek one-night adjudicated performances by visiting societies (over a three week span of thriving activity). With a reputation for strong casts, energetic delivery, traditionally fresh interpretations are brought to roles familiar to a large proportion of the Buxton audiences. With good stars like Jill Pert and Richard Suart in key roles, we were assured of an excellent evening's entertainment.

The music was up to Buxton's usual high standard, with the orchestra (leader, Sally Robinson) under Richard Balcombe's baton giving a superb and sprightly reading of the Overture and score throughout.

Rebecca Knight, nicely costumed, gave an elegant and strong portrayal of Phyllis with a 'take me or leave me' innocence. Partnered by an equally strong Giles Davies as Stephon, he impressed with his carefully paced dialogue and good diction. Their duet 'None shall part us' was a delight to the ear.

The commanding presence of the Fairy Queen (Jill Pert) reacted superbly to the Chancellor's disrespectful comments with grimace and stare fit to demolish anything that stands in her path, yet also displayed a poignant and lovable quality not always associated with the part as characterised in old D'Oyly Carte productions. Philip Blake-Jones as Lord Mountararat gave a confident and enjoyable rendering of 'When Britain really ruled the waves' while Louise Crane as the pivotal character Iolanthe and Barry Clark as Lord Tolloller both sang and performed well. Richard Suart, a seasoned G and S thespian, was on form as the Chancellor with his subtle timing to extract that extra ounce of humour, and one hopes his quietly muttered asides reached all ears in the Gallery.

Care is always taken with the staging and lighting of these Buxton productions and, as with Princess Ida last year, they can match a West End show. With fresh ideas within a traditional framework, Alan Spencer gave his audience much to be impressed by. An elaborate opening gauze effect with glade lighting using gobo-projected foliage to create an appealing mood for the fairies' effectively choreographed opening routine, was elegant. Later, a golden shower of shimmering petals added that touch of magic so much enjoyed in aspects of fairyland. In Act I, a lowered foliage border effectively transformed the Arcadian landscape into a more intimate set for Peers to peep from behind portable sunflowers. Refreshing stage business came in the form of magically produced flowers that the supernatural Strephon gives to the fairies; use of a hip flask for a tipsy Private Willis who amuses as he hallucinates at the sight of fairies; and a trio of teddy bears for the 'ever-youthful' Chancellor to allow comic business (reminiscent of 'Mr Bean').

Throughout, the chorus was outstanding: the peers march was memorable for its brilliant singing, particularly by the soaring tenors. Also, the interaction between fairies and peers was convincing in both Acts. One should add that the strength of singing from the twenty-strong chorus in forte passages was spectacular and is a credit to the good training by répétiteur, David Barnard, and conductor, Richard Balcombe.

The International Gilbert and Sullivan Festival has reached greater professional heights if this production is anything to be judged by. A further opportunity to catch this newIolanthe production can be taken when repeated on the Festival's last night, August 21st.
Raymond J Walker