Other Links
Editorial Board
UK

Editor

s

- Roger Jones and John Quinn

Editors for The Americas - Bruce Hodges and Jonathan Spencer Jones

European Editors - Bettina Mara and Jens F Laurson

Consulting Editor - Bill Kenny

Assistant Webmaster -Stan Metzger

Founder - Len Mullenger
Google Site Search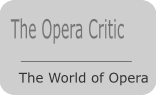 SEEN AND HEARD UK OPERA REVIEW
Humperdinck, Hänsel und Gretel: Soloists, Orchestra of the Royal Opera House, Rory Macdonald (conductor). Royal Opera House, Covent Garden, London, 23.12.2010 (MB)
Hänsel – Christine Rice
Gretel – Ailish Tynan
Gertrud – Yvonne Howard
Peter – Sir Thomas Allen
Witch – Jane Henschel
Dew Fairy – Anna Devin
Sandman – Madeleine Pierard
Echo – Kai Rüütel
Angels, Children
Moshe Leiser and Patrice Caurier (directors)
Elaine Kidd (revival director)
Christian Fenouillat (set designs)
Agostino Cavalca (costumes)
Christophe Forey (lighting)
Members of Tiffin Boys' Choir and Tiffin Children's Chorus (director: Simon Toyne)
Orchestra of the Royal Opera House
Rory Macdonald (conductor)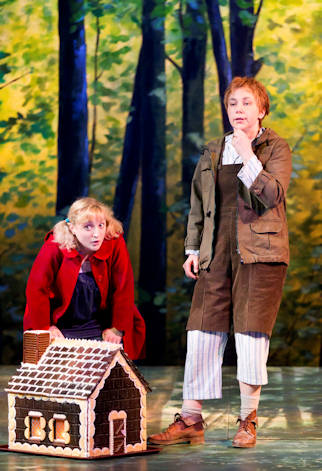 Gretel (Ailish Tynan) and Hänsel (Christine Rice)

Picture © The Royal Opera /Johan Persson
After being appointed Music Director of the Vienna State Opera, Franz Welser-Möst made a remark to the effect – I cannot remember the precise words – that how a house handled a week-day repertory Figaro was just as crucial to its flourishing as a starry new production. Indeed. Whilst the situation at Covent Garden is somewhat different, in that it does not have a repertory system along the lines of many German houses, there is a case to be made that the quality of revivals matters as much as that of more 'newsworthy' new productions. One does not necessarily employ quite the same criteria; it depends. And so, this first revival of Hänsel und Gretel, whilst it lacks in some though by no means all cases the star quality of some participants from the first run, may be accounted a considerable success. One does not expect a young conductor to evince the lifetime's experience of Sir Colin Davis, though Rory Macdonald did an increasingly fine job as the night went on. Likewise, it would perhaps be unreasonable to expect Angelika Kirchschlager and Diana Damrau on every occasion. But if the performance took a little while to settle down, notably assisted in that respect by the appearance of Yvonne Howard and Sir Thomas Allen, the sole survivor from the original cast reprising the role of Peter, this proved an enjoyable and ultimately moving evening.
Part of that is down to the delights of Humperdinck's score. Derivative it might be, but the fairy-tale Wagnerisms enchant rather than irritate, though the Meistersinger-ish opening scene perhaps remains excessively dependent upon its weightier model. During much of the first act, I felt a slight lack of focus, never damaging, and something that I suspect will soon dissipate once the run of performances beds down. The luxuriance of Sir Colin's interpretation lingered in the mind. However, as time went on, Macdonald imparted a different quality to the score, marking this out very much as his own reading. Woodwind suggested Mozart and Strauss; indeed, I was at times taken aback at quite how much the score's textures seemed to presage the latter: hardly Elektra, but perhaps Ariadne.
I do not really have anything to add to what I said about the production last time. It works well, and has surprisingly dark moments given that it is at least partly aimed at children. There is proper contrast between the magical dream of Christmas and the industrial scale oven of the Witch's house. Like a true fairy tale, there is more than tinsel to this Christmas offering. Elaine Kidd's work as revival director seems assured.
Christine Rice presented a suitably boyish Hänsel, looking as well as sounding the part. Though I find it difficult to warm to Ailish Tynan's thin tone, this Gretel certainly provided the best performance from her, and again she acted credibly. The parents, Yvonne Howard and Sir Thomas Allen, both impressed, as one might have expected. I was amazed once again how Allen could make so much out of so relatively little. His diction, vocal presentation, and stage presence once again proved second to none. Anja Silja had assumed the role of the Witch in 2008; I very much liked her portrayal, though some were more affected by its vocal shortcomings. Here, Jane Henschel proved a more than worthy successor. I could not help but think of her wonderful assumptions of the role of the Nurse in Die Frau ohne Schatten: a more ambivalent character, to be sure, but perhaps not wholly unrelated. In any case, she combined stage presence and a more secure vocal line than her predecessor. Sir Charles Mackerras was to have conducted; the performance was dedicated to his memory.
Mark Berry