Other Links
Editorial Board
Editor - Bill Kenny


Assistant Webmaster -Stan Metzger

Founder - Len Mullenger
Google Site Search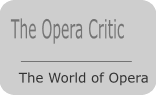 SEEN AND HEARD INTERNATIONAL OPERA REVIEW

Münchner Opernfestspiele 2010 - Donizetti, L'Elisir d'Amore: Soloists, Bayerisches Staatsorchester. Chor der Bayerischen Staatsoper. Conductor: Juraj Valcuha. Nationaltheater, Munich 21.7.2010. (JMI)

Production Bayerische Staatsoper.

Director: David Bösch.
Sets: Patrick Bannwart.
Costumes: Falko Herold.
Lighting: Michael Bauer.

Cast:

Nemorino: Pavol Breslik.
Adina: Nino Machaidze.
Dulcamara: Ambrogio Maestri.
Belcore: Fabio Maria Capitanucci.
Giannetta: Angela Broker.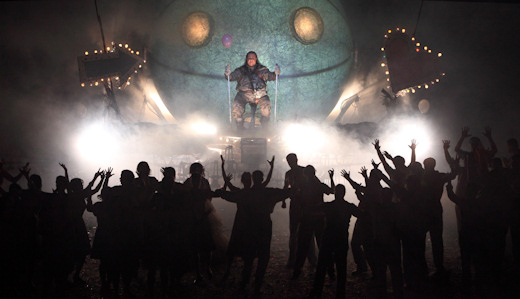 Dulcamara Arrives


The obvious appeal of this Donizetti opera was the presence of Mexican tenor Rolando Villazón in the role of Nemorino but the real interest was even greater than that. This was an opportunity to check Villazón's vocal shape, after he reappeared last March having had two long periods of rest. Unfortunately, he cancelled this performance too due to health reasons and we'll have to wait for another time to find out how his voice is now.
L'Elisir d'Amore is an opera buffa with some outstanding moments full of lyricism. This new production by David Bösch tries to have fun with the plot and it is largely successful. Bösch moves the action to the second world war in a coastal town in the South of Italy, which is disturbed by the unexpected arrival of American paratroopers by land and air. From there on, everything is a sequence of gags, notably the arrival of Dulcamara in a kind of huge bomb, full of smoke and lights, more suited to some kind of kermesse attraction than for a hawker's transport. The elixir that Dulcamara sells does not come in bottle but as a portable shower, which is original, but not very appropriate, and created some problems on stage. The stage direction gives great importance to the character of Giannetta, present on stage most of the time and it is spectacular, although not very comfortable for the singer, to have Nemorino singing "Una Furtiva Lagrima" while climbing a telegraph post. Mr Bösch has at his disposal four excellent singing actors however, particularly the two main protagonists, and the final result was an audience very pleased with what they were watching.

Musical direction was entrusted to the young Slovak conductor Juraj Valcuha, who was somewhat poorer than my expectations of him. His tempos were rather erratic and there was some problems with coordination between stage and pit. Apart from this rather serious problems for a first rate theatre, his reading was not at all bad, but somehow short of real spark. The Orchestra was not quite at its usual best but the chorus produced an excellent performance, in terms of its singing and acting.

Rolando Villazón did not sing and was replaced by the Slovakian tenor Pavol Breslik as Nemorino. The first thing to say it is that his stage performance was wonderful, creating a fully convincing tender and attractive character. He is a light tenor with an attractive middle register, although his projection becomes a little reticent with the higher notes. He fulfilled his difficult task so well that the audience seemed not to remember Villazon at all.

The Georgian soprano Nino Machaidze played Adina and was very convincing. This young soprano has everything needed to succeed in the world of opera today; she is beautiful, cutting an attractive figure on stage, she is a great natural actress,while she is also a remarkable singer. Add these factors together and its easy to explain her meteoric rise in popularity and the fact that she is one of most sought-after sopranos at only 27. The only downside is that there are some areas of her voice that are more attractive than others in my view, but then judging voices is always very personal, and my taste is apparently not shared by many others.

Ambrogio Maestri was Doctor Dulcamara and he seemed to be having fun on stage, which was so infectious that the enjoyment transferred easily to the audience. He is not quite the paradigm of a basso buffo, but he does a fine job and has a healthier voice than many that we are used to with this character.

Fabio Capitanucci was an excellent Belcore. Had his top notes the quality of his middle range, he would be one of very best baritones around today. He does have the notes, but their quality is not the same as those lower down. Angela Brower won the the hearts of the whole audience as Gianetta. She is a very promising singing-actress.

There was a full house again. The reception was very warm for all the artists at the final bows. Pavol Breslik was given a triumph while Nino Machaidze and Ambrogio Maestri were also acclaimed. Capitanucci and Brower were also strongly applauded and even cheered but the applause for Juraj Valcuha was no more than polite.
José M Irurzun

Picture © Bayerische Staatsoper / Wilfried Hösl