Other Links
Editorial Board
UK

Editor

s

- Roger Jones and John Quinn

Editors for The Americas - Bruce Hodges and Jonathan Spencer Jones

European Editors - Bettina Mara and Jens F Laurson

Assistant Webmaster -Stan Metzger

Founder - Len Mullenger
Google Site Search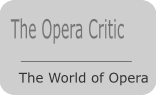 SEEN AND HEARD INTERNATIONAL CONCERT REVIEW
Bach Cantatas: Soloists, Chorus and Orchestra of the Clarion Music Society, Steven Fox (conductor), Park Avenue Christian Church, New York City, 15.12.2010 (SSM)
Cantata Ich freue mich in dir, BWV 133
Cantata II from the Christmas Oratorio, BWV 248
Cantata V from the Christmas Oratorio, BWV 248
When Bach is performed well, as it was tonight, one could almost think, "Why bother with any other music?" If performed non-stop from beginning to end, the two hundred or so extant cantatas would alone require three solid days to perform, not including intermissions and tuning of instruments. Add to this the Passions, Oratorios and motets, plus several hundred instrumental works, altogether over a thousand cataloged numbers in the BWV listing, and Bach could keep most "Historically Informed Performance" groups busy for some time. Who would mind if after a few months the cycle started over again? I'm being facetious, of course, but a performance as perfect as the one tonight had my mind racing with similar thoughts.

I've listened to the Bach cantata cycle many times and I am quite familiar with these works, or so I thought. But from the opening joyous and jaunty Ich freue mich dir of the Cantata BWV 133 to the soul-stirring choral reprise at the end of the fifth cantata of the Christmas Oratorio, I was aware how little I really know of these works. I had never noticed the beautiful interpolations of the wind solo refrains from the first movement into the final Chorale of the second cantata. The repartee between the strings and the oboe d'amores, played by Gonzalo Ruiz and Luke Conklin, each group in respectful conversation, was new to me. I was mesmerized by the energy, enthusiasm, passion and attention to detail displayed here. Special commendation should be given to Sandra Miller who played the flauto traverso with great sensitivity and was particularly poignant in Frohe Hirten from the second cantata. Here she was clearly aware of the importance of playing softly, when not playing obbligato, so as not to usurp the tenor's role.

All of the singing was top-notch. So many altos and sopranos who perform as early music vocalists strive for a pure "white" sound at the expense of revealing their real individual voices. This style may be more appropriate for works by composers of the generations before Bach such as Monteverdi, Lully and Purcell. Some HIP vocalists have moved away from what was once considered the ideal upper tessitura for Bach cantatas, the voice of the boy soprano, though this vocal ideal still persists at many early music performances. But not tonight: all the women soloists, to varying degrees, sang with their "true" voices, voices that I suspect you would recognize if you were asked to match vocal voice to speaking voice. There were fewer arias for the men, but each sang his part with confidence and authority.

Many members of the orchestra would be recognized by New York concertgoers as performers in various early music groups including the now defunct New York Collegium, and as teachers associated with the Historical Performance department at the Juilliard School of Music. After so many groups over the years have struggled and failed to put New York on the map as a center for early music performance, the Historical Performance department has done more in its brief two-year existence to attract top people than all the attempts to do so over the last thirty or so years of HIP. Monica Huggett and William Christie, both prominent forces in early music, are joined by Juilliard instructors like Cynthia Roberts (violin), Robert Mealy (violin), Sandra Miller (flute) and Geraldo Ruiz (oboe d'amore), just to mention some of the instrumentalists in tonight's concert.

I have seen Steven Fox several times, and I must say he outdid himself in this performance. I missed the premiere of this program at another venue two years ago, but can't imagine it being any better. His choice of tempo, his understanding of Bach and Baroque style, and his selection of seldom-heard repertory are unexcelled. Church acoustics can be a hit-or-miss component and a maker or breaker of a concert. Whatever magic was going on at this concert it included the unusually warm and vibrant resonance that came from the hall. With a performance this special, it seems a shame that it will not be repeated, offering more concertgoers the opportunity of sharing in a wonderful and rare experience.
Stan Metzger