Other Links
Editorial Board
UK

Editor

s

- Roger Jones and John Quinn

Editors for The Americas - Bruce Hodges and Jonathan Spencer Jones

European Editors - Bettina Mara and Jens F Laurson

Consulting Editor - Bill Kenny

Assistant Webmaster -Stan Metzger

Founder - Len Mullenger
Google Site Search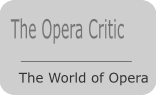 SEEN AND HEARD UK CONCERT REVIEW
Cecilia Bartoli: Sacrificium – The Agony and Ecstasy of the Castrato. Concert featuring Cecilia Bartoli (Mezzo Soprano) with Kammerorchesterbasel (Leader Julia Schröder) Birmingham Symphony Hall, 2.10 2010. (GR)
'Once seen never forgotten' is an adage that genuinely applies to Cecilia Bartoli. Having championed composers Vivaldi, Gluck and Salieri, plus artist Maria Malibran, the latest project to attract her is entitled Sacrificium – The Art and Ecstasy of the Castrato. This concert, surely one of the highlights of the Birmingham International 2010/11 Season, held in the Birmingham Symphony Hall on Sunday Dec 5th (the first of regrettably only two in the UK) illustrated that the Italian mezzo-soprano had lost none of her ebullient personality and vocal gymnastics. So many of the so-called Classical Music Awards go to artists undeserving of the categorization, but not Cecilia, whose Grammys and Golden Discs deservedly reflect a musician who has been at the top of her game for over twenty years. In Handel's day, English audiences were crazy for the art of the castrati; this one was mad about Cecilia.
The music era of the Castrati had been well researched by Bartoli and her team. She was quoted in the programme:
Due to their superhuman physical nature, their unusually thorough training and their immense talent, you might say that what these singers sang was probably some of the best music written at the time. Since it stretches the limits of your own abilities it is also a great personal challenge for a modern interpreter – especially a woman.
If you can think of a female singer more fitting to fill the boots of the likes of Senesino and company – to display the attributes required by a castrato of dedication, vocal flexibility, dynamic range and flamboyance – than Cecilia Bartoli, let me know.
Throughout the afternoon Bartoli was accompanied by Kammerorchesterbasel, the Swiss based group founded in 1984; Julia Schröder bouncily led them from first violin. Wearing their baroque hat, the energy and enthusiasm of the Kammerorchesterbasel were the ideal compliment for Bartoli. They opened with Nicolò Porpora's stylish Sinfonia from Meride e Selinunte. The choice of composer was pertinent to the whole programme of rarely performed 18th century baroque: Porpora had taught several castrati (including Farinelli) and all the other composers to be featured had been his pupils.
A few flourishing chords from Kammerorchesterbasel heralded the star. The impact was electric before she had sung a note. Swaggering on, her cavalier garb suited both her own character and that of whom she was portraying – knee high black boots, black tights, open black cloak with vivid scarlet lining and matching gloves, white shirt with neck ruffle and cuffs, sporty three cornered hat over her pony tail. Continuing with Porpora and Come nave from Siface, Bartoli bobbed up and down with snappy martellato 'Like a ship amid the waves'. The libretto from the pen of Metastasio had a familiar ring, metaphorically linking a nautical storm to problems of the heart.
Chi non senti from Merope followed; written by Riccardo Broschi, it exploited the unique talents of his brother Farinelli. It was possibly the most difficult aria of the whole programme, full of stratospheric leaps, rapid trills and long notes, all adroitly executed by Bartoli. In an interview with Tom Service on Radio 3, Bartoli said she thought her voice flexibility had increased during her career. I agreed with her and I thought her projected softness at the top was even more beautiful.
After a second instrumental number, the Porpora Overture from Germanico in Germania, Bartoli sang a familiar Handel tune. Noted for his self-borrowings, it is probably best known in the version Lascia ch'io pianga from his opera Rinaldo; Bartoli sang Lascia la spina from Il Trionfo del Tempo e del Disinganno with sincerity and feeling. Another overture followed, No 6 in G Minor by Francesco Maria Veracini; it was the turn of the two oboes from the chamber orchestra to take centre stage and shine.
It was becoming evident that delving among the Italian archives had produced a wealth of fresh and attractive material for the 'Sacrificium' project. Cecilia came back minus the cloak but with a broad smile, showing how much this stage animal loves to entertain. She closed the first half with three numbers from lesser-known composers, Leonardo Vinci, Leonardo Leo and Francesco Araia. Her fioritura and pyrotechnics were continuing to 'get where others cannot reach'. Cadrò, ma qual si mira, the Araia excerpt from Bernice, demonstrated her fantastic breath control and had the audience fooled with its false finish. But she didn't mind, it was as if it had all been done on purpose, part of the fun!
It seemed that things could not get better in the second half, but they did. For Usignolo sventurato, a second piece from Siface by Porpora, two recorders flanked Bartoli stage front. Between them they mimicked the tale of the unhappy nightingale, bird songs being just one trademark of the castrato. This bright mood switched to one of melancholy for Misero pargoletto from Demofoonte by Carl Heinrich Graun. The combination of Bartoli and the baroque strings of the Kammerorchesterbasel were irresistible. No programme on the castrati would be complete without a contribution from Alessandro Scarlatti, credited with the foundation of the Neapolitan School of opera; Schröder led her chamber group with zeal and panache in the three movements of his Sinfonia Concerto Grosso No 5 in D Minor.
Quel buon pastor from La morte d'Abel by Antonio Caldara followed. Bartoli was so convincing as Abel, the good shepherd prepared for the ultimate 'Sacrificium'. Erissena's aria from Alessandro nelle Indie by Leonardo Vinci, another libretto from the prolific Metastasio was next. This, together with the Vinci number from the first half, made me want to hear more opera by this composer. It was a real foot-tapper for performers and audience, culminating in an 'Olé' as every member of the Kammerorchesterbasel leapt to their feet on the final bar. Fittingly, Porpora wound up the scheduled programme – his Nobil Onda from Adelaide. The strange tale of Adelaide illustrated why Bartoli is equally at home on both concert and opera stage with some superb diction and melodramatic sobbing.
Any reviewer of a Bartoli concert can soon run out of superlatives. It is impossible to overlook: the laughter in her voice (remember Alma Cogan from another genre?), the Technicolor range of timbre, the engagement with the words, the infectious charisma. Not only did her fans love Bartoli, but she loved them. She got a standing ovation, of course. Two hours of music from her and the supporting band was not enough for the packed Birmingham audience. With an exaggerated of swish of the red billowing skirt she was now wearing, complete with glistening gold top, she was more than happy to oblige. She had saved some of her more astonishing sounds for the encores. I wish I had had a stop watch to time one of her notes in the first; it may not have been the full minute that certain castrati were reported to achieve, but the messa di voce seemed to go on forever. For her final entry she donned two enormous red feathers that together with another tongue twister said it all. Bartoli's The Art and Ecstasy of the Castrato was pure ecstasy. She waved arrive'derci; I waved back, I thought I caught her eye. I hope it was not goodbye!

Geoff Read