Other Links
Editorial Board
UK

Editor

s

- Roger Jones and John Quinn

Editors for The Americas - Bruce Hodges and Jonathan Spencer Jones

European Editors - Bettina Mara and Jens F Laurson

Consulting Editor - Bill Kenny

Assistant Webmaster -Stan Metzger

Founder - Len Mullenger
Google Site Search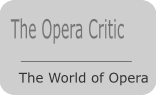 SEEN AND HEARD INTERNATIONAL OPERA REVIEW
Verdi, Aida:
Soloists, Orquestra de la Comunitat Valenciana, Cor de la Generalitat Valenciana. Conductor: Lorin Maazel. Palau de Les Arts de Valencia. 19.11.2010 (JMI)

New production for the Palau de Les Arts in co-production with The Royal Opera House, Covent Garden and Norske Opera Oslo.
Direction: David McVicar (original).
Leah Hausman (revival).
Sets: Jean-Marc Puissant.
Costumes: Moritz Junge.
Lighting: Jennifer Tipton (original).
Simon Bennison (revival).
Choreography: Lisa Whelman.

Cast:

Aida: Indra Thomas.
Radamés: Jorge de León.
Amneris: Daniela Barcellona.
Amonasro: Gevorg Hakobyan.
Ramfis: Giacomo Prestia.
The King: Marco Spotti.
Messenger: Javier Agulló.
Priestess: Sandra Fernández.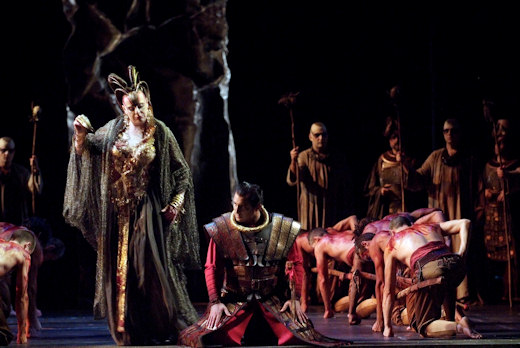 Daniella Barcelonna (Aida) and Jorge de Leon (Radamés)
Picture © Tato Baeza
Valencia begins its opera season for the first time since it opened its doors without launching a new production. Instead it had a coproduction, a fact to which I don't attribute very much importance since I am always more interested in whether productions are any good than whether they are new or not. It's a sign of the times though, that economics are currently one of the really big problems facing opera houses in this part of the world.

Paradoxically, while Aida is one of the more appealing opera titles for the general public it is also one of Verdi's lesser known masterpieces. By this I mean that while any operagoer will know the famous triumphal march and "Celeste Aida", quite a few people see the opera in summer performances, which always offer the spectacle that a summer audience expects. The consequence is the general public marks out Aida as a grand and luxurious opera in which they expect to find pyramids, temples, triumphal parades, tombs and bright and spectacular costumes, all of which is completely understandable but which miss the opera's real point. For me, Aida is mostly an intimate opera, focused on the relationships in a love triangle that takes place in a hostile environment. It is true that there are amazing scenes for massed singers, but they are not the core of the opera, although they are the best known elements. As it happens, something similar also happens to Don Carlo with its Auto Da Fe, although there none of the music is as popular as Aida's Triumphal March.

I mention all this in an attempt to explain the clear disappointment from the audience on seeing David McVicar's production. He has no truck with Egyptian grandeur and brilliance and focuses instead on the human and intimate drama taking place in very familiar circumstances which he also considers irrelevant, since they are repeated over and over again in History. McVicar's production had its premiere at Covent Garden last spring and my colleague Jim Pritchard reviewed it for Seen and Heard. Since I mostly agree with his comments, I recommend that read his review here for a detailed description of Mr McVicar's distinctly spare approach to this opera.

David McVicar was not present in Valencia, a fact that has been badly received by some Spanish critics, who consider his absence for rehearsals here as some kind of affront or slight to both the cast and the house: this also happened earlier in November with The Turn of the Screw at the Teatro Real.

The man is certainly busy since there are no fewer than three revivals of McVicar productions during November in this part of the world to which Haendel's Orlando in Paris must also be added. On top of all that there is a new production of Adriana Lecouvreur at Covent Garden [ Reviewed this week by Jim Pritchard. Ed] ) with a stellar cast which explains why McVicar was in London. I also heard however that there were some problems during rehearsals in Valencia which led to the elimination of some details of the original production, especially the mutilated corpses that had hung from the ceiling in the triumphal scene and some other elements of similarly dubious taste. The changes seem not to have been of Mr. McVicar's liking.

To change tactic rather I would like to mention a book that came into my hands recently. It is a new book by Arturo Reverter about Alfredo Kraus and will be published in a few days. Since reading it I have not been able to stop thinking about the parallelism between Alfredo Kraus and Valencia's outgoing Music Director Lorin Maazel. I am not thinking about the great Canarian tenor's quality, whose performances I had the opportunity to enjoy many times, but about the fact that a great singer becomes a legend and an icon, when he disappears. Something similar will surely happen with Lorin Maazel. He is an exceptional conductor, one of the few worth travelling a long way to see on the podium. I predict that he will become much more important next year, after he leaves Valencia, and all of us will start to compare the new conductors with him as a matter of course. My prediction is that with very few exceptions, Maazel will win hands down.

Listening to his reading one realizes immediately that Lorin Maazel had also conceived Aida as an intimate work and he focuses his direction on the human drama, which leads him to slow down tempos - quite usual from him and too much at some points - but which allows us to experience some truly sublime moments in this score. As evidence I will cite the prelude and the end of the trial scene. This is certainly not an orthodox Verdi reading, at least it is not what we are used by other great Verdi conductors in the past, but it paid off, even though sometimes the less experienced singers might have had problems in following his baton. Mind you, if I had under an orchestra a good as Valencia's to conduct, I would surely slow tempos down too, just to better enjoy their sound, which is streets ahead of any other orchestra in Spain. As a simple example it's enough to recall the miraculous violin solo which ends the opera, genuine paradigm of beauty. And that's not enough I should also add that Valencia Chorus has become a magnificent group in Lorin Maazel's hands. Here, they offered a great performance from beginning to end.

American soprano Indra Thomas was a rather weak Aida. I will not say that her performance was disappointing, because little more might realistically be expected from her, after having watched her over the past few years, particularly her Amelia in the Theato Real's Ballo in Maschera two years ago. Her bottom register is sonorous but rather hollow, she lacks amplitude in the middle register and she is sadly also rather tight and shrill at the top. Hui He should not have difficulties in improving on this Aida, when she sings the role in December.

Jorge de León proved again his excellent possibilities as Radames. He is one of the most promising new tenors in today's rather poor array of spinto voices and I hope that he has a long career. I worry though that this will not be the case, given his way of singing and the fact that he will be invited to sing parts that he should refuse. His voice is bright and homogeneous, although there is an excess of "di forza" pressure in much of his singing leaving him short on nuances . He was at his best in the Nile scene, with a final note a little too short. He was no more that acceptable in "Celeste Aida", finished forte, as has become more and more usual these days. In the tomb scene he was also somewhat short on elegance but despite these shortcomings he is still one of the most promising voices around in his 'fach' just now.

Daniela Barcellona was making her debut as Amneris and proved that she should sing this repertoire at a very opportune moment. Her Amneris was brilliant and powerful and the possibilities open to her just now are spectacular. I suppose that she might have had many temptations to debut this character in the past and I can only rejoice that she has resisted the temptation for so long. I guess that Ernesto Palacio had much to do with it that and it remains to be seen now, how she now combines her new repertoire with her usual Rossini roles.

Armenian baritone Gevorg Hakobyan was Amonasro, not too brilliant, but an acceptable choice for the role. Giacomo Prestia was a sonorous Ramfis, although his voice has a wide vibrato. Marco Spotti was a luxury as the King, and could have been also a good Ramfis.

There was a full house but with scarce applause after arias, and with "O Patria mia" received in an eloquent silence. At the final bows, there were ovations and cheers for Lorin Maazel, Daniela Barcellona and Jorge de Leon, in that order.

José M Irurzun