Other Links
Editorial Board
Editor - Bill Kenny
Assistant Webmaster - Stan Metzger

Founder - Len Mullenger
Google Site Search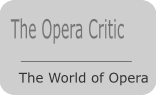 SEEN AND HEARD INTERNATIONAL CONCERT REVIEW
Zakopane In The Heights Chamber Music Festival (1) Dobrzynski, Schumann and Zarebski: Janusz Wawrowski, violin. Jakub Jakowicz, violin. Katarzyna Budnik, viola. Artur Rozmyswowicz, viola. Bartosz Koziak, cello. Rafal Kwiatkowski, cello. Janusz Widzyk, double bass. Jonathan Plowright, piano. Holy Cross Church, Zakopane, Poland 19.9.2010 (LV)


Ignacy Feliks Dobrzynski: String Sextet Opus 39
Robert Schumann: Piano Quintet Opus 44
Juliusz Zarebski: Piano Quintet Opus 34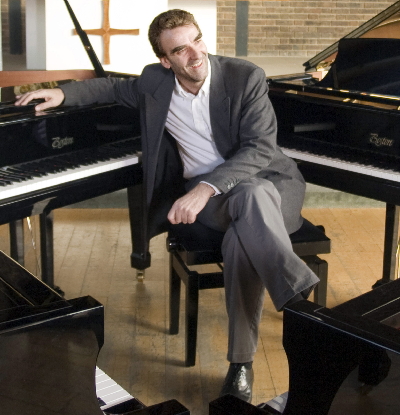 Jonathan Plowright - Picture ©
Diane Shaw
Zakopane's second annual "In The Heights" chamber music festival began with a program that affirmed the eternal strength of Polish music and musicians and allowed Polish audiences yet another opportunity to hear renowned British pianist Jonathan Plowright.

Playing in the magnificent, recently-built Holy Cross Church, where the rich, live acoustics enhanced the listening experience, Plowright, artistic director and virtuoso violinist Janusz Wawrowski and some of Poland's outstanding young string players played a concert in which Robert Schumann's Opus 44 Quintet was presumably the centerpiece but was nearly outflanked by 19th century composers Ignacy Feliks Dobrzynski and Juliusz Zarebski.

Dobrzynski's Sextet, written a year before Schumann's Quintet for the unusual combination of pairs of violins and cellos, viola and double bass, is a big, beautiful work with enchanting concertante parts for the first violin and cello. After the elegant "Allegro moderate ed espressivo," miraculous chains of trills introduce the "Menuetto" with impressive if retro echos of middle Beethoven, offering cellist Kwiatkowski the opportunity to play trills and turns that dazzle with their eloquence. After a poignant "Elegia," the high spirits and challenging technical demands of the Finale brought the audience to its feet.
Emotional storm clouds frequently pass over Zarebski's deeply moving Quintet, residing moodily in a late 19th century parallel universe haunted by Liszt, which has the feel of sadness and death about it, not surprising since the composer died after its composition at the age 31 from tuberculosis. The performance married Plowright's unique combination of command and compassion with the quartet's heartbreaking beauty of tone and phrasing. The music cries out for a wide audience, and Hyperion should be alerted that Plowright and the Polish musicians would be a worthy and more accessible competitor to the Warsaw Quintet on Dux and Wojciech Switala and the Royal String Quartet on BelArTon.
In between Dobrzynski and Zarebski, Robert Schumann's Quintet received a performance of stunning power and poetry. Jonathan Plowright, who in addition to his international fame has won a following in Poland for his championing of composers like Stojowski and Paderewski, contributed playing of controlled, dynamic fluency, injecting energy at various critical points when most pianists let the tempo slow briefly and the momentum drag. The string players, led by Jakub Jakowicz (rotating during the evening with his colleague Wawrowski), complemented Plowright's pianistic prowess with moments of pure ecstasy.

Throughout the evening, Wawrowski showed an extraordinary ability to float phrases, produce a tone in his fiddle's low registers that was unusually dark and seductive, almost like a violist's, and display the seamless, note-perfect virtuosity which his recent recording of the 24 Paganini Caprices showed off to such stunning advantage.

As if the music and the setting weren't enough, admission to the Festival's opening concert was free.
Laurence Vittes