Other Links
Editorial Board
UK

Editor

s

- Roger Jones and John Quinn

Editors for The Americas - Bruce Hodges and Jonathan Spencer Jones

European Editors - Bettina Mara and Jens F Laurson

Consulting Editor - Bill Kenny

Assistant Webmaster -Stan Metzger

Founder - Len Mullenger
Google Site Search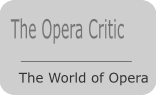 SEEN AND HEARD INTERNATIONAL OPERA REVIEW


Rossini, Guillaume Tell: (Concert Performance) Soloists, chorus and orchestra of the Accademia Nazionale di Santa Cecilia. Chorus master: Ciro Visco, Conductor: Antonio Pappano. Sala Santa Cecilia, Parco della Musica, Rome, 18.10.2010 (JB)

Cast:
Gerald Finley - Guillaume Tell
John Osborn –Arnold Melchtal
Malin Byström –Princess Mathilde
Marie-Nicole Lemieux –Edwige, wife of Tell
Elena Xanthoudakis –Jemmy, son of Tell
Frédéric Caton –Melchtal, father of Arnold
Carlo Cigni –Gesler
Celso Albelo –a fisherman


Among the recommendations of the Royal Commission for the Performing Arts (RCPA) 2009 –along with such irrefutable advice as avoiding betting money on bobtail nags or meeting people in gardens where praties grow - there is an indication that those performing events which breathe an air of freshness will be given special consideration.


I admit to having invented the Commission, but no one who knows today's performing arts scene will dispute that so far as the buyers (promoters and audiences) of that scene are concerned, the "advice" is spot on.


What is surprising is that Rossini's Guillaume Tell (first performed at the Paris Opera, 1829) fits the air of freshness bill perfectly. This was Monday, 18 October 2010, at the Accademia Nazionale di Santa Cecilia, Rome, in the second of three concert performances which EMI were nailing for posterity on CD recording. Can you bottle air of freshness on CD? Judgement on that will have to await the release of the recording (more of which, when that happens). The focus here is on the immediate effect in the hall.


Antonio Pappano is an acknowledged master of immediacy, and this occasion was no exception. Guillaume Tell is the grandest of Grand Opera. Only Verdi's Don Carlos (also a Paris premiere) can stand alongside it: four and a half hours of opera if you take into account two modest intervals in Tell. When Riccardo Muti conducted Tell at La Scala in December 1988, he brought a dignity to the work which will live in the mind's ear for anyone lucky enough to have heard it; indeed, that dignity was already in place a decade earlier, when Muti conducted it in Florence. On that occasion, William Mann (then The Times music critic) was sitting next to me. "I had no idea that Rossini could be so magisterial, I'm speechless," he said.


With Pappano's freshness, immediacy, vitality (call it what you will), the dignity, nobility, majesty and grandeur of the score's musical architecture takes second place. That is not to say that it is lost. There is, of course, the immense risk that in back-pedalling the nobility, you will unwittingly introduce an element of vulgarity. But with Pappano, never fear. For all his attention to detail, he never loses vision of the overall structure. And Guillaume Tell is multi-structured in its magic, not least in its architectural conception.


The structure of the famous overture with its four sections –the lyrical yearning of the five cello soloists, the storm, the tranquillity of the pastorale and the final Tyrolean gallop- are a foretaste of musical / dramatic pleasures to come. The Santa Cecilia orchestra has never been in better shape (some excellent recent and youthful additions to the brass section, including a sublime first horn who is studying for a degree in nuclear physics in his presumed free time!) Until recently, you would not have found eight horns of this quality in Italy. For all that, I have to report some blemishes in the first act's hunting scene, off-stage brass. The antiphonal effects worked well in the hall (though whether they will in the recording is another matter). The blemishes can easily be ironed out by using another take or even recording them separately.


The orchestra's relationship with its principal conductor is exemplary: they make music as one man. Pappano is not afraid to wear his romanticism on his sleeve; he even takes the deeply unfashionable and highly risky approach of highlighting Rossini's romanticism. Most conductors these days almost apologise for this trait. With Pappano, this is a risk which pays off. But he is also a conductor who can be strikingly rumbustious when Rossini takes the brakes off. The orchestra fairly bristled as it sparked these passages. All this made for an evening of vastly varied and beautifully studied orchestral sound, drawing attention to the composer's oft neglected skill as an orchestrator.


Charm is never far from the surface in Rossini's music and in the act one ballet music, it is very much the guiding spirit. Here, Pappano had the good sense to let it speak for itself in all its seeming simplicity. First and last this was Antonio Pappano's evening.
And the pleasures don't end there. I was critical of John Osborn in the Florence L' Italiana in Algeri in January in a piece published in Seen and Heard, but I should now eat my words. In the much more demanding role of Arnold he was superb, proving that some singers respond better the more they are challenged. Already in the first act duet with Tell –Ah! Mathilde, idole de mon ame!- he was tossing off high Cs with impressive musicality and aplomb. In the Act IV extended aria – Asile héréditaire - he made the monstrously difficult scene sound easy. And isn't that the right definition of a virtuoso – someone who makes difficult music easy?


The disaster of the evening was Malin Byström as the Princess Mathilde. She is a strikingly beautiful, slender, blond, statuesque young woman. Alas, she has no diction, so she could have been singing in any language (although this was supposed to be French). Even the briefest phrase was presented with a crescendo and diminuendo and in phrases longer than four bars, there were several of those ugly waves, sounding like publicity for sea-sickness pills. I have rarely heard a singer who made me feel so ill. She has a further nasty trick of snatching at notes rather than shaping them. Perhaps she should avoid Rossini in future.


Gerald Finley could hardly be bettered in the title role. His French is impeccable, his tone round and filled with warmth, like the personality of Tell. He has a magnetic legato, which colours his delivery with a noteworthy musical intelligence, and is also supremely respectful of all Rossini's indications.


The Australian-Greek soprano, Elena Xanthoudakis, has the perfect light, innocent voice for Jemmy, Tell's son, from whose head he shoots the famous apple. Of the minor roles, I especially enjoyed Celso Albelo's charming, meaningful delivery as the fisherman at the beginning of the opera.


The Accademia's new chorus master, Ciro Visco, did an excellent job in preparing a chorus that finds difficulty in embracing a new language. I have rarely heard them sound so convincing.


Jack Buckley