Other Links
Editorial Board
UK

Editor

s

- Roger Jones and John Quinn

Editors for The Americas - Bruce Hodges and Jonathan Spencer Jones

European Editors - Bettina Mara and Jens F Laurson

Consulting Editor - Bill Kenny

Assistant Webmaster -Stan Metzger

Founder - Len Mullenger
Google Site Search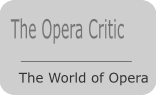 SEEN AND HEARD UK OPERA REVIEW
Wagner, Tannhäuser: Soloists, chorus and orchestra of The Royal Opera. Royal Opera House, Covent Garden, London. 15.12.2010 (JPr)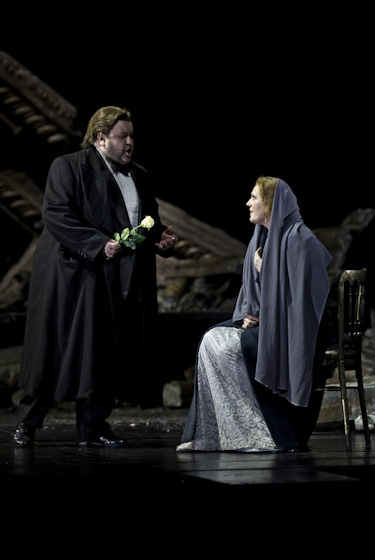 Caption Production Picture © Alastair Muir
Unlike some critics seeing a new production of Tannhäuser at Covent Garden for the first time I remember the fiasco in 1977 when the legendary tenor, Jon Vickers, withdrew from the Royal Opera's new production of this opera that had been mounted especially for him. Despite plans for these performances having begun in 1974, Vickers announced he now considered the role to be 'blasphemous' and refused to sing it. Plans for further planned performances at the Met were also cancelled and this conflict of personal religious conviction with contractual professional obligations created a considerable furore at the time that seems all but forgotten now. The role of Tannhäuser was considered, even then, to be one of the most difficult in the repertory, and his cancellation was dismissed by many as an admittance that he was unable to connect with it (at best) or was unable to sing it (at worst). However Vickers was adamant that his withdrawal was due to his Christian beliefs, the story of the opera and its words.

Even at the end of his life, Wagner still felt he owed the world a Tannhäuser and tinkered around with the score – which was always one of his most popular – leaving us with the 1875 Vienna version where the original 1845 Dresden music has accreted revisions from ill-fated performances in Paris in 1861 (including the Venusberg ballet) and a number of subsequent post-Tristan refinements. As an opera it remains an uneasy mix of German Romantic opera and Franco–Italian opera, two distinctly opposing traditions.
Tannhäuser, is supposedly a medieval thirteenth-century knight, with conflicting sensual and spiritual sides to his character. He desires both Venus and Elisabeth, but cannot have either and can only find redemption in death. Wagner 'plots' this out in a typically sophisticated way and it can be seen best in Tannhäuser's Act I 'hymn to Venus'. In a series of dialogues with Venus, the tenor sings in D flat, then D, and finally E flat. By moving the music up half a tone each time Wagner demands more and more from the tenor's voice such that the physical strain caused by the music mirrors the emotional conflict within the character. He praises the goddess with his lips, his eyes and his heart, whilst part of his heart, still lies elsewhere. This 'elsewhere' is revealed when Tannhäuser sings a third time and it is not in Venus's key (E major) but the key of Elisabeth (E flat). Then in Act II as Tannhäuser passionately reprises the hymn again during the singing contest to win Elisabeth's hand, it is now in E major and so Tannhäuser is singing for Elisabeth but in the key of Venus. Wagner constantly depicts the knight's dilemma over the choice he must make between the erotic and religious realms through the 'physical strain' he causes the tenor, and how he expresses this suffering must be uppermost in the mind of any director or singer of Tannhäuser. This role is far from an 'easy sing' and, as in everything in Wagner's oeuvre; a complex character is illuminated by his music.
Vickers said in 1986 'I'm a committed Christian. Tannhäuser is, I think, an attempt to strike at the very root of the Christian faith'. Whether it is Christian or anti-Christian can the theology of this opera be ignored? Possibly not, for the medieval story is something of a Christian morality play; it includes Marian theology, as well as, many mentions of faith and the redeemer. Tannhäuser is sent to seek absolution from the Pope but he refuses his plea, and his redemption comes through Elisabeth sacrificing herself for him on earth and then intervening with God on his behalf in heaven, yet despite this Tannhäuser dies anyway. Although it is the love of a good woman that finally sets him free all the Christian references must mean something and certainly did to Jon Vickers in the 1970s.
Tim Albery cleanses Tannhauser entirely of Christianity and leaves somewhat of a gaping hole at the centre of the struggle between orgiastic, profane, sensuality and devout spirituality: he fills this void with an allegory of cultural hedonism. Once again 'The play's the thing' and - as with David McVicar's recent Adriana Lecouvreur at Covent Garden – there is a play within a play to be seen. Act I opens with Tannhäuser and a vision of Elisabeth and then a replica of the Royal Opera House's gilded proscenium arch and familiar red velvet curtains descends. Tannhäuser and a number of other men similarly dressed in black-tie are dragged by dancing ladies through the curtains thus gaining admittance to the vicarious sensual, seductive, delights on offer. Venus is a prima donna initially clothed as Elisabeth and the seduction is not so much through sex as by art.
Albery then has a sly dig, I guess, at the type of 'entertainment' Wagner wanted to reject but was forced by Paris to include. The audiences wanted to see the figures of their favourite ballerinas but only after dinner in Act II and this had disastrous consequences for Wagner. The Venusberg ballet (choreography by Jasmin Vardimon) involves much waving of arms, lots of running all over the place and rolling back and forth across a long white-clothed table. Despite some removal of clothing it was all rather chaste and watching X Factor on Saturday night TV can be more sexually explicit, so I am told. It was like witnessing a scrum for food during the long supper interval at a festival opera performance. In fact I would have much prefer shutting my eyes for 25 minutes and use my imagination had the clodhopping around the stage not seriously undermined the music.
In Act II the Wartburg presents us with the rubble of another opera house, its proscenium, stage and lights shown amongst the debris. We are in an East-European war zone, a soulless place devoid both of culture and art. There is some initial joy at Tannhäuser's return since he can sing and bring his much-neglected art back to the people in their hour of greatest need. There is much duplicity in evidence here as men speak of art, song and peace yet are seen carrying the weapons of war. Amongst all the carnage there is a song contest and all is well until Tannhäuser remembers Venus and everything is downhill for him from then on but, for me, Tim Albery's inconsequential, production improves significantly. In Act III there is an even bleaker landscape with only a few remnants of what we had seen before. A highlight was Wolfram's final scene with a devastated Elisabeth that was very emotional; they embrace awkwardly before she literally fades into the darkness. Johan Botha's stoic Tannhäuser finally comes to life with his Rome narration ('Inbrunst im Herzen') and learning how Elisabeth has sacrificed herself to save his soul he can now bring hope to his battle-scarred, strife-torn homeland: the final image is the shepherd boy planting a small tree.
Unlike the La Scala Die Walküre I reported on recently where the female singers were better than their male counterparts, here the reverse was the case. Much is said about Johan Botha's size and I am quite happy to set that issue aside for the chance to hear every word sung clearly in long unfolding lyrical lines, with triumphant high notes and little evidence of strain. Although he never convincingly abandoned himself to Tannhäuser's suffering as he might, he approached that during his best moments in Act III. Famed Lieder singer, Christian Gerhaher, makes his first UK opera appearance as the lovelorn, Wolfram, and what a debut this is. It is undoubtedly some of the finest singing I have heard at Covent Garden for very many years. His voice is so refined and reveals an incandescent artistry in everything he does and especially the most poetic and tender 'O du mein holder Abendstern' I have ever experienced. Christof Fischesser was a noble Landgrave and the Minnesingers were well cast and made a strong contribution throughout.
Unfortunately Eva-Maria Westbroek's voice does not have the control it once had and lacks a little subtlety to truly met the heart with her Act III 'Allmächt'ge Jungfrau' as she should. Nevertheless her final disappearance was very effective … and affecting. Sadly Michaela Schuster's squally Venus was a disappointment and lacked any significant allure.
It all ends with a sense of profundity and spirituality I never expected after Act I. The success of the evening mostly resides with Semyon Bychkov who once again showed that he is the best conductor of Wagner that Covent Garden has had for decades. For me his Wagner has only probably ever been bettered in the performances I heard conducted by Reginald Goodall. Bychkov's interpretation has a persuasive grandeur, an almost seamless flow, and exquisite attention to musical detail. He brings out sounds from the Covent Garden orchestra that I wonder if they knew they capable of … had he not done much the same when he conducted them in Lohengrin and Don Carlos recently. He is supported by the Renato Balsadonna's enhanced chorus that made a sound almost the equal of that regularly heard at Bayreuth.
Jim Pritchard