Other Links
Editorial Board
Editor - Bill Kenny
Assistant Webmaster - Stan Metzger

Founder - Len Mullenger
Google Site Search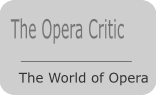 LATEST SEEN AND HEARD INTERNATIONAL CONCERT REVIEW
Saxå Chamber Music Festival 2010: Saxå and Filipstad, Sweden, 29/30. 6. 2010 (GF)
This year's festival was the 25th, so a little celebration doesn't come amiss. Founder and artistic director is Peter Eriksson, viola player in the Royal Stockholm Philharmonic Orchestra and many of the participating musicians are colleagues from the orchestra, which is a guarantee for the high musical standards of the festival. Last year it was only possible for me to attend two concerts; this year I prolonged the stay and heard three. Still I regret that other duties prevented me from remaining there the whole week, since the programme was truly mouthwatering. The core of the repertoire is, naturally enough, music from the classicist and romantic peroids – this year Schumann and Chopin, together with Brahms, were lavishly celebrated – but there were a lot of other music as well and also the world premiere of a work by Daniel Börtz.
The atmosphere is warm and hearty, many visitors are regulars and wrote the famous nd Saxå Manor's concert hall, seating arond 100 listeners, is practically always sold out. The first event I caught was a seminar entitled Chopin meets Schumann – a fruitful realtion, masterminded and presented by the curator of the Strindberg Museum in Stockholm, Stefan Bohman, with pianist Stefan Lindgren illustrating the speach with well chosen musical examples.
Bohman's thesis was that at special places at special times certain shings happen at creative environments where relations are created, resulting in cross-fertilization. Vienna around 1900 is one such example, Leipzig in the mid-19th century with towering personalities like Schumann, Mendelssohn, Bruckner and Brahms. It was also in Leipzig that Schumann heard Chopin and wrote the famous review, beginning with the oft-quoted line 'Hats off, gentlemen – a genius!'
The Main reason that Chopin visited Leipzig was not to see Schumann but his father-in-law-to-be, Friedrich Wieck. In connection with that he also met his daughter Clara and was obviously very attracted by her, giving her some composition. Robert Schumann in his turn, in his Carnaval, included a movement entitled Chopin to show his admiration for the Polish virtuoso. Indeed these three musical masters' lives became entwined in each other.
Among the musical examples Stefan Lindgren played Chopin's Andante spianato, a piece that Schumann allegedly admired when Clara played it. Lindgren is also a composer so when he played Schumann's Chopin it was, as Stefan Bohman put it, 'a composer playing another composer's portrait of a third!'
An interesting and perspective building seminar, performed with insight and humour and with fine playing from Stefan Lindgren. To travesty Robert Schumann: Hats off for the two gentlemen!
Later that afternoon we could enjoy a full-length concert, dominated by two of Johannes Brahms's finest works in the genre: a late masterpiece, the third violin sonata, and the early piano trio in B major Op. 8. The former, played with characteristic intensity by Joakim Svenheden and Stefan Lindgren, was a superb opening. Svenheden has long been one of the foremost violinists in Sweden since he returned from an eight-year period as leader of the London Philharmonic Orchestra. The first movement, dramatic and agitated, was powerfully realized; balm was delivered in the inward and dark-hued second movement, but there was still intensity, achieved not least through impressive double stops. The two concluding movements were just as full-blooded as the opening.
The concert ended with the youthful B major trio, where Elemér Lavotha joined his colleagues and immediately made his mark with the wonderful cello melody, certainly one of Brahms's most inspired tunes. Youthful exuberance permeated the whole movement as well as the galloping scherzo – light-hearted and glittering. Bell like piano chords introduce the Adagio, which is one of the most haunting movements in Brahms's output and the finale, again full-blooded romanticism at its best, was a riveting conclusion of the concert. In between we were treated to three Mozart songs, excellently performed by Christina Högman, whose Lieder singing has deeply impressed me on several occasions, also on records. She is an expressive and communicative artist and singing the songs in Swedish translation brought them even closer to the audience. Lennart Wallin, experienced chamber musician, accompanied flexibly. Before the intermission Stefan Lindgren offered more Chopin: Ballad No. 3 in a dramatic reading and the well-known Barcarolle, played with balance and clarity.
The following day, at lunchtime, the church at Filipstad, about 30 kilometres southwest of Saxå, hosted a concert with more Schumann and Brahms. BUt it opened with a Grand duo for violin and viola, played by Patrik Swedrup and Peter Eriksson. It was well crafted but not particularly memorable but the playing could not be faulted. The central composition was Schumann's magical Kreisleriana, played by Lucia Negro. Last year I heard her in a superb performance of the Goldberg Variations in Grythyttan's wood church and was very much looking forward to her Schumann. It was no doubt an excellent reading but the over-generous acoustics of this church was not kind to the instrument and blurred the piano tone. Clarity being a hallmark of Ms Negro's playing this was a thousand pities. Joakim Svenheden appeared again, this time together with Lennart Wallin, in two movements from the FAE Sonata, a joint venture by Albert Dietrich, Robert Schumann and Johannes Brahms as a tribute to violinist Joseph Joachim. Dietrich wrote the first movement, Schumann the second movement Intermezzo, Brahms the Scherzo and Schumann also wrote the finale. The Intermezzo and the Scherzo, which were played here, are both short movements, the Intermezzo played with beautiful restraint, the Scherzo youthfully romantic. Maybe not the two composers' greatest music – on the other hand we sometimes want to hear works a little off the beaten track, and this is certainly a task for festivals to provide, beside the established masterpieces.
Göran Forsling