Other Links
Editorial Board
UK

Editor

s

- Roger Jones and John Quinn

Editors for The Americas - Bruce Hodges and Jonathan Spencer Jones

European Editors - Bettina Mara and Jens F Laurson

Consulting Editor - Bill Kenny

Assistant Webmaster -Stan Metzger

Founder - Len Mullenger
Google Site Search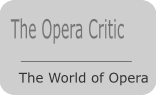 SEEN AND HEARD INTERNATIONAL OPERA REVIEW


"Wagner, Das Rheingold:" Soloists, Staatskapelle Berlin, Daniel Barenboim (conductor). Schillertheater, Berlin, 31.10.2010 (MB)
Wotan – Hanno Müller-Brachmann
Donner – Jan Buchwald
Froh – Marco Jentzsch
Loge – Stephan Rügamer
Fricka – Ekaterina Gubanova
Freia – Anna Samuil
Erda – Anna Larsson
Alberich – Johannes Martin Kränzle
Mime – Wolfgang Ablinger-Sperrhacke
Fasolt – Matti Salminen
Fafner – Timo Riihonen
Woglinde – Aga Mikolaj
Wellgunde – Maria Gortsevskaya
Flosshilde – Marina Prudenskaja
Guy Cassiers (director, stage designs)
Enrico Bagnoli (stage designs)
Tim Van Steenbergen (costumes)
Enrico Bagnoli (lighting)
Arjen Klerkx, Kurt D'Haeseleer (video)
Sidi Larbi Cherkaoui (choreography)
Michael P Steinberg, Detlef Giese (dramaturgy)
Dancers from the Eastman Company
Staatskapelle Berlin
Daniel Barenboim (conductor)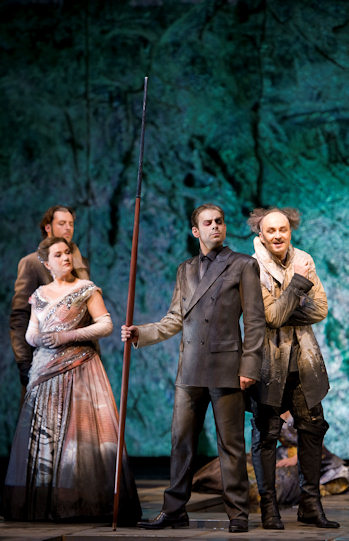 Production Picture © Monika Rittershaus
Not at all what I was expecting: Berlin's new Ring opened with a puzzling whimper – visually, at least. Already staged at La Scala, Guy Cassiers's production seems to have little to say, hence the puzzlement, given that this is a work positively overflowing with ideas. Cassiers doubtless has a point concerning Chéreau-epigones: so many productions from the last thirty years or so have taken as read the insights afforded by Patrice Chéreau's 'Centenary' Ring for Bayreuth and, consciously or otherwise, that of the late Joachim Herz for Leipzig. Günter Krämer's Paris Ring, due to be concluded with Siegfried and Götterdämmerung this season, stands very much in this line, though I think it benefits very much from doing so (see here and here). Nevertheless, I can appreciate that someone might want to try something different, even in Das Rheingold, the 'reddest' of all Wagner's dramas. It is difficult, however, to discern anything much to Cassiers's production beyond 'taking the politics out', and not just the nineteenth-century politics, of a deeply political work. What has been put in place of Wagner's revolutionary socialism? And why was there a programme article with the subtitle, 'Reflexions über politische Aspekte von Wagners "Ring"'? Answers on a postcard, please.
The most striking aspect of the production is the inclusion of dancers. Members of the Eastman Company did very well what they were asked to do. That seemed more relevant when they actually interacted with members of the singing cast; their coming together to represent the Tarnhelm was a genuinely effective stroke, mirroring the rootless menace and mystery of Wagner's harmony and orchestration. For the most part, however, Sidi Larbi Cherkaoui's choreography simply had them attempting to turn the work into a ballet manqué. It is a point of view, I suppose, though not one I can understand, let alone endorse. Nevertheless, it was boorish and misplaced for a minority of the audience to boo the dancers, who impressed upon their own terms. They certainly contributed a litheness absent from the concept. Stage designs (Cassiers and Enrico Bagnoli) make little impression either way, with a few exceptions, such as the 'real' water for the Rhine: initially noteworthy in a positive sense, less so when it degenerates into a juvenile paddling pool. Video projections are inoffensive, but the shots of what seems to be a generic 'ancient' civilisation do little to contribute to a greater idea. Costumes veer slightly between dampened down 'operatic' and hints of science fiction. The giants became giants by virtue of large shadows cast upon the backdrop: fair enough, but hardly a coup de théâtre.
The singing was generally of a standard one would expect from the Staatsoper, though I have heard more inspired evenings from the company. René Pape had played Wotan in Milan but was already booked to sing Boris Godunov in New York; he was therefore replaced, apparently for Das Rheingold alone, by Hanno Müller-Brachmann. Müller-Brachmann, it was announced, was suffering from cold and a fever. At the beginning, one could certainly hear intimations of that in his voice, but the adrenalin must have begun to flow, for his performance rallied and, as one might have expected, proved attentive to words and music. His mesmerised reaction to the ring, despite its shiny vulgarity, was a powerful moment on stage. I doubt that Müller-Brachmann would flourish as a Walküre Wotan, still less as the Wanderer, but that is not at issue here. Johannes Martin Kränzle was an impressive Alberich, less black of tone than some, but as attentive as his dialectical antithesis to Wagner's poem. If anything, his reading of the text tended to take priority over musical line, and there was arguably too much hissing exaggeration, but one certainly gained a feel for the character. Perhaps the best stage assumption, as so often in Rheingold, was that of the Loge, Stephan Rügamer. He was the sole singer to dance too: presumably attributable to his status as demi-god, but then why not the giants, say? At any rate, he handled well the handicap of his bizarre sci-fi costume – if only we could have had the Paris production here, with Kim Begley in drag as cabaret artiste – to insinuate and to criticise.
Matti Salminen, singing the role of Fasolt for one night only, made the most of his plangent bass to evoke sympathy for the sole character who feels something akin to true love. Timo Riihonen did his job as Fafner, though true malevolence only really came to the fore at the very end. It was difficult to imagine Wolfgang Ablinger-Sperrhacke's Mime as a master craftsman, creator of the Tarnhelm, but he was hardly responsible for the production's 'idea' of him essentially as a big baby. Ekaterina Gubanova and Anna Samuil sang with considerable beauty of tone as Fricka and Freia, but again seemed hamstrung by the production, which appeared to have little interest in them at all. Jan Buchwald blustered as Donner, whilst Marco Jentzsch, the odd slip aside, displayed an appropriately attractive lyric tenor as Froh. The Rhinemaidens sang well enough for the most part, though there were occasional peculiarities of pronunciation – and not just when it came to vowels. Last but not least, Anna Larsson's Erda was a brief joy to encounter: a true Nordic goddess on stage and in voice: perhaps not quite so deep of tone as many, but that is a matter of taste as much as anything else.
What truly surprised in the musical performance, however, was Daniel Barenboim's conducting. I wonder how much of this was due to the acoustic of the Schillertheater, the Staatsoper's temporary home, but I do not think it can have been the only factor at work. Barenboim seemed to have rethought his approach from earlier Ring performances. Now we heard a more chamber-like reading, more so even than Karajan. There was also a slight distancing of tone – perhaps the acoustic – which led to an alienating impression not entirely dissimilar to interwar Neue Sachlichkeit. Barenboim retained sense of line from his erstwhile hero, Furtwängler, but otherwise he seemed to be in rebellion. There were moments of greater, deeper orchestral sonority, but these were reserved for climaxes. Whether this, or indeed the temper of the production, will be pursued into Die Walküre remains to be seen – and heard.
Mark Berry